Cusco
4 days Inca Trail Itinerary to Machu Picchu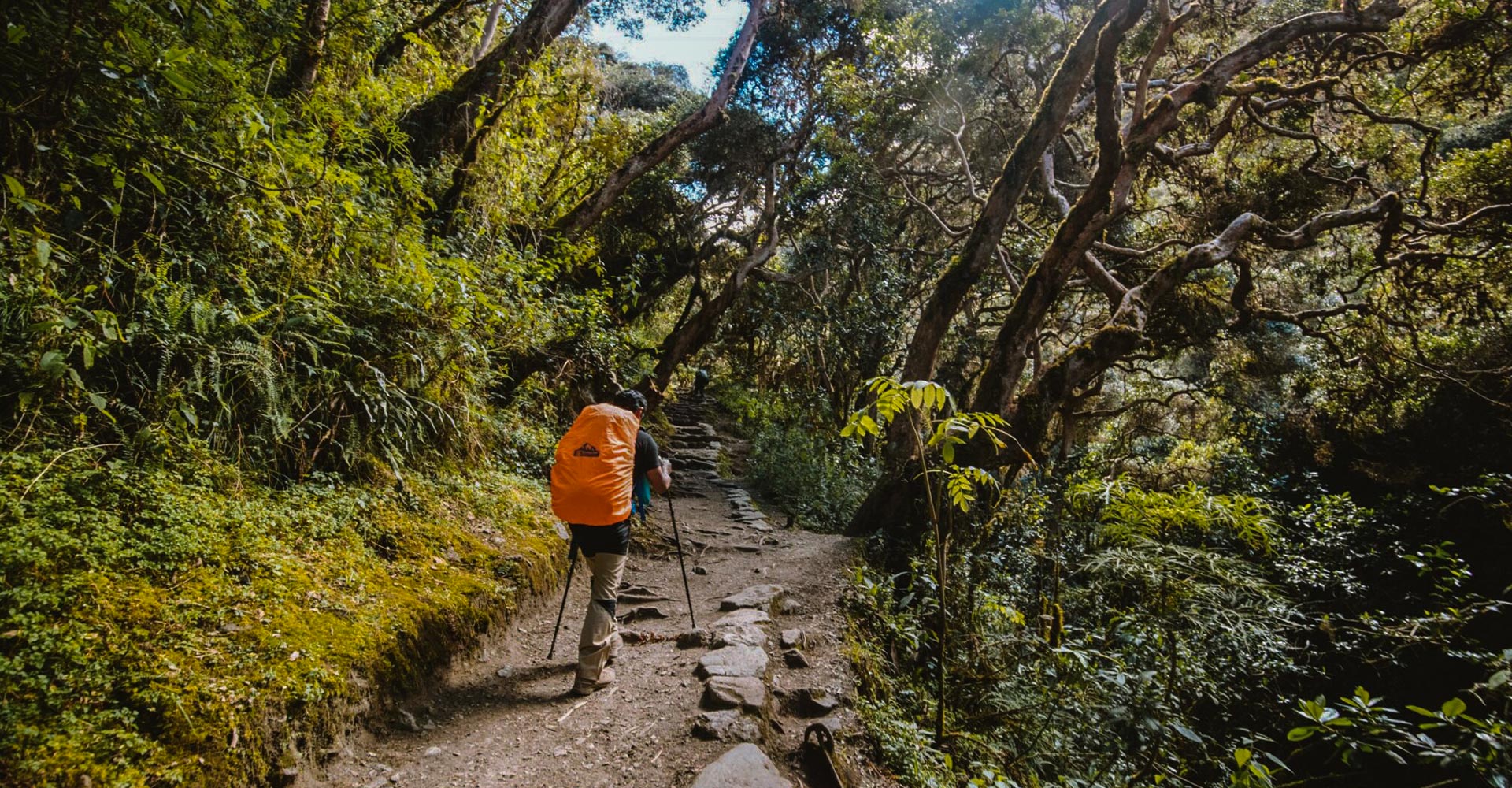 Completing the 4 days Inca Trail to Machu Picchu itinerary is a world-famous trek that is sure to impress any hiker. Along the 42-kilometer or 26-mile trail, you'll walk along the same path as ancient Incan kings had nearly 500 years ago, experiencing altitudes up to 4,200 meters, various landscapes, original cobbled trails and staircases built by the Incans, and the infamous constructions of Runcuracay, Phuyupatamarca, Wiñayhuayna, and Machu Picchu itself, located in an impossibly high and difficult place atop of the mountains.
If you are planning to partake in this once-in-a-lifetime experience, trust in a company with experience and endless recommendations from other travelers. check it the top Inca Trail Operator for 2025 and 2024.
Classic 4 days Inca Trail to Machu Picchu ITINERARY
Day 1: Cusco – Km 82 – Wayllabamba – Ayapata
Today, begins your adventure of a lifetime with the Classic Inca Trail to Machu Picchu.  We will pick you up from your hotel in our private van at 4:30am.  From there, we travel to Piskacucho, which is known as kilometer 82, where the Classic Inca Trail begins.  Along the way, we stop for breakfast in Ollantaytambo at 6:30-7am to load up on energy for our start of the trail.
Upon arrival at kilometer 82 (8:30am), we will have some time to organize ourselves by using the restrooms, applying sunscreen, insect repellent, etc. Once at the Inca Trail checkpoint, be ready to show your entrance tickets, passports and (if paying a student rate) your student card.
At the start of the trail (2,720m/8,923ft) we will cross the Vilcanota River and follow its route towards the right. The first day is relatively easy, a warm-up along the Inca flat terrain. There are great views of the Inca Fortress (Huillca Raccay), the vast and incredible Inca site of Llactapata, (officially called Patallacta), the Urubamba mountain range that divides the jungle, the Andes Mountains, and the beautiful snow-capped peak of W'akay Willca (5,860m/19,225ft) known in books as Veronica.
Our first campsite is in Ayapata, an hour and a half up towards the small village of Wayllabamba (3,000m/9,842ft) located in the temperate green valley of the same name. Temperatures at night are around 5ºC depending on the month.
During the day, we will enjoy spectacular views of the snow-capped mountains Veronica, (5,860m/19,337ft), the lush green valley around us and a myriad of flora and fauna.
Meals: Breakfast, Lunch, snacks, afternoon tea and dinner
Accommodation: Camping facilities
Distance: 12kms/7.5mls (6 hours more or less of hiking)
Difficulty: Easy/Moderate

Day 2: Ayapata – Pass – Paqaymanu – Chaquiccocha
After waking up at 5 to 5:30am and enjoying a hot breakfast, we start a steep ascent towards the highest pass, Abra de Warrmihuañusca or Dead Woman's Pass at (4,200m/13,779ft). On this day, you will feel a real sense of achievement upon reaching the top! After a well-deserved rest, we begin the descent towards our lunch spot, which is located at Pacaymayu (3,550m/11,646ft).
On our way up towards the pass, we will be able to see an array of hummingbirds and a combination of other species of birds. There will be plenty of time to appreciate the incredible variety of native plants and the Polylepis or Q'ueuña trees, which grow in the astonishing cloud forest located at (3,650m/11,972ft)!
After lunch, begins the second two-hour steep climb towards Runkuraqay pass (almost 4,000m/13,123ft). We arrive at our campsite by 5 pm. Temperatures at this campsite are around 4ºC during the night.
Meals: Breakfast, water, lunch, snacks, afternoon tea and dinner
Accommodation: Camping facilities
Distance: 16kms/10mls (9 hours more or less of hiking time)
Difficulty: Moderate/challenge

Day 3: Ch'aquicocha – Phuyupatamarca – Wiñay Huayna
This is the most impressive day by far so keep this in mind as you ascend on day three! We wake up for breakfast at 6am and start the day with a gentle climb towards the archaeological site of 'Phuyupatamarca' (meaning 'Town in the Clouds'). Here, we reach the third highest point along the Inca trail (3,680m/12,073ft). The views of the mountains, canyons and surrounding areas are spectacular!
The Inca site of Phuyupatamarca, is located a few minutes' walk from the third pass. After visiting this site, we continue walking down 3,000 stairs through the cloud forest to the impressive agricultural Incan site of Intipata. After taking some time to visit this site, we continue until we arrive at our third campsite Wiñay Wayna (2,680m/8,792ft). Today, we will only walk about 4 to 5 hours. We arrive at camp by lunchtime! Temperatures during the night are about 12º C.
A short walk from our campsite is the famous Incan site of 'Wiñay Wayna' ('Forever Young'). Even if you are feeling tired after your day's trek, it is a moment you cannot miss!
Meals: Breakfast, water, lunch, snacks, afternoon tea and dinner
Accommodation: Camping facilities and hot showers
Distance: 10kms/6.2mls (5 hours more or less of hiking)
Difficulty: Moderate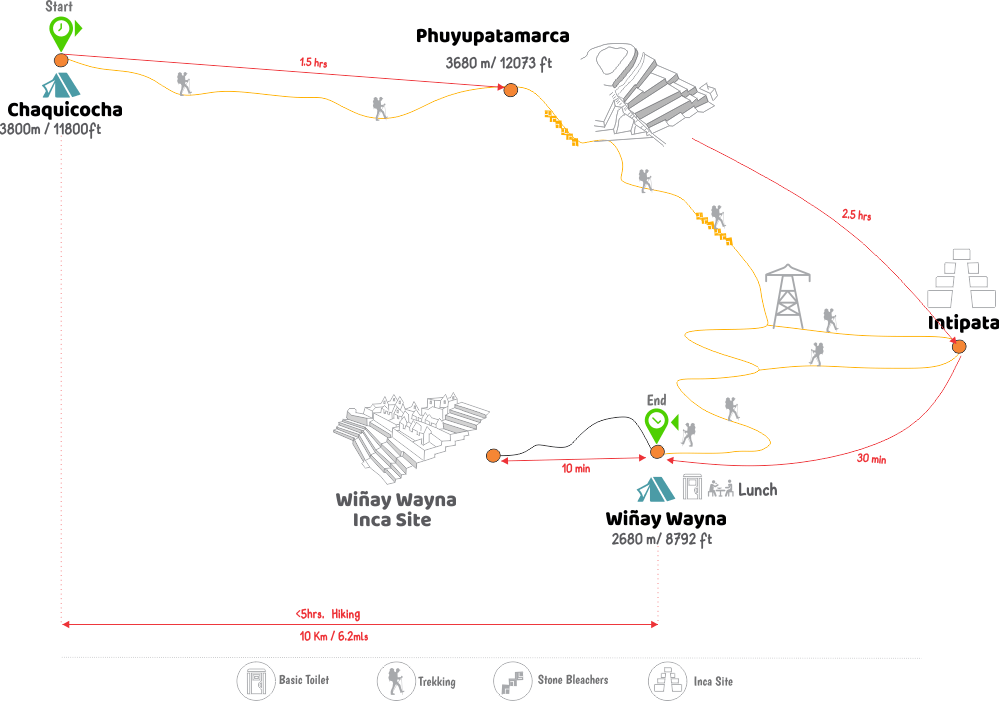 Day 4: Wiñay Huayna – Machu Picchu – Cusco
At around 4:00am, it is time to wake up, have breakfast and start day 4 on the Inca trail to get to Machu Picchu on time. This is the final part of your journey, arriving by 6:00am to reach the Sun Gate (also known as Inti Punku). At that point, the majestic Machu Picchu Citadel will be in front of us with its intense beauty – an incredible sight for all to see. At this point, we walk downhill towards Machu Picchu Citadel (2,400m/7,872 ft.). After walking 40 minutes, we enter the citadel from the top through the "House of the Guardians". From there, we proceed towards the control point, where we register and leave our belongings. Your professional guide will direct you throughout the astounding ruins and its main streets. You can wander around the town squares as well as climb the intricately carved  stone stairways. Machu Picchu is considered as the world's spiritual center by esoteric wisdom. Once the guided tour is over, you will have free time to explore the site on your own.
You will also have time to indulge in a few of the following activities on your own if you choose (not included in the price)
Climb up Huayna Picchu or Machu Picchu Mountain and appreciate the beauty and magnificence of Machu Picchu from there.
Other optional activities in Aguas Calientes include a visit to the local museum or bathe in the hot springs.
You will descend to Aguas Calientes by bus (included) andboard the Expedition train by 4:22pm to head towards the Ollantaytambo Train Station. This is where you will meet our private van and be transferred to your hotel in Cusco arriving around 8:30pm.
Meals: Breakfast
Distance: 6kms/3.7mls
Difficulty: Easy

Huayna Picchu or Machu Picchu Mountains hike depends on availability, please let us know if you want to add one of these extra hikes at the time of your booking.
What time of year is the best time to do the Inca trail?
The best season to hike the Inca trail is the dry season, which is from April to August every year. During Cusco's dry season it's less likely to rail and daily sunshine with beautiful weather is the standard. The peak tourism season in Cusco is between the months of May and July, which is due to the weather.
What is the process for getting Inca trail permits?
The Inca Trail permits are regulated by the local government and can only be purchased by a licensed Peru tour operator. The process to get a permit starts with you contacting a licensed tour operator, in this case Sam Travel Peru, and checking the Inca Trail availability for your desired hiking date. The operator then checks if there is availability to hike the inca trail for those dates. Once the client and the operator agree on a day to hike the inca trail.
In oder to book, the client sends a $200 USD deposit and operator purchases an Inca trail permit on your behalf. The permit is non-refundable.
The information has been provided by Orange Nation Peru.