Overview
Rainbow mountain is the most eye-catching freak of nature, you will ever come across. There is nothing like it anywhere else in the world. It stands tall (elevation:5 020 meters/17 060feet) in its uniqueness with many vibrant colors like turquoise, lavender, orange, gold and many more. These astonishingly striking colors are formed by weathering, environmental conditions and sedimentary mineral deposits over time. Nestled in the Andes mountains in the South Valley of Cusco, with spectacular views of the snow-capped Ausangate Mountain.
Rainbow Mountain was recently discovered in 2015 due to snow melting revealing the hidden gem that layed beneath. Its very first guided tour took place in January of 2016. Given how recent its discovery is, it has grown exponentially in popularity over the years. It is currently the second most visited tourist site in Peru after Machu Picchu and it was recently added in the National Geographic list of "Top 100 places to visit before you die". The hike takes you through some secluded communities, in which you may interact with the indigenous people who are still keeping their culture alive and speak their indigenous language of Quechua!
You will see snowcapped peaks, herds of llamas, glaciers and turquoise lakes, all set within an incredibly colorful mountain range. The Rainbow Mountain trek offers a selection of wildlife including soaring condors, cara cara falcons, and perhaps bobcats or pumas, if you're lucky. The colorful sandstone mountains in the area are probably the coolest and most unique natural phenomenon you will ever see.
Best Itinerary for the Rainbow Mountain trek
Cusco – Cusipata – Llacto – Rainbow Mt – Llacto – Cusco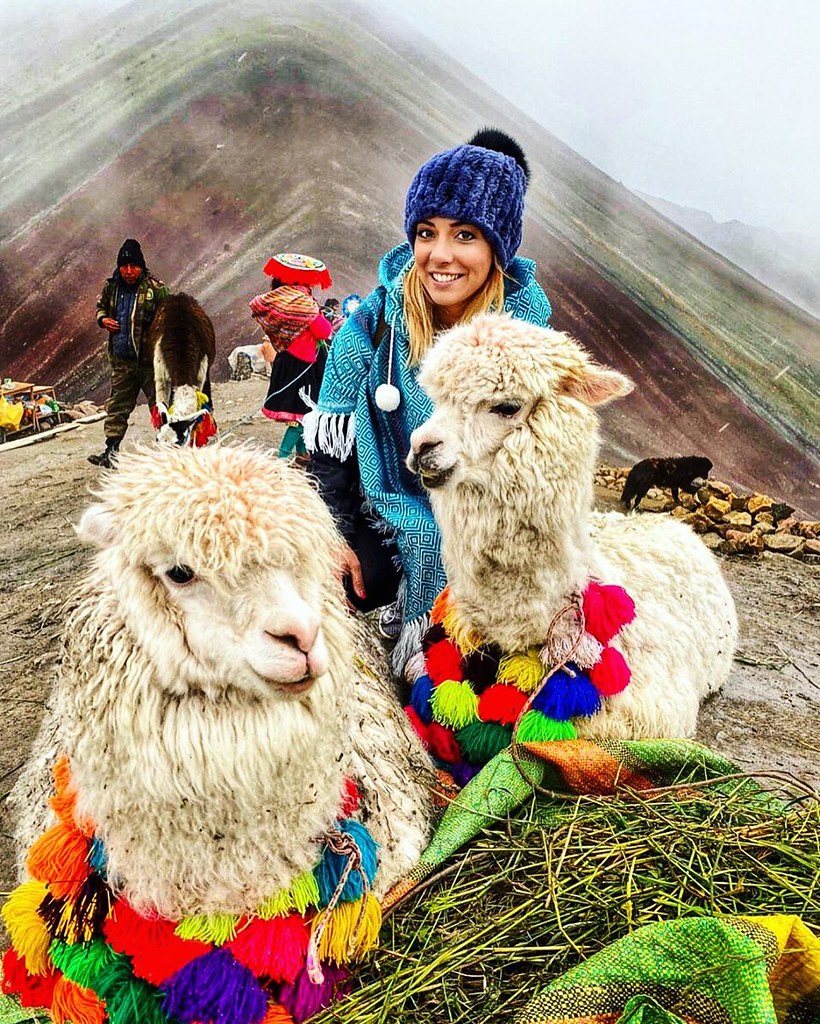 We will collect you from your hotel foyer at the delightful hour of 4am. Be sure to check the details of the itinerary before paying for your trek. Regardless of the agency, you will have an early start for your incredible Rainbow Mountain Trek Adventure. You will have a 3-hour scenic drive through the South Valley, there are amazing views of farming Inca terraces, valleys and rocky mountains.
The road leading to the start of your trail goes along a scenic view of a flowing stream with crystal clear waters. Once you reach the trailhead, breakfast is served surrounded by herds of llamas and alpacas. You also get the pleasure of having continuous views of the Ausangate Mountain as you hike through different villages and interact with the indigenous people, who are still living their traditional lifestyle. You get to witness the men and women in their colorful traditional outfits. I find the women´s outfits most intriguing, with their layered skirts in different colors. Their skirts are stunning.
Arriving at your destination – Rainbow Mountains (5,020m /16,466ft) after a short 1.5 hour gradual uphill hike. The distance is not great, but the high altitude forces everybody to walk slowly. Don't be deceived by how easy the trail looks. Even those who are acclimatized to Cusco have to walk slowly. After being in awed of its beauty, you will have time to explore the area. You can take pictures and savor the moment. You will spend approximately 30 minutes at the top.
At this point, you hike for another 1 hour back down the way you came. Your agency will have a private van waiting for you when you return.
You will begin your scenic 3-hours' drive back to Cusco and be dropped off at your Cusco hotel, arriving around 5:00pm – 6:00pm, depending on how fast you hike and how long you wish to stay at the Rainbow Mountain site. Some companies do include an optional hike to the Red Valley. This walk takes about 45 minutes longer to get back to the trailhead. It's called the Red Valley because its completely red, dotted with green grass like vegetation. This hike is a great surprise and addition. On arrival you will find yourself wondering if maybe this where all the movies located on Planet Mars are shot. It really does look like another planet.
What to take with you on the trek?
For the weather – Weather can change in a matter of seconds when you're high up
sunblock
sunglasses
a rain jacket
a hat
wear thick hiking socks and bring an extra pair of hiking socks just in case
For Altitude sickness
Coca tea for breakfast and handful of coca leaves to chew while trekking
Plenty of water to stay hydrated
Ibuprofen or something similar. For some people altitude sickness manifests itself in a throbbing headache.
You can also bring any medication recommended by your doctor at your home.
Avoid heavy meals, alcoholic beverages and smoking cigarettes
Additional Extras
A small backpack, filled with water, snacks and a toilet paper roll.
A few soles for entrance fees into Rainbow Mountain and/or Red Valley. Some companies do not include entrance fees
Best time to visit Rainbow Mountain Trek?
The best season to visit Rainbow Mountain is the dry season, which is from April to August every year. During Cusco's dry season it's less likely to rain and daily sunshine with beautiful weather is the standard. The peak tourism season in Cusco is between the months of May and July, which is due to the weather. The up side of visiting during off peak is that you avoid the crowds.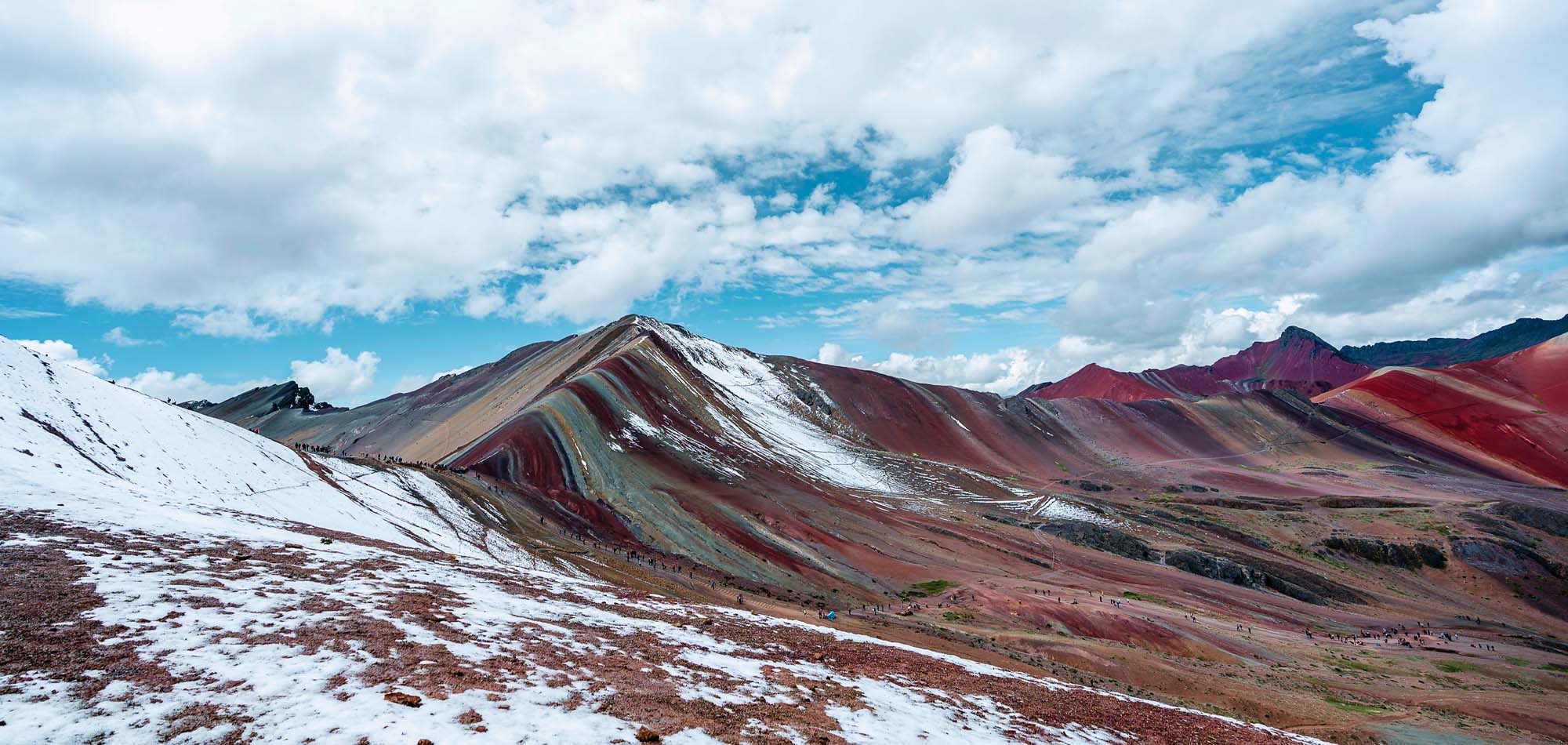 Safety Tips
Rainbow mountain is at a higher altitude than Cusco. For this reason, its best to pace yourself on the hike. Listen to your body. Breath slowly, deep and inhale until your stomach expands.
Try to spend a day or 2 in Cusco so you can acclimate to the altitude.
Even though the majority of the hike is gradual with no steep inclines, you will come across an incline when approaching the end of your hike. The last section to the summit is very short, but very steep at high altitude. So, it's not easy. Mentally prepare yourself for this and just remember it's not a competition, so take your time.
Select a good tour operator with experience in Rainbow Mountain treks. Firstly, you will reach an elevation of 5020m above sea level. Altitude sickness affects people differently. In extreme cases you may need emergency oxygen. Your guide needs to be equipped with an oxygen tank, if there is ever a need for one. Secondly you need access to a first aid kit, in case you have a few scrapes or bruises. Finally, your tour operator needs to have a clear itinerary, and be transparent about what's included in your tour package.
A guide that's knowledgeable, personable and multi-lingual is a great idea. Otherwise, it could be a long boring hike. Also, the locals here predominantly speak Quechua (the native language of the indigenous people of Peru). So, you will need the guide to assist you, if you want to interact with them and learn a bit about their culture. If you choose a reputable company like Sam Travell or others like it, this kind of service will be guaranteed.
We recommend you dress in comfortable apparel. Yoga or hiking pants, your well-worn hiking shoes or trainers and bring an extra layer of clothing. The weather does change rapidly. Sunglasses and a sunhat are also a great idea. Firstly, the sun at high altitude is very harsh and the top soil will blow into eyes from the trekkers in front of you.
Toilets along the trek
We believe the best time to stop and use the restroom is upon arrival at your Trailhead in Upis. The toilets here are sanitized regularly, flush and they have staff on hand to keep them clean. They do cost one sole to use (for a clean toilet, definitely worth it). Once you start on the trek, they have portable toilets every few kms. However, these government facilities are not cleaned regularly and also keep in mind that there are scores of tourists using them every minute. Bottom line is that they are there purely for convenience and you will just have to make do. On the hand, they do have water stations with soap to wash your hands at all toilet stations. When you return to Cusco, we recommend you make another pitstop in Upis, the drive back to Cusco is 3 hours long.
How difficult is the Rainbow Mountain Trek?
The hike is around 4.4km (2.5 miles) one direction. You probably thinking short hike, right? Well, it is but it does come with its challenges. This hike is considered to be moderate to difficult. The main reason for this, is that Rainbow Mountain is at a higher altitude than Cusco. When you first approach the trail, it looks super easy, but you need to pace yourself because you are walking at very high elevations. Even people fully acclimatized to the altitude in Cusco still walk at a considered pace.
It is possible for almost everyone to complete this trek. You do need to have an experienced guide with you, so that they can properly advise you, assist you if you experience symptoms of altitude sickness or to just provide that extra bit of encouragement to get you to the top. The majority of the trail is gradual with no steep inclines. You do however still need to breath evenly, taking slow deep breaths. The part of the trek that gets challenging is the very last section. Here we recommend that you take as much time as necessary. It's a very short section, but it is pretty steep. Be aware that the ONLY challenge with the Rainbow Mountain Trek is the altitude. So, if you are prepared for it and have chosen a good tour operator, you will summit with no issues whatsoever.
When I was trekking, there were all types of trekkers. From a family with young children, to older folks and people not in the best physical conditional. It is doable and the feeling you get once you summit is unimaginable. The best view of the mountain is at the top and it takes your breath away, literally and figuratively. The hike usually takes around 3 hours depending on your speed and fitness. If you do the extra hike to the nearby Red Valley, it will take an extra 45 minutes to an hour.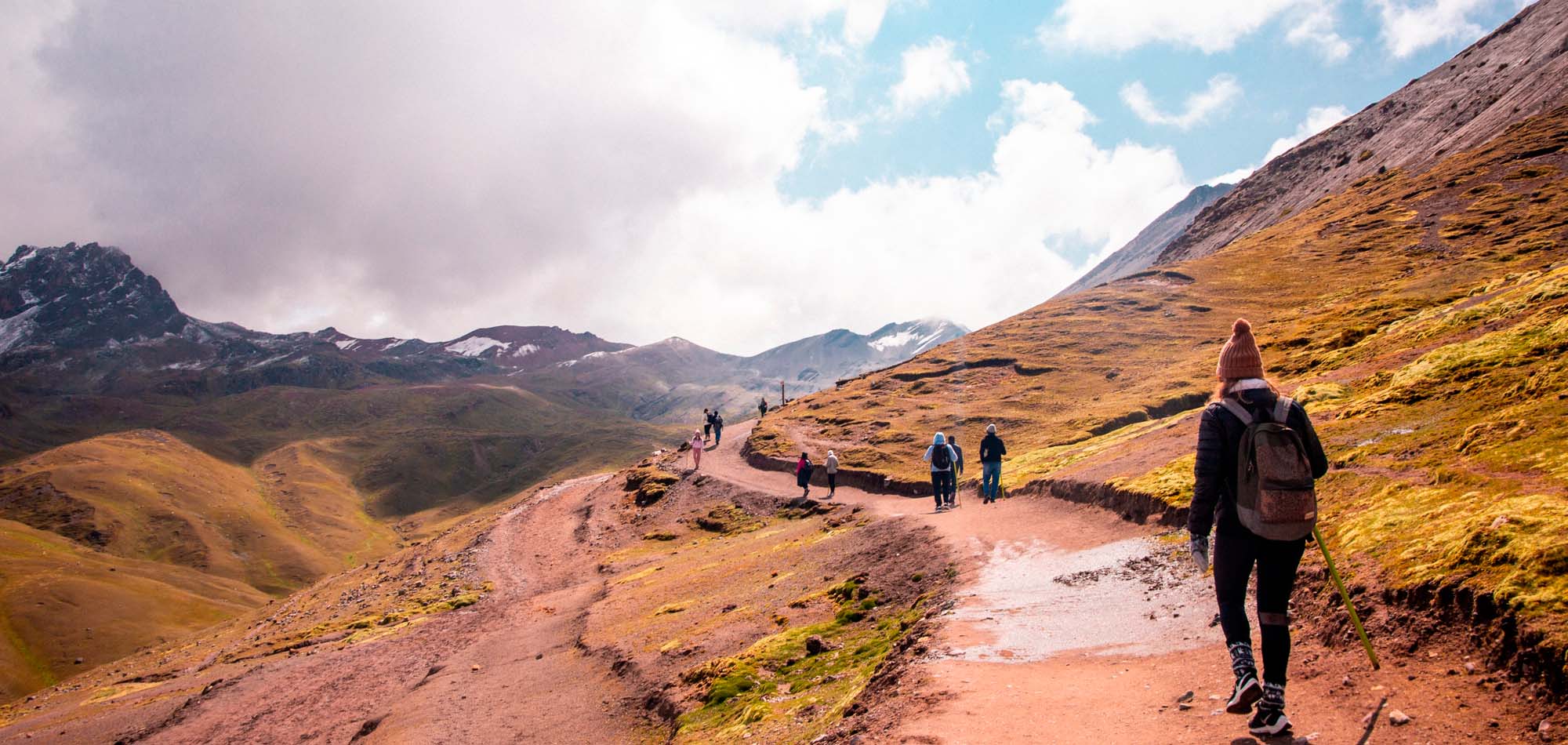 Can I hire a horse?
Once you arrive on the trail, you have the option to rent a horse instead of walking. To rent one will cost anything between 80 to 100 soles. For obvious reasons, it is best that you let your guide negotiate the price for you. There are 2 horse rental sections on the trek. First one is at the beginning of the trail and the second, at around the midway point. The price is the same no matter where you choose to get a horse. The horses do not go on the steep section, it is not safe for them. So, you have to walk that last half mile. We do recommend that you at least attempt this climb; the views are worth it at the top.
How much should I expect to pay?
The Rainbow Mountainn Trek can cost you anywhere from US$70 to over $150 per person. What's included on each trek is dependent on that specific tour company. Things that may be included are: a licensed and bilingual tour guide, this is necessary in order to communicate with the locals on the trek. Transportation from Cusco to the Mountain and back. Things that may not be included are: Entrance fees into rainbow mountain, food (breakfast and lunch) and the extra hike and entrance fees into the Red Valley. Reading through each tour operator´s itinerary is essential, ask for clarity on its inclusions and exclusions. Usually, companies that charge less do not have a lot of inclusions.
If you pay around the US$150 mark. The trek normally includes private transportation with door-to-door service, smaller groups with personalized attention, entrance fees to the mountain and meals. All the basics mentioned above are usually included, these are the added extras you receive when you book with a good tour company that provides excellent service.
Is oxygen required for Rainbow Mountain?

Most Rainbow Mountain hikers suffer from altitude sickness, so having an oxygen tank on hand makes the day much more comfortable and enjoyable. In addition, if you pick the correct local tour operator, they will offer oxygen if necessary. Please contact Orange Nation Peru to find out who is responsible for local tour operators in Cusco.
Is going on a rainbow mountain tour safe?
Yes, going on a rainbow mountain tour is generally safe. To ensure a safe and happy journey, hire a reputable tour operator and follow the directions of your guide. Participants should also contact with a doctor before traveling to high-altitude destinations.
Is there an age limit for the rainbow mountain tour?
The rainbow mountain tour has no specified age requirements. However, before booking the tour, it is critical to examine the physical health and altitude tolerance of children and the elderly participants. It is also advised that children under the age of eight be accompanied by an adult.
What type of food is provided on tour?
Some companies do not include meals at all, they stop at one of the local restaurants on the way to the mountain to have breakfast and stop again on the way back for lunch. I did my trek with Sam Travel Peru; we had our own chef that prepared all our meals. We stopped at the trailhead and the chef made a gourmet hot breakfast. We ate together as a group and got to know each other before embarking on the trek. They also served coca tea to prepare us for the hike. On the way back, we stopped at Upis (the trailhead) for lunch. Our amazing chef prepared the most scrumptious 3 course lunch accompanied by a cold or hot drink. The experience was so personal, we really bonded and got to know each other well as a group.
The suggestions
Rainbow Mountain is a high-altitude resort with heights of exceeding 5,000 meters (16,400 feet). Before attempting the trek, you must be physically healthy and acclimatized to high elevations. Before beginning on the trip, engage in regular exercise and spend a few days acclimatizing in Cusco or other high-altitude places.
Acclimatization: Take your time adjusting to the altitude. Drink plenty of water, avoid alcohol and caffeine, and see a healthcare practitioner before taking altitude sickness medicine.
Proper Gear: To cross the rocky terrain, use comfortable and durable hiking shoes. To meet changeable weather conditions, dress in layers, including a waterproof jacket, hat, gloves, and sunscreen. Remember to bring shades to protect your eyes from the harsh alpine sun.
Water and Snacks: Bring enough water to keep hydrated throughout the journey. Pack energy-boosting snacks such as granola bars, fruits, or almonds to keep you going on the trip.
Local Guides: Hiring a local guide for the Rainbow Mountain trek is highly recommended. They are familiar with the route, can provide information on the history and culture of the area, and will assure your safety throughout the voyage.
Rainbow Mountain provides breathtaking views and brilliant hues for photographers. Bring a camera or smartphone to record the stunning scenery. Remember to respect the environment and avoid leaving any trash behind.
Visit Rainbow Mountain during the off-season or early in the morning to avoid crowds. The location can become crowded, especially during peak hours, so arriving early provides for a more tranquil and pleasurable experience.
Respect the local community, its culture, and the environment. Follow authorized pathways, avoid treading on vulnerable plants, and dispose of rubbish correctly. Support the local economy by purchasing souvenirs or services from local sellers and communities.
Weather Conditions: The weather on Rainbow Mountain may be unpredictable, with quick temperature swings and the chance of rain or snow. Check the weather prediction ahead of time and bring proper clothing and equipment.
Remember that Rainbow Mountain is a holy location for the surrounding communities. Respect their practices, traditions, and holy locations. Natural or cultural artifacts should not be removed or damaged.
Recommended tour operators
Comments... there are no comments.
Guided Adventures
Self-made blog
All the information is free and precise. I don't get paid for publishing any agency or tour, and everything has been verified and experienced.
01
Local Information
Everything in this blog has been doublé checked by a local, we made the effort on gathering all this information for you, to make your trip easier and cheaper.
02
Personal experience
99% of the information has been lived by a traveler like you, me, I wanted to compile all the information I had to make every traveler life easier.
03
Best and only the best
We gathered the best information for you. All this has been investigated and visited only to bring you the best CSelf-made blog. All the information is free and precise. I don't get paid for publishing any agency or tour, and everything has been verified and experienced.
04