Cusco
What to see in Pisac?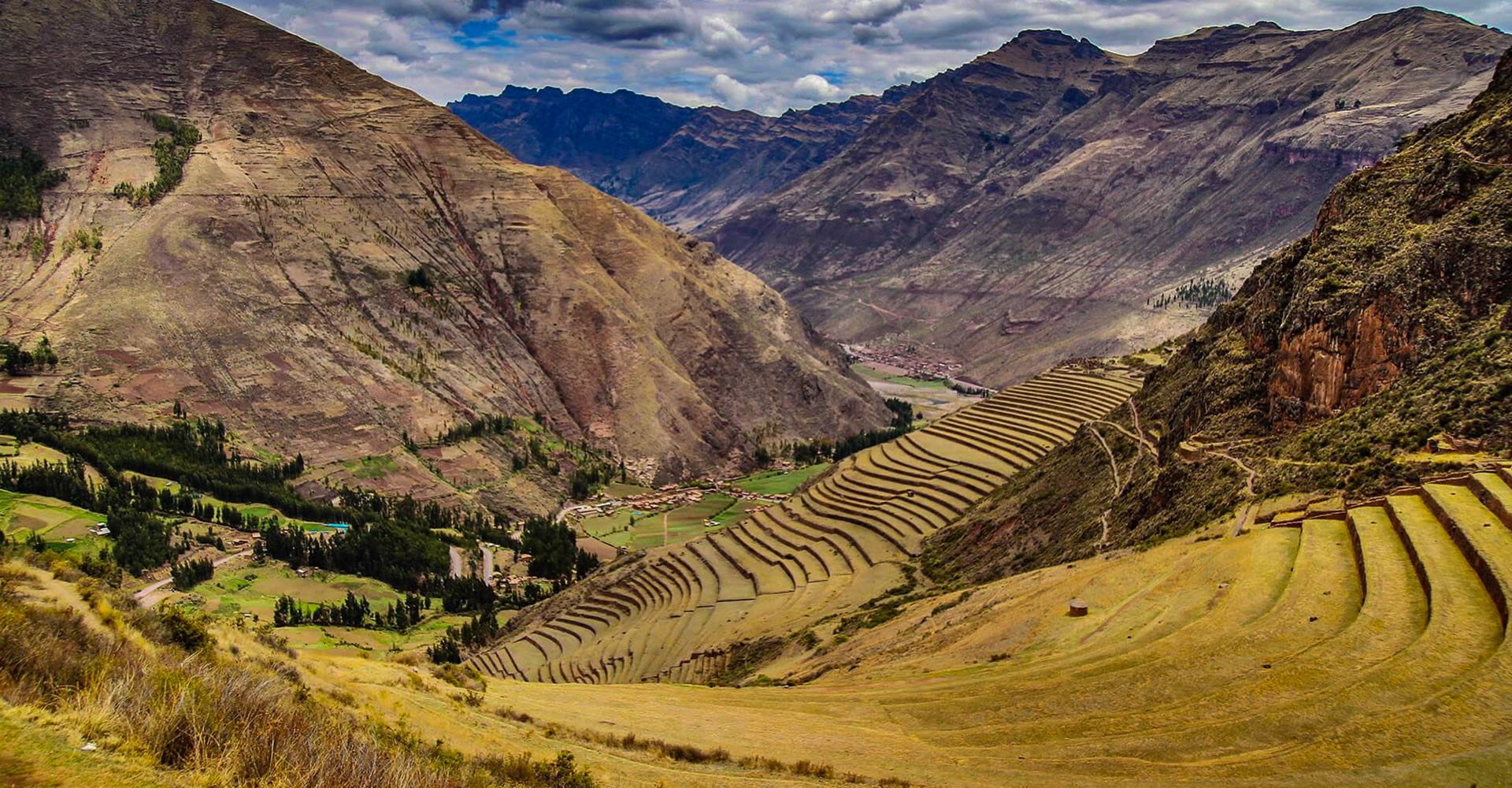 Only a short ride from Cusco, as you enter the Sacred Valley, lies the town of Pisac famous for its colorful market and Pisac Ruins towering atop the hill. Modern Pisac has gained a lot of popularity with expats looking to settle into the Andes and live an organic tranquil life, which has created the most fascinating dynamic between its inhabitants. Its still one of my favorite small towns to heard out to for the day, to just hang out with friends and relax or to enjoy a festival.
About Pisac
Pisac town is a gateway to the Sacred Valley. Due to its strategic location, we can guess that the main purpose of the ancient Incan city was to protect Cusco and the Sacred Valley. Another theory is that it was a major trading point. Nowadays, we can be grateful that the Inca people built one of the most picturesque sites in the most beautiful of settings.
But frankly, when you are climbing up the hill to the ruins via stone terraces, its astonishing how the Incas were able to construct these magnificent architerally sound structures in such unforgiving terrain. 
This part of Peru is so beautiful and mind baffling.
What to do in Pisac?
Pisac is a great and affordable option for a day trip from Cusco. But if you're travelling a little slower, than you could stop here on your way to Ollantaytambo and Machu Picchu. Another option is to use it as your base to explore the Sacred Valley. It's also a great alternative if trying to acclimatize to the altitude. It has an eclectic group of permanent residents. For those interested in an alternative lifestyle, with different religious options and a variety of specialty foods, then Pisac is the place for you. Pisac still has a large number of  indigenous people still living here. Immerse yourself in the culture and  enjoy the many authentic Peruvian festivals that take place quite frequently.   
The Sunday Pisac Market
Climb the Pisac ruins
The hike to the Pisac ruins is not super-hard, but don't expect a leisurely stroll either.
If you decide to hike the Pisac ruins, you will be rewarded by stunning vistas. You also get to see more ruins than the average visitor who usually wonder around the upper part of the ruins. We must admit, that despite the famous Pisac ruins being so close to Cusco, the trail was almost completely empty. 
To get to the trailhead, you walk through the market and continued via Intihuatana street uphill. On arrival you have to purchase a boleto turistico to enter. When you purchase your boleto turistico it's better to buy the multi-day option. From here, you follow the narrow, but well-signposted path via terraces. After some time, you discover what was left from Pisac fortress which was once scattered all over the hill. It takes about two hours until you reach the main part of the ruins, where you meet up with other tourists. You have the option of not hiking up, so a lot of the tourists always opt to just walk down.
To get back to Pisac, you walk the same way back.
Hiking Distance: The hike to the ruins is four kilometers long and mostly uphill, but you are walking slowly, taking plenty of photos, wondering exploring smaller ruins on the way.
Pisac is 2972m above sea level, so you need to gain almost 400m in elevation because the top of the ruins is 3347m high.
Either way, this hike is good training if you plan on doing the Inca Trail or any other alternative trek to Machu Picchu.
Taxi + Walk: If you aren't fit, then this is the sensible option; it's also the most popular way to reach the ruins.
Once your colectivo has dropped you off and you cross the bridge into Pisac, you will find a group of taxi drivers who run tourists up the road for 15 minutes to the back of the ruins for around S/. 20-25 one way.
Due to the inflated price, try to do this trip in a group to split the cost and don't be afraid to haggle if you are being charged more than this. You can either take the taxi one-way and walk back down to Pisac from the ruins along the trail (our recommended option). Another option is to ask your taxi driver to wait for you and take it back down once you've spent some time exploring the ruins.
Public transportation from Pisac to Cusco
Connections between Pisac and Cusco are frequent and easy to find, with a journey time of 45 minutes and a one-way fare costing just S/. 7 per person. If you are doing this as a day trip from Cusco and plan on hiking up and down the Pisac ruins, then leave no later than 9 a.m.
Firstly, make your way to Calle Puputi in Cusco. Alternatively, you could walk, it takes about 20-30 minutes from most places in the historical center.
On the street, you will find several colectivos (minibuses) going to Pisac, Urubamba and Calca, and it won't take much time before a man tries to get you on his bus which will hopefully already have some people in it – just make sure you confirm destination and price before boarding. These minibus only depart when full.
The driver will stop at the bridge outside Pisac, and you then simply have to disembark and cross the bridge to be in the town center. For the return journey, cross the bridge again and wait at the opposite side of the road (there's a small bus shelter facing the large mural billboard) – you likely won't be the only person waiting to return to Cusco. It may be necessary to flag down the colectivo as it passes and, depending on the time of day and season, it might take a while before you can find a bus with an available seat. If it's dark by the time you've made it back to Cusco, then you can take a taxi back to your hostel/hotel.
It is possible to take a private taxi, find more information here!
Entrance fee to Pisac Inca ruins
When you plan on visiting sights around Cusco, especially in the Sacred Valley, you will soon learn a new term, boleto turistico. So, you need the boleto turistico to enter inti Pisac ruins.
This is where things become a little more complicated!
There are four boleto turistico options, which are all valid for different lengths of time, include different sites, and have different prices.
1.- BOLETO TURÍSTICO GENERAL / FULL CUSCO TOURIST TICKET –  WE RECOMMEND THIS  TICKET
This is the standard and most economical if you want to visit more sites over a span of more than one day which includes 16 sites.
Price: S/. 130 / $35 for non-Peruvian adults. S/. 70 / $19 for non-Peruvian (see below for more information).
Time: Valid for 10 consecutive days (i.e. it will expire 10 days after you purchase it, regardlenss of how or when you use the ticket).
Tip: Note that the Quoricacha aspect is only access to the outdoor gardens – an additional entry has to be purchased for the museum or Inca temple inside, fee 10 soles.
2.- UN DIA BOLETO TURISTICO PARCIAL / ONE DAY PARTICAL CUSCO TOURIST TICKET
The partial ticket is the ideal option for those on a tighter budget, or who only wish to visit a handful of specific sites. There are three different 'Circuitos' / Circuits available:
Circuit 1
What's Included: The ruins which lie just outside Cusco: Saqsayhuamán, Q'enqo, Puka pukara, Tambomacha. These are best visited on a single day-trip.
Price: S/. 70 / $19 for non-Peruvian adults
Time: Valid for 1 day only.
Circuit 2
What's Included: The Cusco Museums: Contemporary Art, Museo Historical Regional, Monumento Pachacuteq, Tipon, Quoricancha, Museo de Arte Popular, Centro Quosqo de Arte Nativo. Pikillaqta.
We imagine that this is the least purchased Cusco tourist ticket because a number of these museums ain't great.
Price: S/. 70 / $19 for non-Peruvian adults
Time: Valid for 1 days.
Circuito 3
What's Included: The Sacred Valley Ruins: Pisac, Ollantaytambo, Chinchero, Moray.
Price: S/. 70 / $19 for non-Peruvian adults
Time: Valid for 1 day. This is a good option for a stand-alone ticket, but with it being valid for only one day, it's actually a bit of a challenge (unless joining a Sacred Valley Tour) to visit all of these sites in one day. It is absolutely possible with a combination of taxis, public transport, and walking to visit them all but a challenge to do so in one day.
***On the full boleto turistico, international students can receive a 50% discount – making the ticket just S/. 70 / $19 . To take advantage of this offer, you have to be 25 or under, and need to bring your original student or ISIC card and passport. Children are also charged a discounted price.
Tickets will be required at the checkpoint for each site and it's essential that you don't lose it as we've heard that no replacements are issued and this is a strictly adhered to.
Treks and Tours to Pisac and the Sacred Valley  
This day tour visits the famous archeological site of Sacsayhuaman, three more archeological sites near Cusco and the ancient town of Pisac! Sacsayhuaman with its impressive Inca military construction protected the northeastern part of Cusco from invaders and is adjacent to the large Cristo Blanco Statue above the city. We also explore the archeological sites of Q'enqo, Puca Pucara and Tambomachay, which are located on the way to Sacred Valley and Pisac.
The Inca Village of Pisac has the largest handicraft and textile market in the region of Cusco and the archeological ruins of Pisac are considered to be one of the most interesting Inca archeological sites in the country – besides Machu Picchu of course! The Inca tunnel and the Sacred Temple are constructed from pink granite. We will also explore one of the biggest Inca cemeteries with more than 2,000 tombs and admire the farming terraces built into the mountain. At the colorful Inca market in Pisac, you will have plenty of opportunities to test your bartering skills, interact with the local artisans and purchase their hand-made souvenirs, although you do not need to buy anything, but it is still fun to look around.
The Sacred Valley is vast and stretches for miles with many small indigenous towns, secluded weaving villages, outdoor handicraft markets and ancient Inca Ruins including Pisac, Ollantaytambo and Urubamba. Orange Nation also includes the Salt Mines in Maras which has thousands of ponds carved into the mountainside and the Terraces of Moray, which are built in the form of an amphitheater and have different temperatures at each level to grow different crops. It was watered through a complex irrigation system and allowed the cultivation of the Incas to grow over 250 types of vegetables. We end the tour at the fascinating and imposing site of Ollantaytambo, a truly impressive Inca ruin!
The itinerary allows you to enjoy the best highlights of the Sacred Valley, such as the archeological sites of Pisac,  Ollantaytambo, Moray and the Maras Salt Mines, rather than just focusing on various markets for shopping.  All of this is provided in a small private tour with a guide who is passionate about Inca history.
The valley between Pisac and Ollantaytambo is known as the Sacred Valley of the Incas. On this tour, we will drive through the mountains of the Sacred Valley, which played a key role in Inca culture and history. The Valley has a milder climate and is at a lower altitude than Cusco.
No other travel agency besides SAM Travel Peru visits all of these sites in their Sacred Valley Tour!
Where to stay in Pisac?
If you do plan on extending your time in Pisac, using it as a Sacred Valley base, or simply want to disconnect and savor a few nights out of the big city, then the town does have a few walk-in hostels and hotels on offer. However, if you want to book in advance and want something upscale and dependable, then check out a few of the recommendations below. Note: the best options in Pisac are usually located about 5–10-minute walk outside of town.
Pisac Inn : A small charming hotel. The best thing about it is  its location, right in the middle of  the historical center. It has great views of the mountains and  river.  
Nunu Boutique Hotel: A slightly more upscale hotel. Located just outside of the town of  Pisac in Lamay, this place is  surrounded by nature and  great place to recharge.  
Pisac Inca Guest House: This family owned guest house has  a  lot of  amenities on offer. Enjoy a free hot breakfast and  daily housekeeping.  They also have a yoga and  meditation room. The terrace has amazing views and  great spot to relax and  enjoy a  cocktail.  
Recommended  Tour Operators for Pisac and the Sacred Valley