The best schedule for this uniquely designed tour!
Pick up from your hotel in Puno at 4 am in our private van and then wed drive for 5 hours to the trailhead.
By 9:00 We will be starting our hike to the Rainbow mt for about 1 hours up.
By 10:30h, Enjoy the amazing views of the Rainbow mt.
After summiting, there is an optional extra 45-minute hike to a view of the Red Valley.
By 13:00h, we take our private van bacn to Cusco, arriving by 17:00h..
*** This tour can be done ONLY in a private service – No group service!
Itinerary for an adventure day
Puno – Rainbow Mountain – Cusco
We will pick you up from your hotel at 4:00 am, and begin with our amazing Rainbow Mountain Trek Adventure. We set out on our drive for 5 hours toward the trailhead of the Rainbow mt at Llacto (4,638m / 15,216 ft)..
The herds of alpacas and llamas near the trail-head will entertain you in the morning. Once we reach the trailhead, we start on our hike following a lovely stream. As you start your hike, you will have views of the Ausangate Mountain and glaciers. You can interact with the local people, who are still keeping traditional Quechua culture alive. Learn about their traditional clothes and the significance of the different hats worn by the men. Ask your guide to teach you a few words of Quechua!
After a total hike of 1.5 hours, we finally reach our destination: Rainbow Mountain (5,020m /16,466ft). After admiring the unique beauty, you will have time to explore the area. You can take pictures or just soak up the view. We will spend approximately 30 minutes at the top. Afterward, there is an optional hike across to the top of the Red Valley. This walk takes about 45 minutes longer to get back to the trailhead.
At this point, we hike back down the way we came. The hike takes 1 hour.
We will embark on the 3-hour drive on the way to Cusco. Arriving by 17:00h
Meals included: Lunch
Difficulty: moderate to challenging
What time of year is the best time to do the Rainbow Mountain trek?
The best season to hike the Rainbow Mountain is the dry season, which is from April to August every year. During Cusco's dry season, it's less likely to rail and daily sunshine with beautiful weather is the standard. The peak tourism season in Cusco is between the months of May and July, which is due to the weather.
A horse can be hired for the majority of the trek. However, the last 500m are too steep for horses and you will have to walk this last part.
Frequently Asked Questions,
Is Rainbow Mountain worth it?
Rainbow Mountain Is A challenging But A Good One! and you have to see it with your own eyes to believe it's real. The vivid colors, the backdrop of snowcapped mountain in the distance, the mesmerizing Red Valley, the other valleys below with herds of llamas.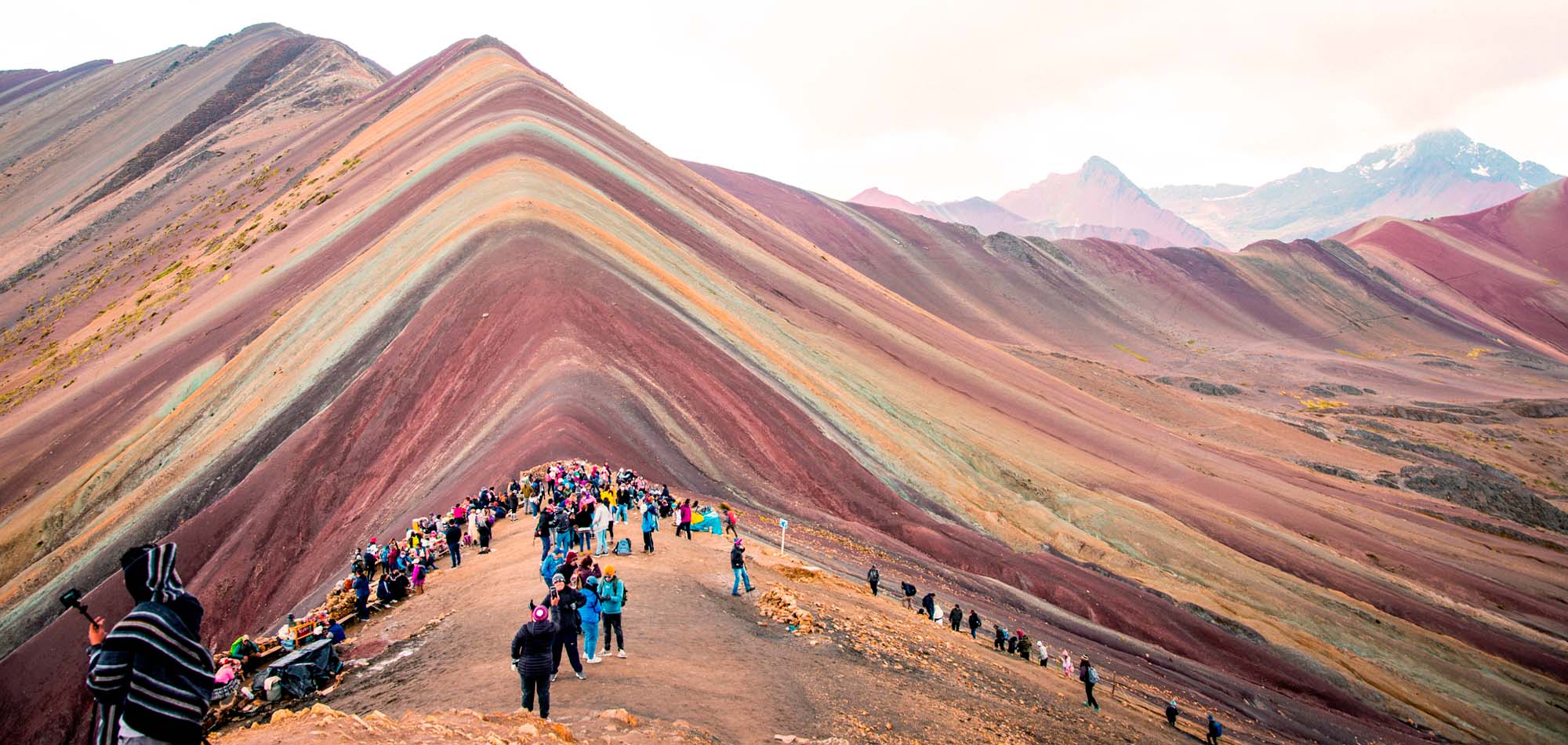 Why is Rainbow Mountain in Peru so colorful
The colors of the mountain actually come from the rich mineral deposits compressed into layers over millions of years. The red layers are iron oxide, while oxidized limonite gives some layers a brown hue. Chlorite gives off a green hue in other layers, and finally, iron sulfide is what makes Rainbow Mountains Yellow layers.
Is it hard to hike Rainbow Mountain?
The Rainbow Mountain hike itself is not too difficult, but the high elevation makes it way harder.
Suggested Packing List for Rainbow mountain
Some snacks for the hike. You may encounter some locals that sell small snacks near the trailhead, as well as water, soda,cookies & candies.
A bottle of water. It is important to drink plenty of water for the hike.
Comfortable walking shoes with solid traction.
Warm clothing including a winter jacket (or several layers), gloves or mittens, and a warm hat.
If you want to pay for a horse ride, you should have about around 100 soles / 30 $ in small bills.
Comments... there are no comments.
Guided Adventures
Self-made blog
All the information is free and precise. I don't get paid for publishing any agency or tour, and everything has been verified and experienced.
01
Local Information
Everything in this blog has been doublé checked by a local, we made the effort on gathering all this information for you, to make your trip easier and cheaper.
02
Personal experience
99% of the information has been lived by a traveler like you, me, I wanted to compile all the information I had to make every traveler life easier.
03
Best and only the best
We gathered the best information for you. All this has been investigated and visited only to bring you the best CSelf-made blog. All the information is free and precise. I don't get paid for publishing any agency or tour, and everything has been verified and experienced.
04