About Humantay Lake
Humantay Lake is an incredible turquoise lake that is situated at the base of the glacier covered Vilcabamba Mountain Range. It gets its name from the majestic Humantay Mountain (5 473m/ 17 956ft) that towers above it. You will be treated to the most amazing and breathtaking views. Humantay Lake is typically enjoyed and appreciated by nature lovers of different fitness levels. On arrival you are immediately enveloped by this sense of calm and peace.
You can choose different ways to visit the lake. Firstly, it is possible to do it on your own, but you need to be aware that there are numerous challenges you should expect to encounter. If you are strapped for time or not the biggest fan of hiking, then we recommend doing the 1-day Humantay Trek or the 2-day Salkantay and Humantay Trek. However, if you want see and experience as much of the Andes as you can, then try the Salkantay Trek 4 days/ 5 nights or Salkantay Trek via Llactapata 5 Days/ 4 nights. Now if you want to see Humantay Lake, trekking through the most rural parts of Andes and also experience the famous Classic Inca Trail then the perfect option awaits you in the Salkantay and Classic Inca Hike 7 days/ 6 nights.
Doing the Humantay Lake hike on your own
Challenges of doing it on your own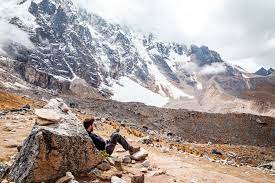 It's very remote, access is very difficult.
Transportation presents the biggest challenge
Trying to figure out the logistics of not only finding the bus to Mallepata, but also working out the local bus system.
Then you have to hire a taxi to Soraypampa, I can guarantee you that as a foreigner you will be incredibly overcharged. The prices recommended below could easily be double or triple.
On your way back, there are no taxis available at all.
The only way to secure a taxi is to either negotiate with one to wait for you or ask them to return at a certain time to pick you up. This arrangement will be very costly.
In order to negotiate successful, you need to be able to speak Spanish fluently. There is absolutely nobody in these remote towns that speak English.
You may also find that some of the locals don't even speak Spanish, they only speak Quechua.
The worst thing that could happen, is getting stuck in Humantay Lake for the night, with no way to get home. If you haven't brought camping gear with you, you will freeze, the temperatures can drop to below zero at night.
There are also no stores around to purchase food, so you put yourself at risk of starving to death.
How to do it on your own
Start as early as 4am, because it is far from Cusco. You will have to take a car from Cusco to Mollepata, at the Arcopata bus terminal (S/ 20.00) which takes about 1 hour and 40 min. In Mollepata, you will have to find a place where you can have breakfast (S/ 10.00). After breakfast, you have to hire the services of a taxi driver to take you to Soraypampa, the taxi will charge you approximately S / 70.00 and if by chance there are more people who want to go, the price per person will go down. You should also budget for the entrance to Lake Humantay (S / 10.00)
After arriving in Soraypampa, you will have to walk for at least 1 hour and 30 minutes to reach the Humantay Lake. If you do not want to walk, you can rent a horse for around S 120. The first 30 minutes of walking is not steep and the rest is a definite uphill.
Also, if you are really adventurous you can swim in the lake, it's really cold though!
Note: By the time you add up all the transporation costs, entry fees, inconvinience and risks involved, you might as well go with a guide and a licensed tour operator. You can get it as cheap as 300 soles for transportation and food (breakfast and lunch). As with all treks and tours, shop around, pay attention to the Itinerary, look out for a good tour company with a good reputation and experience.
How difficult is the trek
You start the trek at the base elevation of 12 700ft/3 850m. With an elevation of 4 200m/13 800ft at the top. Which means you get about 400m of elevation gain. Because of the high altitude it is considered to be a moderate to difficult hike. There are steep inclines and the trail can be rocky in some parts. It also gets slippery when wet and you will be hiking for a total distance of 7km round trip. It is possible to do it as part of the Salcantay trek which is longer and more difficult. We recommend a moderate level of fitness. Firstly, spend a day or two in Cusco to acclimate to the altitude. Next, join a fitness club or increase your daily activity levels before attempting the hike.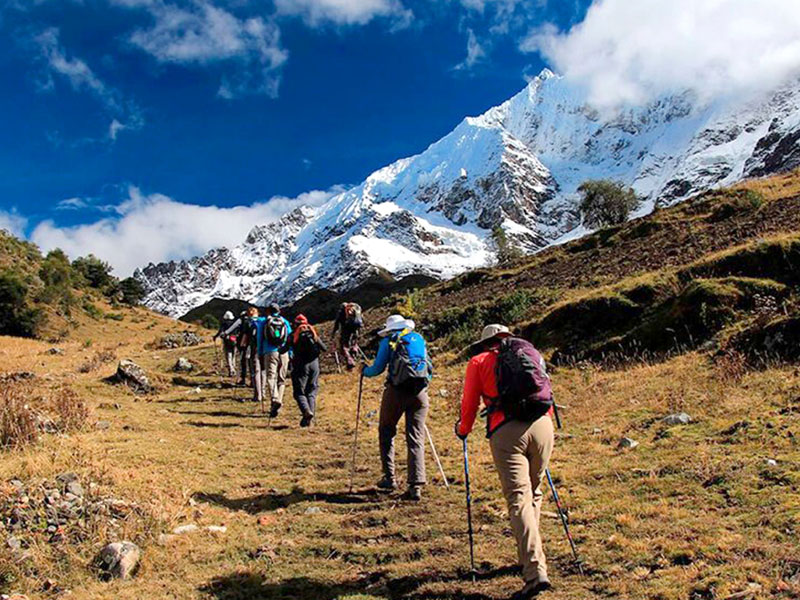 Overview of the different tours to Humantay Lake
This full-day trek will take you and a small group to Humantay Lake, nestled below the famous Salkantay Mountain. Hike to one of Peru's most magical lakes and be surrounded by the impressive Salkantay and Humantay Peaks. Enjoy a hot breakfast upon arrival to the trail, snacks for along the way, a gourmet lunch prepared by our chef, private transportation to and from your hotel in Cusco or the Sacred Valley and a fluent English-speaking guide. Humantay Lake Tour hikes to one of Peru's most magical lakes while gazing at unbelievable turquoise water. The views are breathtaking!
Recommended Tour Operator: Orange Nation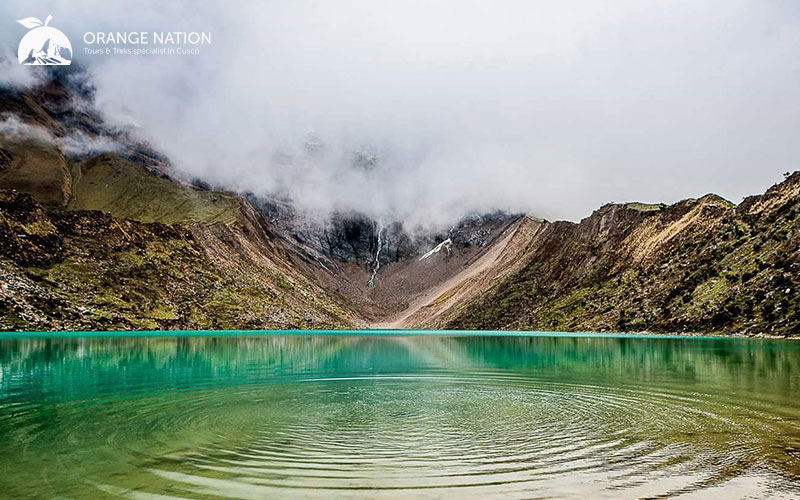 This route is a beautifully scenic two day hike to both Humantay Lake and Salkantay Lake. You first visit the remote indigenous villages of Iscuchaca and Limatambo, which are still keeping Inca traditions alive. Humantay Lake is situated at the base of the majestic glacier covered Salkantay Mountain Range. The views are absolutely breathtaking! On the second day, you hike to the highest point of the trek at 4,650m/15,367ft. From this vantage point, you will be in awe of the massive Salkantay, Humantay, and Huayanay snow-capped mountains surrounding you. Finally, you take a detour off the main trail to the panoramic and truly exquisite turquoise Salkantay Lake. On this two day adventure, you enjoy the peacefulness of nature and at the same time its exquisite beauty.
Recommended Tour Operator: Spider Travel Peru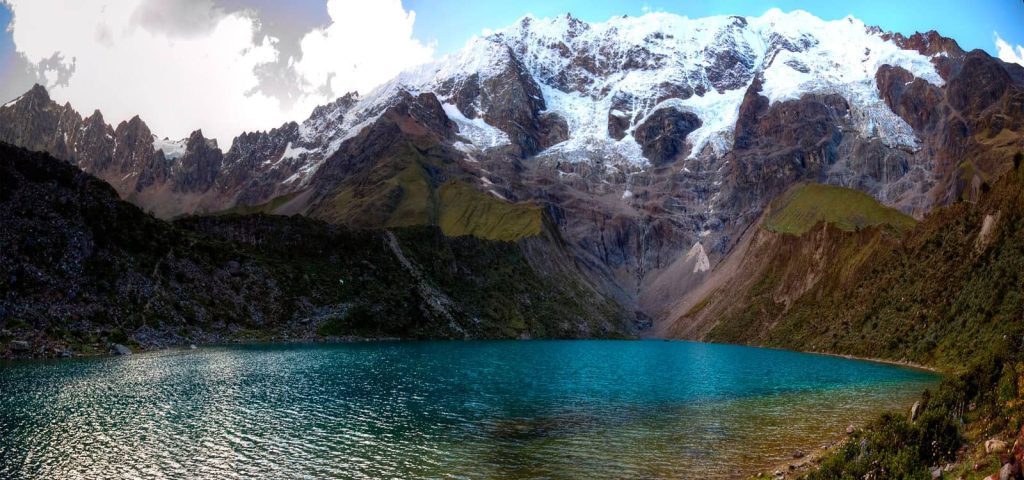 This is a more adventurous and mountainous route than the classic Inca Trail to Machu Picchu and it also takes you to a higher altitude. We will take you through incredible landscapes and several micro-climates, each with its own exotic flora and fauna. This is a unique and specially designed 4-day Salkantay Trek to Machu Picchu, with incomparable views of the snow-capped Humantay and Salkantay Mountains. Trek off the beaten path, following our unique route where you also visit two incredible crystal clear glacial lakes like the Humantay Lake. Hike through the Andes Mountains and camp at our private sites which are more remote, less crowded and off the typical path. Follow the remote foot path up to the forgotten Inca Ruins of Llactapata where you have an extraordinary view of Machu Picchu. Your last morning, you visit the 7 New Wonder of the World and UNESCO World Heritage site: Machu Picchu!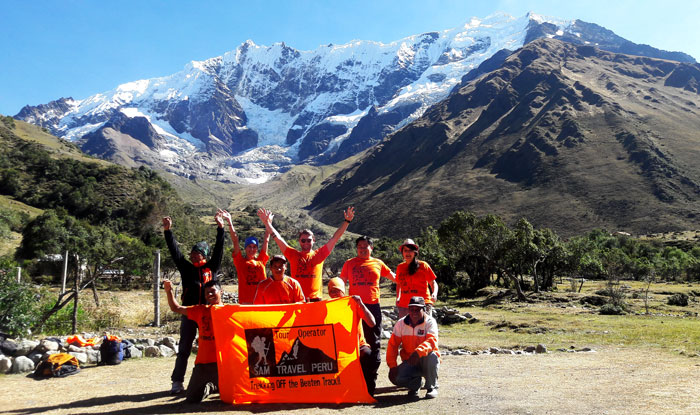 SAM Travel Peru is the best choice if you want to enjoy the Salkantay trek in Peru with specialists in creating our own signature routes. Come see why our customized treks to Machu Picchu like the Salkantay trek are so much more unique than what tour operators offer.
Recommended Tour Operator: Sam Travel
This unique and specially designed 5 day Salkantay Trek to Machu Picchu has unsurpassable views of the snow-capped mountains of Humantay and Salkantay, the holy Apus of the Incas. Trek off the beaten path, following our exclusive trekking route, where you visit two incredible crystal clear glacial lakes, Humantay and Salkantay. They are named after each of the peaks which tower over them. Hike through the Andes Mountain range with its spectacular scenery and views of the colorful valley landscapes below and rugged, glacier-covered peaks above. Camp at our private campsite which is very remote and off the beaten track, so you can avoid the crowds.
Recommended Tour Operator: Glamping Peru Treks

The Salkantay & Inca Trail Trek is the best route for those travellers who wish to get off the beaten track and experience a wilderness trek but still see all of the archeological wonders and historical significance of the original Inca Trail. It is a wonderful trek taking you right from the watershed of the Apurimac River to the Urubamba River and around the stunning Mount Salkantay, which is the second largest mountain in Cusco region at 6,277m/20,577ft. This spectacular trail twists and turns, ascends through high mountain ranges and descends down steep valleys, passing through pockets of misty cloud forest. You will experience the wildest landscapes and the wonder of the oldest traditions and finest archeological sites, a number of diverse ecological zones filled with an astounding variety of plants and bird life. The ancient and remote foot path takes you through archeological sites, on your way to the architectural and cultural grandeur of Machu Picchu itself.
Recommended Tour Operator: SAM Travel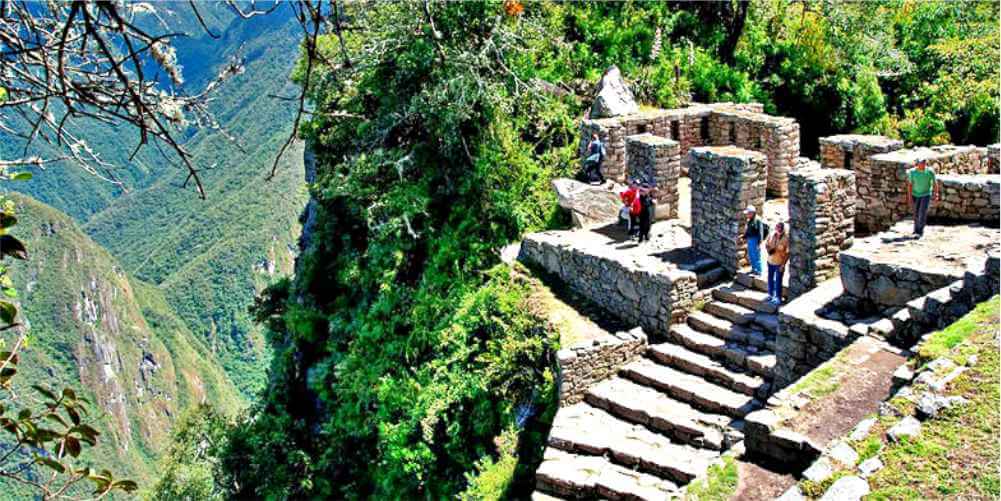 Weather in Lake Humantay
Like most places in the Cusco region the weather can be very unpredictable. The lake is found high up in the Andes Mountains, which means the nights are very cold and the weather is moderate during the days. Average weather ranges from 32 °F / 0°C – 68 °F / 20 °C. The BEST time to visit is during dry season (between April and November), this is because the days are sunny, warm and trekking is a more pleasant experience. The turquoise color of the lake during warm days is so clear and vivid, its truly stunning to look at, a vision in blue.
During rainy season you can be subjected to intense rains and because the trail is rocky, it can make slippery and it creates an added level of difficulty.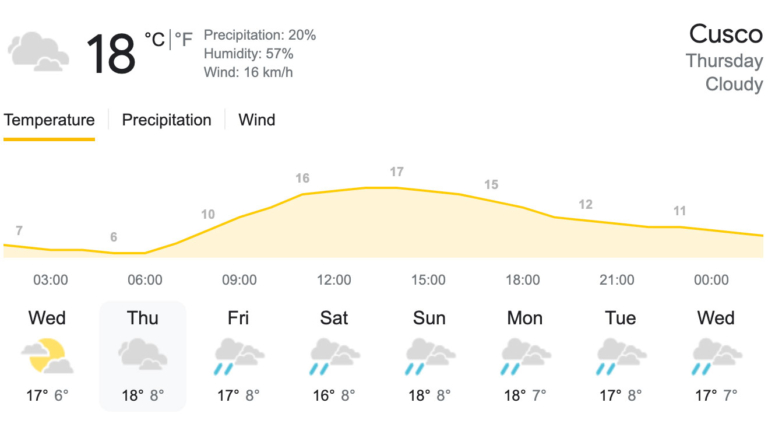 Can I rent a horse?
It is possible to rent a horse in the town of Soraypampa. The horses usually cost around S120 one way. You can only get one for going up the trail, they are not available to come back down. It is not a popular option with most travelers, however be aware that its still an option.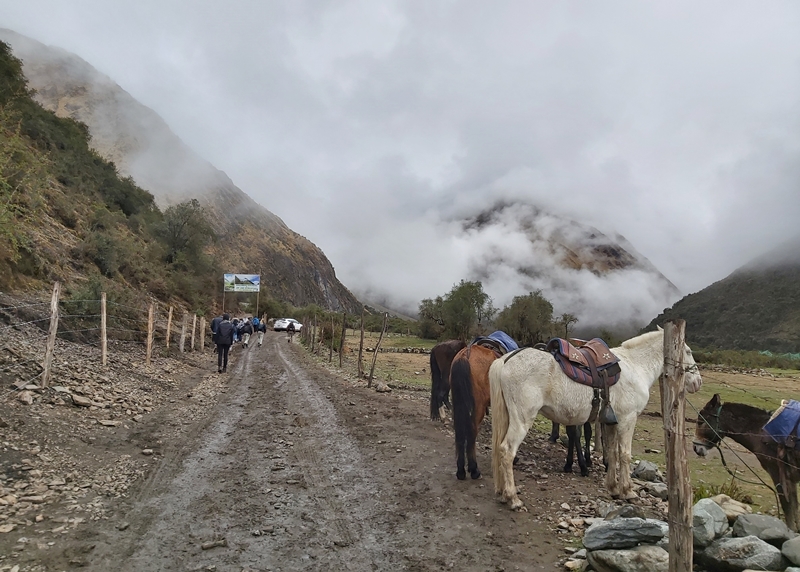 How much should I expect to pay
The Humantay Lake Trek can cost you anywhere from US$70 to over $150 per person. What's included on each trek is dependent on that specific tour company. Things that may be included are: a licensed and bilingual tour guide. Transportation from Cusco to the trailhead and back. Things that may not be included are: Entrance fees into Humantay, food (breakfast and lunch) and the horse rentals. Reading through each tour operator´s itinerary is essential, ask for clarity on its inclusions and exclusions. Usually, companies that charge less do not have a lot of inclusions.
If you pay around the US$150 mark. The trek normally includes private transportation with door-to-door service, smaller groups with personalized attention, entrance fees to the lake and meals. All the basics mentioned above are usually included, these are the added extras you receive when you book with a good tour company that provides excellent service. The projected prices above are only for 1
WHAT TO BRING FOR A DAY HIKE
A lightweight, waterproof day pack
Sturdy hiking boots
Warm clothes and hiking pants, not jeans
Layers of clothes for variable temperatures
Camera with extra film and batteries
Sun protection: sunscreen, sunhat, sunglasses
Thermals, wool socks, gloves, scarf, wool hat in cold season
Insect repellent
Waterproof clothing and or a rain poncho
Water bottles
Personal medical kit with a simple whistle
Extra money for souvenirs, drinks, tips
Walking sticks if needed (rentable)
Favorite snacks
Hand sanitizer
Toilet paper
Passport
Cash – There may be times when you need to pay for a mule ride or buy some refreshments. The same goes for using restrooms.
Hiking poles -If hiking with poles is more your style, bring those with you. It will also aid in your equilibrium.
A set of gloves – Don't let the morning frost numb your fingertips.
EXTRA MONEY: For tips, extra drinks and souvenirs.
Classic itineraries Humantay lake trek 1 or 2 days
Itinerary for the 1 day Humantay lake trek:
01 CUSCO – HUMANTAY LAKE – CUSCO:
Our day begins in Cusco when we are picked up from our hotel lobby at 4:30am to drive 3 hours to the starting point of the trek at Soraypampa located in the lush valley of the Apurimac River, where we will enjoy a hot breakfast prepared by our chef and fuel up for the hike ahead of us. We travel uphill along a beautiful trail called the Camino Real and get higher in altitude. After reaching a tiny village with very few amenities, we continue even further uphil for about 1,200 feet in just 2 miles up a steep path. After conquering the last hill, we will gaze down on a turquoise lake below, which is surrounded by steep peaks and an impressive glaciers.
The hike is dominated by Salkantay Peak, one of Peru's most sacred mountains, 20,600 feet tall with towering snowcapped peaks. The equally impressive Humantay Peak, rising 19,412 feet, is also within view. Once we reach the presumably sacred lakeshore, we relax, enjoy a snack, go for a swim (if you want to join the Polar Bear club) or give thanks to Pachamama (Mother Earth). We will hike downhill to Soraypampa when we are ready and have a hot lunch while enjoying the breathtaking panoramic views and landscape. We drive back to Cusco and drop you off at your hotel.
Itinerary for the 2 days Humantay lake trek:
01 CUSCO – SORAYPAMPA – HUMANTAY LAKE – SOYROCCOCHA:
We will pick you up from your hotel at 5:00am for a 3.5 hour private transfer to Soraypampa (Starting point of the Trek). Along the way, we will see some indigenous villages such as Iscuchaca and Limatambo. In addition, we will have excellent views of valleys and the snow-capped Salkantay Mountain. At the trailhead (Soraypampa), we have some snacks while enjoying views of Humantay (5,900m / 19,356ft) and Salkantay (6,217m / 20,396ft) mountain glaciers. We embark on a 1-hour hike up to Humantay Lake while enjoying the amazing views around us. Upon arrival at Humantay, we take time to explore the lake and its surroundings. After time at Humantay Lake, we head back to the trailhead at Soraypampa and then hike 2 more hours to our campsite located at Soyroccocha. There, we enjoy tea time and then dinner before calling it a day.
Meals: Lunch – Afternoon Tea Time – Dinner
Accommodation: Camping facilities – Large 4-person tents for every 2 trekkers to have space and comfort
Distance: 10kms / 6 miles
Time: Approximately 6 Hours
Difficulty: Moderate
Day 2: SOYROCCOCHA – SALKANTAY PASS – GLACIAL LAKE COLPAPAMPA – CUSCO
After a nice breakfast, we have a moderate climb for aprroximately an hour to reach the highest point of the trek (4,650m / 15,367ft). From here, we rest and relax while enjoying the views of the Salkantay (6,217m / 20,717ft), Humantay, and Huayanay snowcapped mountains, the white water rivers and the humble lakes. Off the main trek route, we take a side trek for half an hour to enjoy the panoramic views and the shockingly turquoise Salkantay Lake. Returning to our primary trek route, we hike down to the trailhead again, where we have lunch, and then we take our private van back to Cusco, arriving around 6pm in the evening. Time to celebrate!
Meals: Breakfast – Lunch
Distance: 12kms / 9 miles
Time: Approximately 7 Hours
Difficulty: Challenging
The 2 days Humantay Lake Trek itinerary was provided by Orange Nation Peru
The vast majority of inquiries about the Humantay Lake Hike
Is it actually as it appears in the photos?
Yes! It's also what makes the hike so much more enjoyable.
What exactly is the Humantay Lake?
Humantay Lake is a little lake, but what makes it so attractive is that on a clear day, everyone can see the turquoise at its best. It is entirely glacial in origin.
Why is the Humantay Lake turquoise ?
One of the widely accepted explanations for the turquoise colour, not only at Humantay Lake but around the world, is the presence of mineral flours or particles carried by the ice waters as they travel. Those small mineral flours never settle to the lake's bottom. Furthermore, the presence of microalgae (Microcystis aeruginosa and Oscillatoria) as well as sunlight reflect the lovely turquoise hue.
Is Humantay Lake Valued?
The photographs of Humantay Lake speak for themselves, and it is well worth the trip. Climb up the overlook on the left bank to wander around if feasible; you won't be sorry. Because there is a fantastic perspective for photos and the views from above the valley down are breathtaking.
How is the wether in Humantay Lake?
During the dry season, the weather is very cold in the morning, but as long as you come prepared, you will be OK. If you visit Cusco during the rainy season and are unable to visit Humantay Lake Peru, the climate will be warmer, the path will most likely be muddy, but the weather will be bright most of the time, as gray clouds recede, revealing spectacular scenery. Cusco's average temperature ranges from 32 °F / 0 °C to 68 °F / 20 °C.
How did the Humantay Lake Create ?
When the glaciers began their most recent retreat, which occurred less than 20,000 years ago, masses of ice cut and scraped the terrain as they moved slowly along, producing moraines. Now, melting waters from Humantay peak's remnant glaciers have filled the depression between the lateral and terminal moraines, and Humantay Lake Peru has formed, with the same name as the peak above.
How is the cell phone service?
There is no cell tower nearby, hence there is no signal for wireless internet access. There is no method for you to check your GPS or perform any other function that requires an online connection. In an emergency, you can rent a USB Wi-Fi signal at the food store at the base camp for a few minutes. Only use it if absolutely required; otherwise, you won't need it because you'll be able to connect to the internet on the way back.
Can I go swimming in the lake?
You are not now permitted to access Humantay Lake because the water is utilized for the consumption of the people who live in these mountains and because human touch could affect the natural hue of the lagoon. In addition, the water temperature is extremely frigid, making it unsuitable for guests.
Is it possible to find restrooms on the Humantay Lake hike?
There are a few facilities near the start of the Humantay Lake walk. The next location is 30 minutes away, but that's it. There are no facilities near the lake, so you must be completely prepared ahead of time. As a result, you should consider using facilities at the start of the climb.
Is hiking to Humantay Lake safe
Yes, it is normally safe to hike to Humantay Lake with a reputable local tour company. For more information, please visit the Orange Nation Peru.
Recommendations
Prepare for the altitude: Humantay Lake is 4,200 meters (13,779 feet) above sea level, therefore it's vital to adapt to the height before doing the tour. You could also try altitude sickness medication or coca tea, a natural cure.
Dress in layers: Because the temperature might fluctuate dramatically throughout the day, carry warm clothes as well as a rain jacket in case of rain.
Wear comfortable shoes: The hike to Humantay Lake comprises uphill and downhill climbing for around 2 hours, so wear comfortable shoes with good traction.
Bring your own snacks and drink: You must bring your own snacks and water because they are not given on the tour. It is recommended that you bring enough water to last the full day.
Respect the environment: Humantay Lake is a stunning natural wonder, thus it's critical to treat it with care. Stay on the appropriate trails and obey any instructions given by your guide.
Take your time: Do not rush to Humantay Lake. Take your time admiring the breathtaking vistas and take pauses as needed.
Pay attention to your guide: Your guide will deliver crucial information about the area and the hike, so pay close attention and obey their directions.
Health -Acclimate your body for at least one day in Cusco before commencing on this excursion.
Can I set up camp near the lake?
You cannot camp adjacent to Humantay Lake, but you can tent in the Soraypampa camping area, which is 2 kilometers (1.24 miles) from the lagoon.
Restrictions
Pregnant ladies and anyone with heart problems should avoid this route.
Guided Adventures
Self-made blog
All the information is free and precise. I don't get paid for publishing any agency or tour, and everything has been verified and experienced.
01
Local Information
Everything in this blog has been doublé checked by a local, we made the effort on gathering all this information for you, to make your trip easier and cheaper.
02
Personal experience
99% of the information has been lived by a traveler like you, me, I wanted to compile all the information I had to make every traveler life easier.
03
Best and only the best
We gathered the best information for you. All this has been investigated and visited only to bring you the best CSelf-made blog. All the information is free and precise. I don't get paid for publishing any agency or tour, and everything has been verified and experienced.
04