Cusco
Best Restaurants in Cusco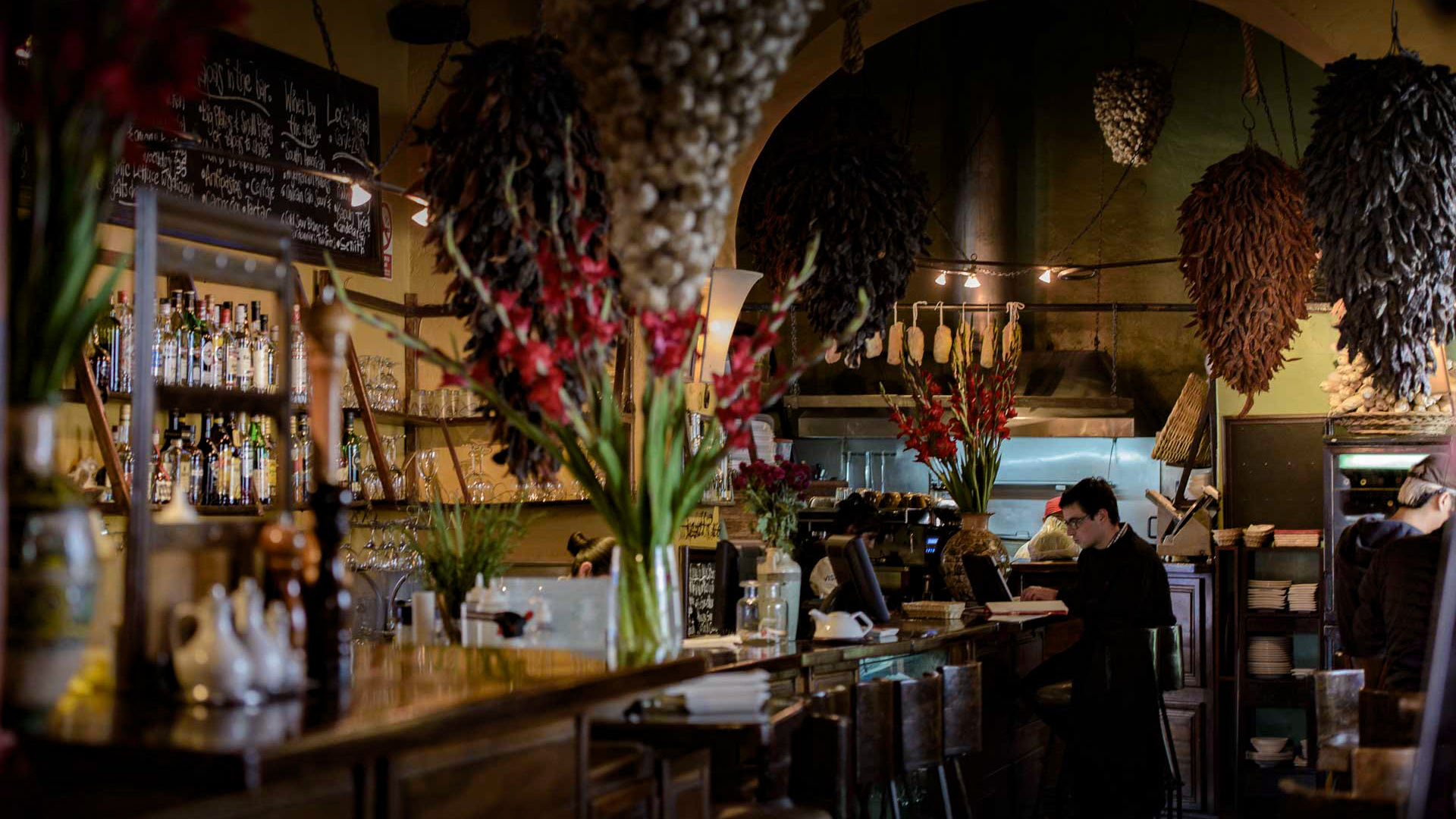 Cicciolina
Don't be fooled by the name. Cicciolina is not just another Italianesque Cusco tourist magnet with "real wood-fired pizzas" but a rather swanky tapas bar, wine bar, breakfast joint and fine dining restaurant, conveniently located just a hop, skip and jump from the Plaza de Armas.
One of Cusco's most popular and highly-rated eateries, Cicciolina consistently gets the thumbs up from customers who flock here for breakfast, lunch, tapas, bar meals and dinner. The extensive a la carte dinner menu which features a good selection of Peruvian and international dishes can be enjoyed in the informal bar area with its high vaulted ceiling and rustic wooden beams, or in the more sophisticated dining room, or salon, with deep red walls, huge modern art canvases and period furniture. You do have to pay an extra 7 soles (about £1.50 or US$2.50) for the privilege but it is worth it for that sense of occasion.
Seafood dishes such as scallops with a dark sauce of ginger, honey, sesame and soy and chargrilled seafood brochettes come highly recommended, and I have it on good authority that the osso buco is hard to beat. There are a handful of vegetarian options, a reasonably priced wine list and a small but perfectly formed dessert menu. Expect to pay around 100 soles per head for three courses without drinks. Reservations very strongly advised.
Address: 2nd Floor, 393 Calle Triunfo, Cusco
Opening Hours: Open daily for breakfast – 8am to 11am, lunch – 12 noon to 3pm and dinner – 6pm to 10pm.
Chicha, by Gaston Acurio
Anyone who knows anything about Peruvian cuisine will have heard of Gaston Acurio whose global culinary empire already extends across three continents and whose flagship Lima restaurant is considered one of the world's top 50. Whilst that particular restaurant has a price tag that more than reflects its world standing, luckily for visitors to Cusco, Chicha, one of Acurio's two Cusco offerigs offers a taste of the master's renowned cuisine at much more affordable prices.
The menu is mostly Peruvian with staples such as causa – mashed native potatoes topped with trout, avocado, quail's egg and hot red pepper; ceviche; adobo – a rich meat stew; and, of course, guinea pig. Even the more cosmopolitan pizza includes alpaca in its topping. I can recommend the grilled octopus with pickled radish and micro herbs and the pork chicharron with native potato fries, "giant corn" and fresh herby huacatay sauce. It is a huge, well-cooked portion that would satisfy even the healthiest of appetites.
Whist the service can be a bit spotty – and you can't tell from the menu what is a starter and what is a main course – the quality of the food, the reasonable prices and excellent location on one of the centro historico's most picturesque squares make Chicha a safe bet and a great way to sample a little bit of the legendary Gaston Acurio for around 100 Soles per head for three courses without drinks.
Address: 261 Plaza Regocijo, 2nd floor, Cusco
Opening Hours: Open daily from noon to 11pm
Uchu, Peruvian Steakhouse
It seems only fitting that restaurant as good as Uchu should be located close to the beautiful Plaza Nazarenas, home to no less than four of Cusco's most charming, luxurious and exclusive hotels. If you are lucky enough to be staying here then take a short stroll downhill from the square and slip into the unassuming courtyard that leads to this misleadingly named "steakhouse".
Banish all thoughts of giant steaks being thrown at you by stetson-wearing hulks in gingham shirts and picture instead a sophisticated dining experience in slightly traditional, slightly glittery surroundings all served up by friendly and very professional staff.
The food is mainly Peruvian – starters include causas – those tasty little potato stacks – with seared alpaca, as well as a range of classic marinated fish dishes based on the ceviche theme. All delicious. The main draw are the generous and equally delicious main courses of various types of fish, meat and seafood served on sizzling, heavy volcanic stone slabs. It may sound gimmicky but it works. Two courses, excluding drinks, will set you back around 75 Soles, and managing three would be a struggle.
Address: 135 Calle Palacio, Cusco
Opening Hours: daily from 12:30pm to 11pm
Limo
Limo enjoys one of the best locations of any restaurant in Cusco, on the upper floor of an ancient colonial building overlooking the gorgeous Plaza de Armas itself. Inside is divided into a Pisco bar, main restaurant and balcony area, all sharing relaxing and tasteful décor – deep red and purple walls, dark wood and white leather furniture, large modern art canvases and big vases of lilies. Oh, and the balcony is fully enclosed and extremely well insulated – no chilly drafts here as you sip on your cocktails.
The menu is Peruvian-Japanese fusion with visually pleasing and tasty starters like ceviche-style sushi rolls (see photo, top) and crunchy panko-coated causa rolls with smoked trout and avocado, all served up with soy sauce, slivers of pickled ginger and wasabi paste. There is an extensive list of mains to choose from too. The osso buco is very flavoursome and the alpaca loin with quinoa risotto is particularly good.
The only thing to blight our evening was the twenty minutes it took to replace a dish on discovery of an unwanted foreign body. Just bad luck? You decide, but without that incident I would have put Limo close to the top of my list of recommended restaurants in Cusco, and that's despite the hefty price tag too. Expect to pay at least 100 Soles for three courses without drinks, and make a reservation. Evening sittings are 7pm and 9pm.
Address: 2nd Floor, 236 Portal de Carnes, Plaza de Arma, Cusco
Opening Hours: Open daily for lunch and dinner; Dinner reservations accepted for 7pm or 9pm
Fallen Angel
Dining at The Fallen Angel is as much out enjoying the unique, kitsch and totally theatrical ambiance as it is about the food, which, incidentally is also very good. As soon as you enter the old colonial house on beautiful Plaza Nazarenas that is home to this delightfully quirky but decidedly upmarket restaurant, you are struck by the fantastical décor – flying pigs suspended from a meringue-like ceiling, faux animal skin stools and glass topped bath tubs, some filled with real goldfish, that serve as dining tables. Dark painted walls glimmer with the reflections of an assortment of glitter balls and are adorned with contemporary works of art by local artists.
Since I last dined here the menu has been completely overhauled but if the quality of the food, the service (and the cocktails) are anything to go by, then I am sure that a visit here and the Peruvian-International menu will not disappoint. Starters of chicharron – traditional deep fried pork – and thick quinoa and shrimp soup are calling out to me as are mains such as duck marinated in malt beer and coriander and Amazonian paiche fish served with risotto in a banana leaf.
If you decide this is where you want to give legendary Peruvian guinea pig a try it will set you back an astonishing 90 Soles. Avoid that and you can expect to pay at least 100 Soles per head for three courses without drinks.
Top tips: it can get a little cold due to the "open plan" nature of the building so wrap up if going for dinner; and smoking is allowed in the "patio" which is great if you are a smoker but not so good if you are not as the patio has a roof and the smell can quickly permeate the restaurant.
Address: 221 Plaza Nazarenas, Cusco
Opening Hours: Monday to Saturday 11am to 11pm; Sunday 2pm to 11pm
Papacho's
There are two reasons a burger joint is on our list of best places to eat in Cusco. First, it is another affordable part of the ever-growing empire of Peruvian wonder-chef Gaston Acurio (See Chicha, above) and second, the food, service, , ambiance and location all conspire to make it difficult to have a bad experience here – even if the specialty is the humble hamburger.
Papacho's is located in a large, airy upstairs space in a colonial building on a corner overlooking the Plaza de Armas. If you come for lunch and are very lucky you may even get a table on the small balcony out front where you can enjoy the unforgettable views of the square and the Andes. Inside can get pretty lively, particularly at night and it is very popular with groups. However, there is a veritable army of highly efficient and friendly waiting staff who all seem to speak good English, so you ever have to wait too long for your order. But if you are impatient by nature or bore easily, you can take advantage of the jar of crayons on each table and decorate your paper table mat while you wait.
There are more than burgers on the menu, including some tasty vegetarian options, but passing the opportunity to try a "Cordon", with ham, cheese, crispy onions and elderberry sauce, or a "Guacha" with provolone cheese and avocado would be like going to an oyster bar and ordering a ham sandwich. And the really good news is you can get two burgers with all the trimmings and a bottle of wine for under 150 Soles.
Address: 2nd floor, 115 Porta de Belen, Plaza de Armas, Cusco
Opening Hours: Daily, from noon til midnight