About Ollantaytambo
Ollantaytambo known as Allantaytampu in Quechua, is a small town 40km from Machu Picchu. Its full of history, great architecture, and is a busy and bustling tourist hub. This little town gets an average of over 13000 visitors every month. It has its own unique history of triumph and struggles with the Spanish. You will find very interesting and unique works of art. Evidence left by the ancient Incas of its unsurpassed architecture and engineering is not to be missed. Modern Ollantaytambo is a mix between the new and the old. The winding cobble stoned streets are filled with many restaurants, coffee shops, cute souvenir stores and arts and craft markets. Find out of What to do in Ollantaytambo? here!
Most people do use this town as a stop over on their way to Machu Picchu to visit this majestic UNESCO World Heritage site.
History of Ollantaytambo 
The archeological site of Ollantaytambo once belonged to the Aymara tribe. Unfortunately, we don´t hear much of this tribe and their language, less than 3% of the population in Peru are able to speak this language. In the middle of the 15th century, the Inca leader Pachacuti conquered this town and rebuilt this archeological site. The main language of the Incas was Quechua, therefore, the current name of this site and town is Quechua and not Aymara.
It had many uses under Inca rule, including Pachacuti´s personal estate, a retreat for royalty, and a religious center, and was later used as a military stand-off against the Spanish Invaders. The Incas won this battle, but because their numbers were so depleted they fled toward the dense jungle. It is the only resistance that defeated the Spanish Expedition in a battle. The Incas won this battle, but because their numbers were so depleted they fled towards the dense jungle It is around the 19th Century that the Inca ruins in Ollantaytambo attracted the attention of several foreign explorers.
Today, its history is still evident and thriving. It attracts thousands of visitors every month. If you are looking for a more details history, presented in an informative and modern way, visit the Ollantaytambo Site Museum. The Catcco Museum (Andean Center for Technology and Culture of the Communities of Ollantaytambo)
Transportation and location of Ollantaytambo
Ollantaytambo is about 60km from the city of Cusco and 30km from Machu Picchu. It´s located 2,792m (9, 160ft) above sea level. It´s part of the Sacred Valley of the Incas. The furthest from Cusco, but closest to Machu Picchu. To visit this town from Cusco you can take a taxi, a bus or train.
Getting to Machu Picchu on the other hand has limited options. The most popular way is by train. They have train stations for both Peru Rail and Inca Rail. The best part about their train stations is that they run all year round, wet and dry seasons, making it a super convenient location to start your trip to Machu Picchu. Another way to get to Machu Picchu is by trekking, the most famous being the Inca Trail, but there are other options on roads less traveled. We will discuss all the possible trekking options below. Finally, you can take the bus. We really DO NOT recommend this form of transportation, the roads are small and winding. It is a very dangerous trip and it is not worth risking your life.
What to do in Ollantaytambo?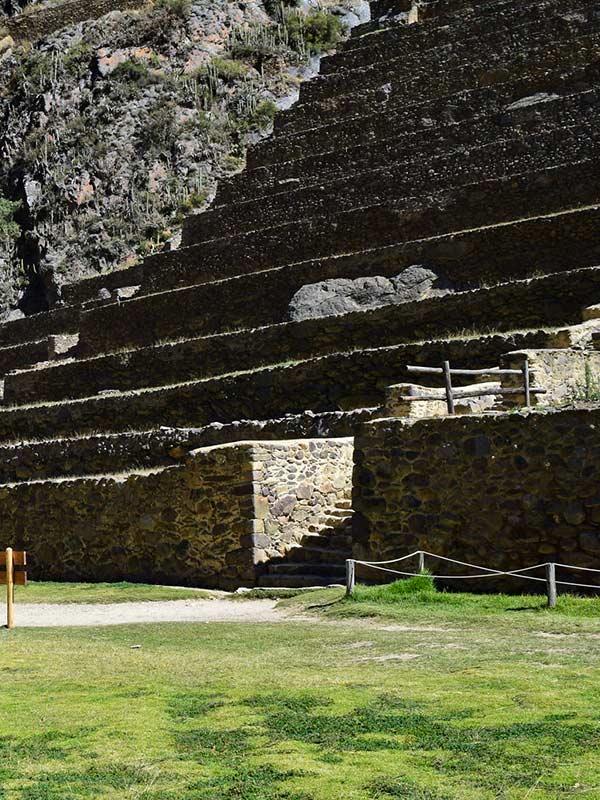 1.- Visit the Ollantaytambo ruins and terraces
Snaking up the hills, these ruins define and dominate Ollantaytambo from nearly every angle. However, it's important to try and get to them in the early morning or later in the afternoon as it can be incredibly crowded once the large tourist buses turn up. The town is at an altitude of 2,792 m, so don't be surprised if you're a wee bit out of breath making your way to the top.
Entry to the ruins is only possible with the Cusco Boleto Turistico – a multisite ticket that covers many of the best Sacred Valley ruins. It is not possible to buy a single entry ticket to Ollantaytambo, so find out more about the Boleto Turistico, where to buy it, and its three ticket price packages. Give yourself 1-2 hours to explore the site at your own pace.
2.- Explore the old town streets
It always sounds like it's raining in parts of Ollantaytambo, and that's due to the town's unique and incredibly well-preserved Incan open-draining system which runs straight through the center of many of its pretty cobblestone streets (if you don't spot them in time, expect wet feet). Walking the town's narrow back streets feels like stepping back in time and, as Ollantaytambo is so compact, you'll never really get lost. Just look up to the Inca site towering above you to get your bearings.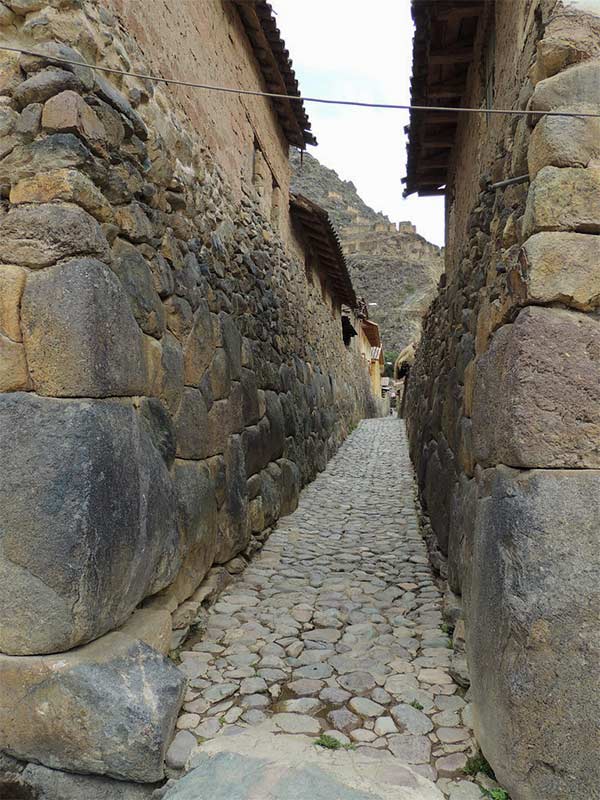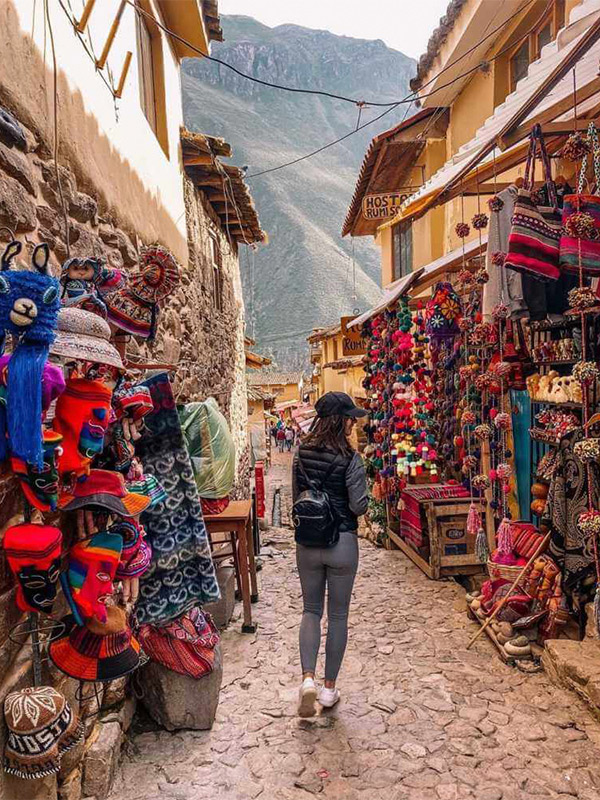 3.- Browse the souvenir market
If you are on a shorter trip to Peru, then you'll enjoy spending some time exploring this small but well-stocked open-air souvenir market.
Found at the base of the ruins (you'll pass through it to enter the terraces), it has all the usual fare one would expect to see in a Peruvian tourist spot and makes no claims to be anything other than just that – but you may find some gems for yourself. Haggling is part of the process, but remember to only try and get a deal that is fair for everyone involved in the transaction. (Having traveled in other countries where haggling is expected, like Morocco, I learned not to expect to get half of the original price, but you can usually get five to twenty soles off the price).
TIP:
There's a cute little side street branching off from the tourist market where there are small shops selling similar items.
4.- Stop by the local market
Just of the central plaza, this local's market is a joy to walk through. Get an insight into the day-to-day life of the locals, avoiding some of the tourists, it has remained defiantly authentic. It's also the best place to stock up on snacks for your Inca Trail hike.
5.- Enjoy the view from the deposits of Pinkuylluna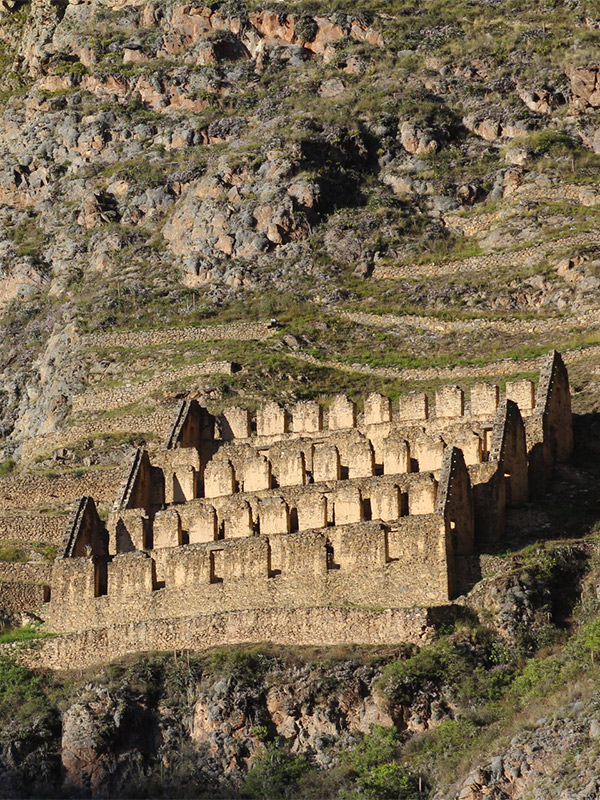 A great free view over Ollantaytambo and its imposing mountains is available from these old storehouses – it's perfect for golden hours vibes. They're also much less visited than the Terraces and Ruins, offering the opportunity to escape the crowds and work up a sweat too.
To find the trail, simply go down Lare Street and you will see a set of stairs and a sign on your right to take you on the trail; the start point is also clearly pinpointed on Google Maps if you type in 'Pinkuylluna'. The walk-up takes 30-45 minutes, and be careful on the way down!
6.- Secret corners in the sacred valley
If you're keen to avoid spending too much time in cities, then Ollantaytambo's small-town vibe may be a much more attractive alternative and allows you to discover the Sacred Valley a little slower and on your own terms. Looking for something unique? Try hiking up to Perolniyoq Waterfalls. It's just past the small village of Socma. It's remote, peaceful, and serene, free of tourists. In the center of Ollantaytambo, once the large crowds have come and gone each day, it's got a pretty charming small-town vibe to it and you can still find pockets of authentic Peru, among the tourists.
Quarry of Cachicata Inca
Cachicata Quarry is a pre-Inca quarry near Ollantaytambo, Peru. The quarry is located on a mountainside and is famed for its spectacular Inca stonework, which was used to construct many of Ollantaytambo's buildings and constructions.
A full-day journey from Ollantaytambo will take visitors to the Cachicata Quarry. This is a fascinating place to learn about the Inca processes and equipment used to remove and shape the stone. The quarry is nearly complete, and visitors may watch how the Incas cut the stones using traditional methods. The Inca Quarry trip is a terrific warm-up trek and excellent preparation for the Inca Trail. The Cachicata trek to the Inca Quarries begins in Ollantaytambo, where the Inca-bridge crosses the Urubamba River.
The paths where the large stone blocks were slid down the slope and brought across the river to Ollantaytambo by the Incas may be seen along the journey.
Peruvian Sky Lodge Hanging Hotel

The Skylodge Adventure Suites in Ollantaytambo, Peru, offers a one-of-a-kind and adventurous lodging experience. This eco-friendly retreat is perched 400 meters above the Sacred Valley of Per. It offers spectacular panoramic views of the surrounding mountains and the Inca Sacred Valley.
The hotel is made up of three translucent capsules, each with a comfy bed, a private bathroom, and a spectacular view of the valley. For stability and safety, the capsules are built of aerospace aluminum and polycarbonate and are fastened to the cliff by steel cables. Visitors must climb a 400-meter via ferrata to reach the capsules.
Inca ruins Ñaupa
Ñaupa Iglesia is an old temple in Ollantaytambo, Peru's Sacred Valley. The temple is thought to have been constructed during the Inca Empire, between the 15th and 16th centuries. It is a one-of-a-kind and historically significant archaeological site with a rich history and a profound spiritual importance for the community.
The site is accessible from the town of Ollantaytambo, which is located nearby. Although it is preferable to go with a local travel agency or guide who can also help you locate the best method to get there.
Salt Mines of Maras
The Salt Mines are located in Peru's Sacred Valley, near the town of Maras. These salt mines have been in use since pre-Incan times and are still used by local families today. The Maras Salt Mines are made up of almost 6,000 salt pools, each around 5 square meters in size and filled with saltwater from a nearby subterranean spring. The salt collecting procedure has been passed down from generation to generation. Visitors can take a guided tour from Ollantaytambo to the Maras Salt Mines and learn about the salt mines' history and cultural significance. The view from the top of the salt pools is spectacular and should not be missed.
Treks and tours from Ollantaytambo
1. Mountain bike tour in Patacancha Valley to Ollantaytambo
The mountain bike tour is a unique and fun way to discover high Andean Quechua-speaking communities. On this bike ride, you will be able to travel across the beautiful Patacancha Valley, with the opportunity to stop at traditional weaving communities in the villages of Huilloq and Patacancha on your way down to Ollantaytambo. Which still continue to follow ancient cultural practices, very little has changed since Inca times.
***Patacancha and Huilloq, ancient indigenous communities, are beautiful examples of ancestral Andean living. Their inhabitants still wear traditional, colorful clothing and follow the same practices as their ancestors. These scenic and amazing routes take you to the most rugged Andean landscapes. You will experience wild Andean mountains and an authentic way to explore Inca origins
2. The 1 day Inca Quarry Trek and Sun Gate
Explore the Inca Quarry, where the Inca mined and shaped the massive stones that make up the Ollantaytambo fortress. You will also see the Inca ruins known as Inti Punku, which means Sun Gate in Quechua, on a guided hike through the Peruvian mountains. During the hike, you will also enjoy the amazing view of the Veronica Mountain glacier and the famous Sacred Valley of the Inca!
Inti Punku is a small Inca construction, at the top of a 3,900-meter hill overlooking Ollantaytambo. On this scenic hike, you will enjoy the views of the Urubamba River, the Ollantaytambo Archeological Site, and stunning views of Mountain Veronica.
3. Sacred Valley Tour from Ollantaytambo to Cusco
The Sacred Valley Tour is specially designed for those most interested in the fascinating history of the Inca empire and amazing archeological finds. You get to see the best highlights of the Sacred Valley: Ollantaytambo, Moray, the Maras Salt Mines, and Pisac Inca ruins & market. All of this is provided in a small private tour with a guide who is passionate about Inca archeology, culture, and history.
The valley between Ollantaytambo and Pisac is known as the Sacred Valley of the Incas. It is strategically located between Cusco and Machu Picchu and played a key role in Inca culture and history. The Valley has a milder climate and is at a lower altitude than Cusco. Throughout the day, you will see picturesque villages, ancient Inca terraces, and the most important archeological sites.
These are the absolute highlights! If you want to see the most important places from the Inca Empire and enjoy relaxing luxury in the most scenic part of the Sacred Valley, this is the perfect tour package! In only two days you will see the most sacred archeological sites of the Sacred Valley and visit the fabled Machu Picchu!
5. Sacred Valley & Short Inca Trail Package 3 Days / 2 Nights
These are the absolute highlights! If you only have three days, this is the perfect tour package. Hiking the Short Inca Trail to Machu Picchu, you get to discover the Sacred Valley´s treasures and its most fascinating archeological sites. Walk in the footsteps of the Inca to arrive at Machu Picchu through the Sun Gate. On the Inca Trail, you visit the astonishing Wiñay Wayna on your way to Machu Picchu!
6. Short Inca Trail To Machu Picchu 2 Days
When you hike the SHORT INCA TRAIL TO MACHU PICCHU you will see lovely Inca ruins, expansive mountain views, lush subtropical vegetation, and extraordinary ecological varieties. The "Ancient Inca Road" goes through the National Park and enters through the Sun Gate with unforgettable views of Machu Picchu! We will pass cloud forests that turn into lush subtropical vegetation. People hiking the short Inca Trail Trek will have the privilege of seeing the famous Machu Picchu Citadel in the afternoon when there isn´t much foot travel for those unobstructed shots of Machu Picchu. They also get to visit the next morning with a 2-hour guided tour. This trek was designed for those with little travel time but who would like to experience a part of the Historic Inca Trail.
7. Inca Quarry trail trek to Machu Picchu 4 days/ 3 nights
This hike takes you off the beaten track! This trek also brings you the most amazing camping experience! The Inca Quarry Trail Trek to Machu Picchu is a uniquely designed trek, taking you to remote and rarely-visited Inca ruins. You'll visit waterfalls, view wild panoramic landscapes, and ancient Inca aqueducts, and take yourself back in time to the Inca stonemason's unmatched masterpieces. On your final day, will be the long-awaited tour to explore and experience the New 7 Wonder of the World of Machu Picchu!
There are many tours from Ollantaytambo. Some take you off the beaten trek. Check out Veronica View Hotel
Where to stay in Ollantaytambo?
For everyone else, there's no shortage of locally run hostels, hotels, and guesthouses catering to every travel style. You will always be able to find somewhere cheap and cheerful if you just turn up (less possible in the May-September high season).
Here is our recommendation. This hotel will handle both your stay and tours with its in-house trekking company.
Veronica View Hotel: Arriving at the hotel, you will be greeted amid gardens of native flowers and orchids. Take in the amazing sight of Veronica Mountain, covered with glaciers year-round. After you settle into your room, walk through the gardens to the pool and restaurant area. Their amenities include a steam sauna, dry sauna, spa, swimming pool, and restaurant. They also have a tour company that runs very successful tours to Machu Picchu and beyond.

More information on the train from Ollantaytambo to Machu Picchu?
The small town of Aguas Calientes is the access point to Machu Picchu, and people can walk to the site from there or take the shuttle bus for 25 minutes to the entrance. We recommend you travel to Aguas Calientes by train from Ollantaytambo (it's only 32 km away) rather than going straight from Cusco. The start point for the Inca Trail can also only be accessed via Ollantaytambo.
This is why so many tour groups and independent travelers end up in the town for a night!

Take the train
There are regular daily departures to Aguas Calientes from Ollantaytambo train station with both Peru Rail and Inca Rail – this is the Machu Picchu train which you've probably already heard a lot about.
It's highly recommended to buy your tickets in advance online or in person to get the best price and departure times for your trip. It is also possible to buy them last minute at the train station in Ollantaytambo but the choice will be very limited in high season and most tickets left will be for the most expensive services.
Where is the train station? The train station is easily found at the end of Av. Ferrocarril (go left just before the small bridge which takes you to the tourist market and terraces). It's a 10-minute walk downhill from the plaza, so make sure you leave with plenty of time to catch your train.
How much are the tickets? It varies depending on the company, departure time, and train service chosen as they have different levels and train types available (i.e. the Vistadome). Prices start from £56 one-way but can cost a lot more.
What are the schedules? The train from Ollantaytambo to Aguas Calientes takes 1h 20m to 1h 40 mins (it covers the distance slowly intentionally).
Click on the following link to get more information on Inca Rail and
Peru rail. https://machupicchutravelguide.com/inca-rail-vs-peru-rail/

Walk the Inca Trail or any Alternative Trek
The start point for the Inca Trail is by the train tracks at Kilometre 82, about half an hour's drive outside of Ollantaytambo. However, it's only possible to do the Inca Trail with an official tour group (we went with Glamping Peru Treks which has a great reputation and Inca Trail online reviews and enjoy our comforts, but there are many options out there and different price ranges), and you have to book your place months in advance. Most Inca Trail tours will include your transport to Ollantaytambo from Cusco.
For all the information you need to prepare for the Inca Trail, click on the following link here!
Best Restaurants
Chuncho: They host a Pachamanca lunch on their organic farm. Pachamanca is a form of ritual to celebrate life and fertility and to thank ´pacha mama´ mother earth for giving food.
Heart Cafe: The great thing about this place is its great location and wholesome English-style foods.
Don Dante Restaurante: They make a mix of Mexican and Italian food if you looking for something international.
Amanto- Comida Sagrada: This place specializes in upscale Peruvian cuisine. Try an Alpaca steak or any of the delectable local Peruvian dishes.
Blue Magic: If you are looking for nothing special, just a cool and affordable dive bar with burgers and chips. This is the place.
The are many restaurants in Ollantaytambo, offering everything you can think of. The most authentic and cheapest place to eat I would say is the Ollantaytambo Local Market. Experience a bit of cultural immersion and shock.

Tour Services
Veronica View Tours
Veronica View Tours is an in-house tour company under the Veronica View Hotel umbrella. It is a highly professional trekking company, giving the best quality service in small groups averaging 6 to 8 people and not more than 10. They are located in the heart of Sacred Valley in Ollantaytambo. They have unparalleled knowledge of the Sacred Valley of the Incas and have years of experience in trekking. If you are looking for a specialist tour company to book a day trip, multiple-day trekking tour, or a trip to Machu Picchu, then look no further than Veronica View Tours.
Link: https://www.veronicaviewhotel.com/tours-to-machu-picchu/
Guided Adventures
Self-made blog
All the information is free and precise. I don't get paid for publishing any agency or tour, and everything has been verified and experienced.
01
Local Information
Everything in this blog has been doublé checked by a local, we made the effort on gathering all this information for you, to make your trip easier and cheaper.
02
Personal experience
99% of the information has been lived by a traveler like you, me, I wanted to compile all the information I had to make every traveler life easier.
03
Best and only the best
We gathered the best information for you. All this has been investigated and visited only to bring you the best CSelf-made blog. All the information is free and precise. I don't get paid for publishing any agency or tour, and everything has been verified and experienced.
04