What is Choquequirao
Choquequirao trek is a hidden gem. It's an inaccessible archeological site at the top of the Andes Mountains except by foot and is surrounded by the Amazon Jungle. One more ace up Cusco´s sleeve, giving us more things to admire and explore about their unique and dynamic country that has a rich history and vibrant culture. Choquequirao peels yet another layer into the unsurpassed genius of the structural engineering and architectural prowess of the Ancient Incas. The name of this site means ´Cradle of God', which makes sense because it's built on top of the mountain, nestled within the clouds, and that high up it was easy for them to believe they were being cradled by God. Most of the buildings are well restored and well preserved and the government still works day and night to ensure that its restoration continues.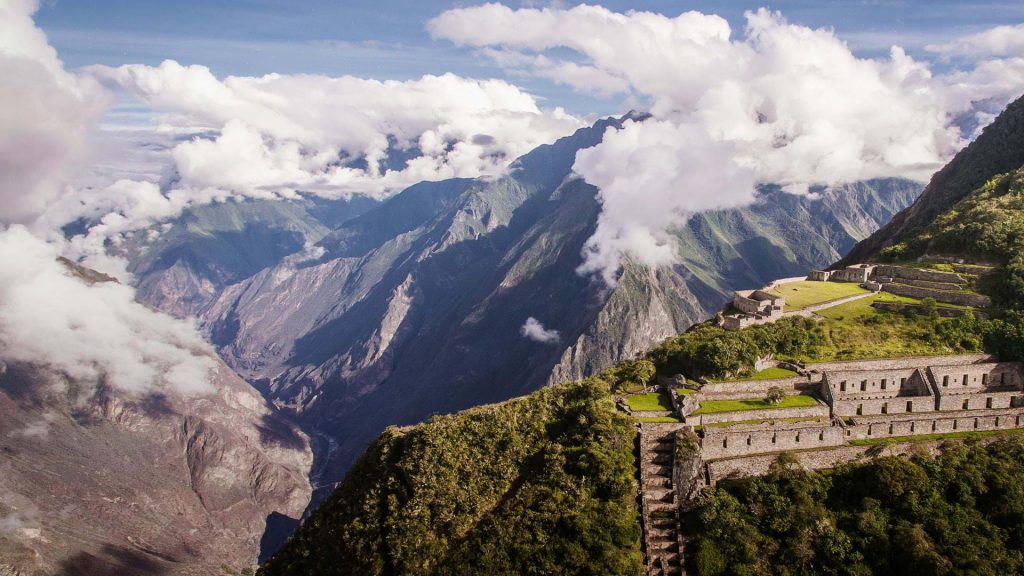 History of Choquequirao
Choquequirao was founded by Pachacuti, remolded by his son Tupac Inca Yupanaui and the most recent settlers belong to Tahuantisuyo. According to written accounts, it was used as a check point to the Vilcabamba. The design, and placement of the 12 sectors in the site are very similar to those of Machu Picchu, suggesting that this could have been constructed around the same time as Machu Picchu in the 15th to 16th century. Because of its strategic location, the city also played a vital part as a link between the Amazon Jungle and the city of Cusco.
Also, it is now the same size as Machu Picchu, even though only 1/3 of the site has been reclaimed. This tells us there is more to be discovered and this site could be a bigger and even better version of Machu Picchu. This site is still a great mystery to historians, archeologists, and people with a vested interest in this field. There are new discoveries being made every day.
Where is Choquequirao?
Choquequirao, sits at an elevation of 3 050m/ 10 010ft above the Apurimac River. It overlooks the Apurimac River Canyon at an elevation of 1450m/ 4 760ft. It forms part of Vilcabamba Mountain Range in the Santa Teresa District. The entire complex is more than 1800 hectares, it's a massive site. It´s very isolated, a good 98 Km outside of Cusco. Most trailheads for this trek begin at the small village town of San Pedro de Chocora. Trekkers need to make their way from Cusco to Abancay. However, with most Tour Operators, transportation to the trailhead is always included. There is no transportation to get you to the archeological site itself, the only way to get there is by foot. That means only a select few get the pleasure of exploring this site.
There is more than one trail to follow to get here. The classic trail takes 4 days and is the shortest route. Alternatively, you can take the 5-day trail, which is a little longer. Or if you´re an avid hiker and looking for an adventure then the 7-day trail ending in Machu Picchu is ideal. You pass some amazing sights, managing passes at over 4000m in elevation. Choquequirao is towards the top of the Andes Mountains and The Amazon Jungle and because of its proximity to the jungle, you will be graced with Amazonian flora and fauna while trekking. Giving you wild flowers with the most vivid and vibrant colors.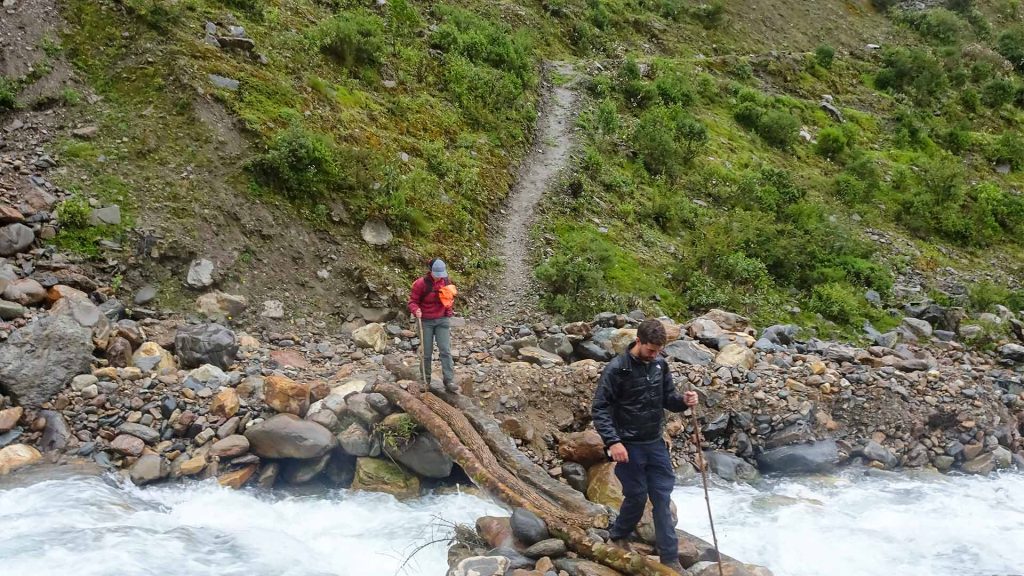 How difficult is the trek?
Very! We recommend this beautiful and challenging trek for experienced trekkers or people in good physical shape who are used to hiking or running frequently.
This site is remote and rarely visited. There are no easy days to look forward to. You will descend to lows of 1 400m/4 593ft and then ascend to highs of over 3 100m/ 10 010ft and back down again. The height will not be your biggest challenge, it does not get as high as Rainbow Mountain for example. However, you still get pretty high, so you need to acclimatize, either in Cusco or the Sacred Valley for a day or 2. The trek is very taxing on the legs. With all things said, it is 100% worth it. You will hike in total peace and explore the ruins with no tourists around. Compared to the many people coming to Machu Picchu every day, Choquequirao only has an average of 25 people a day.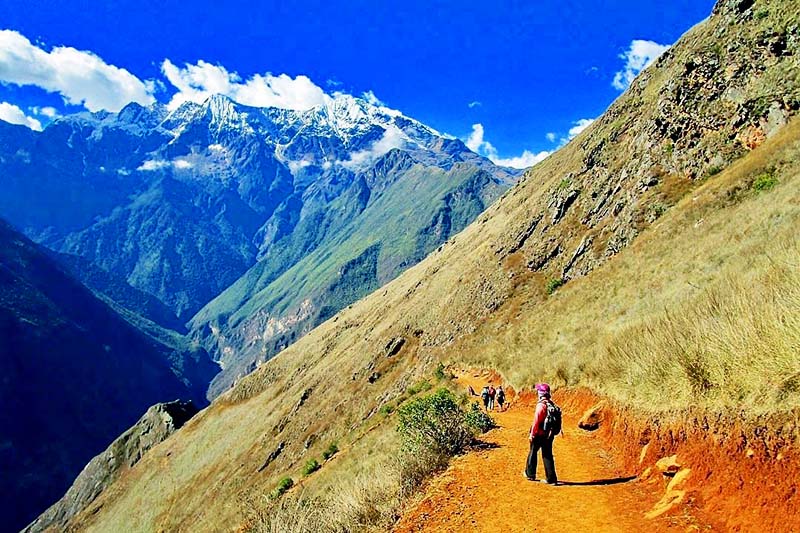 Choquequiroa Trek vs Inca Trail
Number of visitors
These treks are so unique and are both a once in a lifetime experience. The difference between the two is the number of people each one has on a daily. Choquequiroa Trail retains its charm and ruggedness because only around 25 visitors and trekkers a day make their way to this site and most of it remains undiscovered and unexplored. It is very remote and hard to access. Often seen as the diamond in the rough and referred to as ´The sister´ to Machu Picchu.
The Inca Trail to Machu Picchu on the other hand sees many people every day and is always booked months in advance. It has clearly marked paths and there are certain adjustments made so you don't have to trek for multiple days if you don't want to. For example, you could join the Inca trail at Km104 for an easier 1-day Trek instead of the classic 4- day Inca Trail Trek.
Difficulty of each trek
Another thing is the difficulty of each trek. The Inca Trail does not need a high level of fitness and you can have a day of relaxed and normal walking. The same can't be said for Choquequiroa, the hike is pretty intense for the 7-day version, there are no breaks, except to sleep and get back at it again the next morning.
Flora and fauna
The flora and fauna found on the Inca Trail is pretty unique to it and Choquequiroa its Amazonian Jungle flora and fauna, is wild and unkempt and hasn't been touched much by humans. It has the kind of natural beauty that simply takes your breath away.
similarities
Once you arrive at these sights, their closely related history is easy to spot. They have divided their complexes into sectors, depending on each one´s needs and location. The Ceremonial Center shares the most similarities between these two sites. From the main platform, you can see lined water channels used to carry ceremonial waters or Chicha (a special purple corn drink still taken in Peru today) to shrines and baths. Included is a main platform reserved for royalty and the elite. Their respect and understanding of astrology is also in the Giant staircase that opens up to the December Solstice and other structures that mark the direction of certain solar events, such as the June and December Solstice sunrises and sunsets.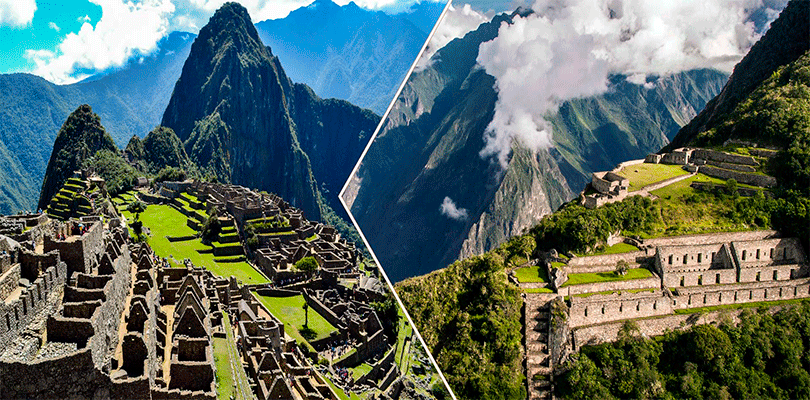 Guided Tour VS Self Trekking
There are a lot of positives to choosing a reputable Tour Operator with a guide that's experienced in trekking and multi lingual (Spanish, Quechua, and English). Firstly, the trailhead is extremely off the beaten trek making finding transport very difficult, whereas a travel agent will include transportation to and from the trailhead.
The shortest trail takes around 4 days. The amount of equipment needed for this is substantial. Added to that is the fact that the trek is pretty difficult, having to cope with all this extra weight can prove impossible for some. A guided tour with a good Tour Operator will provide mules and horsemen for all your daily essentials, including camping equipment and food. You can buy food at selected campsites, but remember a different country means different cuisine. Most trekking companies work with foreigners and are well equipped to adjust their cooking style to include both local and international ingredients, satisfying different pallets. 
You could finish complete the trek without a guide, but we don't recommend it. Language barriers, food, and the isolated location of the trek will present serious challenges.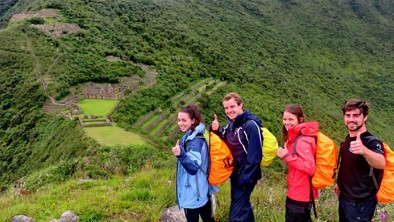 Altitude Sickness
You could experience altitude sickness on this trek. You will reach height of up to 3100m/ 10 170ft or more. Please see below all the many ways to combat Altitude Sickness.
Tips To Avoid Altitude Sickness In Cusco
Relax and take it easy! Take a few days at the start of your trip to acclimatize to the height before trying any treks or hard activities. This is the easiest advice we can share, take it easy for the first few days and your body will thank you later.
Get lots of sleep. Sleep is the best remedy of all!  Do not be afraid to just sleep it off as your body adjusts.
Avoid alcohol & drugs. This includes sleeping tablets and tranquilizers as these can all make the symptoms worse.
Drink lots of water. Staying hydrated prior to and during your trip is crucial to ignore unpleasant altitude sickness symptoms.
Drink coca tea. Nearly every hotel in Cusco and the Sacred Valley offers fresh coca tea to guests and for a good reason too! Coca tea is safe to drink and a cup or two each day can ease height symptoms.
Go lower and acclimatize. Head straight to the lower height of the Sacred Valley or Machu Picchu.
Get an Oxishot! Oxishot is a small dischargeable can that has 8 liters of oxygen that you can take when you arrive in Cusco and anytime you need a boost. It can help reduce headaches and fatigue linked with altitude sickness.
Visit your doctor. If you are still worried before you travel, head to your doctor and ask for an acetazolamide prescription (also known as brand name Diamox) which can be taken to help avoid altitude sickness symptoms
How much should I expect to pay
The easiest and safest way is to take a tour, which costs around $450 to $750 USD with everything included. If you choose the most adventurous way to get there this is how to do it and estimated costs. You can take a taxi from Cusco, alone or with some friends.
Please note: When self trekking be aware that all the prices qouted to you are based on local prices. What they charge a tourist varies a great deal and even if you consider yourself a great negotiator, you are likely to pay substantially more than a local. It usually does workout cheaper, but this is not an exaggeration, the logistics are super complicated. You will need a lot of time at hand, a lot of patience, be fluent in Spanish and have some understanding of Quechua.
How can I get to Choquequirao by myself?
From Cusco you'll need to take a combi or taxi to the town of Cachora. You'll want to take a taxi from Cachora to the Mirador de Capuliyoc, a lookout point where the road ends and the trail begins. This will shave a good 13 kilometers off your trek, so you have more time and energy to make it up the steep inclines and downhill sections that characterize this route. The path may seem deceptively short on a map, but constant zigzags and steep ups and downs stretch it out into a much longer and more grueling trek than at first glance.
There are two main potential camping sites about halfway in. First, Playa Rosalina, is the official campsite. Alternatively, if you prefer to get the longer part of your trip out of the way the first day, keep on trucking to Santa Rosa. The next day you'll finish the journey to the ruins themselves, where you will spend the second night. Obviously, spending the first night at Santa Rosa will make your second day easier.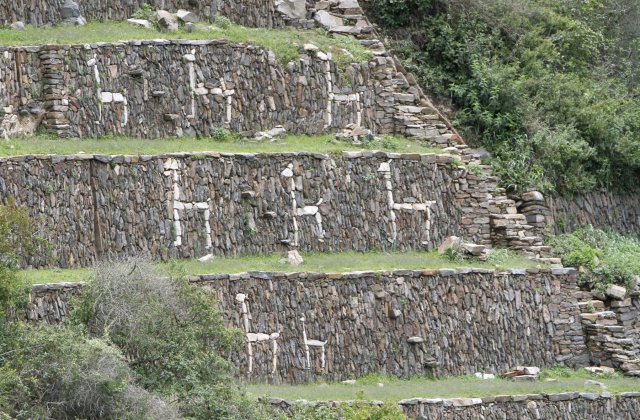 What is the actual distance from the trailhead to Choquequirao?
The actual distance from Capuliyoc (the starting point) to Choquequirao is 25km. It's the same distance on the way back, making it a total of 50km round-trip.
Arriving at the Choquequirao archeological site
Once in Choquequirao you have the option of seeing the citadel for the rest of the day or camping in the ruins (there is a camping spot there) and exploring the next day more peacefully.
Since Choquequirao is not 100% discovered, the citadel can be seen relatively quickly. Don't miss the main plaza and its surroundings and the llama's platforms. This last spot requires extra effort but is totally worth it.
Packing checklist for Choquequirao trek (only if you take a tour)
What you have to take with you?
Original passport (it has to be the same you have used for booking your trek)
Good daypack (the smaller, the better)
Water storage: 2-3L reusable water bottles (Camelbaks are encouraged)
Comfortable hiking boots with ankle support
Sleeping bag (can be rented from several different agencies in Cusco)
Headlamp: essential
What to put in your duffle bag for the Choquequirao trek?
Most tour companies will provide you with a duffel bag at your briefing and INCLUDED is a horse and horsemen who will carry up to 7 kgs or 14 lbs including your 2.5kg sleeping bag, mattress and extra clothing. By Peruvian law, a duffel bag must not weigh more than 7 kilograms (15lbs). This limit is set to protect the health of the horses. All bags will be weighed before being accepted. If you require more than 7 kilograms, it will then be your responsibility to carry the extra weight with your day pack. In this 7 kilos, please count 2 kilos for your sleeping bag and 1 kilo for your sleeping pad. This leaves you about 4 kilos for your personal gear.
2 t-shirts
2 hiking pants at least
4 sets of undergarments
3 sets of hiking socks
Bathing Suit for the thermal waters
Couple Fleece/ Thermals
Warm clothes, down jacket — 2nd campsite temp around 3º C
Waterproof gloves (even if they are ski gloves, take them)
Comfortable shoes for camp
Quickdry towel. We provide small ones, you might prefer something larger
Small bottle of soap: we provide warm water each day to wash
Battery Charger: No electricity along the trek
Large plastic bags
Sleeping bag: It has to be at least -15ºC
Swimming Suit
Toiletries
Face moisturizer
Hand Sanitizer
Wet wipes
Toothbrush and toothpaste
Personal medications
First aid kit: band aids, moleskin, etc
What to put in your backpack for Choquequirao trek
We highly recommend a small backpack 30 to 40Litres for hiking in the day. A big backpack will not be allowed into Choquequirao. The remainder of your belongings will be in your duffel bag at camp.
Water: Please supply your own water until the first lunch spot, then the company should provide you with cold boiled water at each meal time.
Sun hat
Sunscreen
Headlamp: essential
Wool hat
Rain gear
Fleece
Snacks like chocolate bars, cereal bars or any dry fruits
Rain plastic poncho
Gloves
Camera
Hand sanitizer
Toilet paper and small plastic bag for waste
Extra money for souvenirs, drinks & tips
Typical itinerary in a classic Choquequirao Trek?
Day 1: Cusco – Capuliyoc– Playa Rosalinas – Santa Rosa
At 4:30 am, we pick you up at your hotel and drive for the next 4 hours in our private van to Capuliyoc (2,850m/9,407ft). Along the way, there are spectacular views of villages, valleys and snow-capped mountains. Once at Capuliyoc we meet our horsemen and pack all of our equipment onto the horses.
Then we start walking all the way down to Playa Rosalinas (1,475m/4,840ft) where we have lunch. Along the way enjoy great views of the Apurimac Canyon, and mountain peaks such as Padreyoc (5,571m/18,387ft). After lunch, we ascend for two hours to our first campsite at Santa Rosa, (1900m/6234ft) where we spend the night.
Meals: Lunch – Afternoon Tea Time – Dinner
Accommodation: Camping facilities
Distance: 12kms/7.5 miles
Difficulty: Difficult
Day 2: Santa Rosa – Maranpata – Choquequirao
After an early breakfast, we start our adventure by walking uphill for 2 hours to the rural village of Maranpata (2,850m/9,350ft), We enjoy the scenery and then we walk through a myriad of flora and fauna to the magnificent archeological site of Choquequirao. We have lunch here and then we will have a private guided tour for us in the afternoon. During the tour, we will explore all the important sections, such as the palaces, temple, ritual water fountains, amazing Usnu (ceremonial platform), agricultural terraces, llama's section and much more. Finally, we head back to our second campsite located just 20 minutes from the Choquequirao ruins, where we will have tea and dinner
Meals: Breakfast – Lunch – Afternoon Tea Time – Dinner
Accommodation: Camping facilities
Minimum Altitude: 1900m/6234ft
Maximum Altitude: 3,150m/10,397ft
Distance: 8km
Difficulty: Difficult
Day 3: Choquequirao – Chiquisca
After an early breakfast, we explore some of the stunning sections of Choquequirao ruins and then head back towards the rural community of Maranpata for lunch. Afterwards we descend to the magnificent Apurimac River (1,550m/5,117ft) for two hours. Finally, we walk up a moderate hill for one hour to our third campsite at Chiquisca. (1,990m/6,270ft)
Meals: Breakfast – Lunch – Afternoon Tea Time – Dinner
Accommodation: Camping facilities
Distance: 12kms/7.5 miles
Difficulty: Difficult
Day 4: Chiquisca – Saywite – Cusco
After a delicious breakfast, we walk up a moderately difficult hill towards the Capuliyoc pass. Once there we can enjoy the spectacular views of the surrounding mountains and the Apurimac Canyon. Then we take our car towards Cachora (2,850m/9,407ft) for lunch. Afterwards we take our private transport to the archeological site of Saywite having plenty of time to explore it. Finally, our private transport will take us back to Cusco to your hotel, arriving in the evening, arriving around 6pm.
Meals: Breakfast – Lunch
Distance: 8km
Difficulty: Difficult
This itinerary has been provided by ORANGE NATION
Recommended tour operators to Choquequirao
Comments... there are no comments.
Guided Adventures
Self-made blog
All the information is free and precise. I don't get paid for publishing any agency or tour, and everything has been verified and experienced.
01
Local Information
Everything in this blog has been doublé checked by a local, we made the effort on gathering all this information for you, to make your trip easier and cheaper.
02
Personal experience
99% of the information has been lived by a traveler like you, me, I wanted to compile all the information I had to make every traveler life easier.
03
Best and only the best
We gathered the best information for you. All this has been investigated and visited only to bring you the best CSelf-made blog. All the information is free and precise. I don't get paid for publishing any agency or tour, and everything has been verified and experienced.
04