Cusco
TOP 10 Things to do in Cusco
Cusco, sometimes spelled Cuzco, Qosqo (in Quechua) or Qusqu (in Aymara). This city is located on the Southeastern part of Peru. The region is mostly mountainous forming part of the longest mountain range in the world, the Andes Mountains. It´s located at very high altitudes, expect Cusco city to literally take your breath away. Cusco city is known for many things, most importantly its rich Inca Empire history, culture and architecture.
Because it's surrounded by mountains, it's a hiking conglomerate, with hikes that are suitable for both beginners and the most experienced hikers. Cusco is home to world famous hikes like Inca Trail to Machu Picchu, the Choquequirao trek and Salkantay trek among many others. It's also a breath away from the massive Amazon Rainforest, which covers over 2 thirds of the entire country of Peru. A great way to connect with nature and experience a diverse selection of wildlife. It´s a gastronomy capital in its own right, with fusion and neo-Andean cooking, prepared using modern techniques. Even though, they are surrounded by mountains, they have a thriving agricultural sector located in the Sacred Valley. Food here is usually made from fresh organic local ingredients with a mix of international ingredients.
Modern Cusco´s tourism sector has been the backbone of this region since the 2000´s.  It brings in over a million visitors a year and pre-covid, contributed over US$1.2 billion to the national economy. The scale at which tourism is growing in the city, has made a few structural changes to its inhabitants.  Firstly, it is transitioning from a small city, to a more metropolitan city and has also seen an increase in its ex-pat community. It has a vibrant nightlife and has modern amenities, like good speed internet, modern apartments etc. A big tourist hub, known for its street markets with inexpensive fresh produce and arts and crafts. The beguiling blend of cobblestone streets, colonial period architecture and that unmistakable Peruvian street spirit, Cusco's designation as the gateway to the beautiful Sacred Valley and Machu Picchu simply further underscores its enduring popularity.
HISTORY OF CUSCO CITY
It once was the capital of an empire spanning half of South America. In 1933, the ancient city of the Inca was declared the "Archeological Capital of the Americas" and since 1983 it is a UNESCO World Heritage Site. The city was built in the shape of a poised Puma. At the height of the Inca Empire, the population of the Empire was over 12 million inhabitants. The population was seriously depleted after the Spanish Invasion in November 1533. They introduced the Spanish flue, which killed millions of Incans.
Now more than 430,000 people live here – most of them of indigenous origin who still speak Quechua. The Inca Empire built many archeological sites, scattered along the region. Today, you can follow many trails through indigenous isolated villages, scenic mountain ranges with stunning glacial lakes and thermal bath. Some of the hikes lead to historical sites that have stood for many centuries like the mystical Machu Picchu and massive archeological site of Choquequirao.
1.- Explore San Pedro Market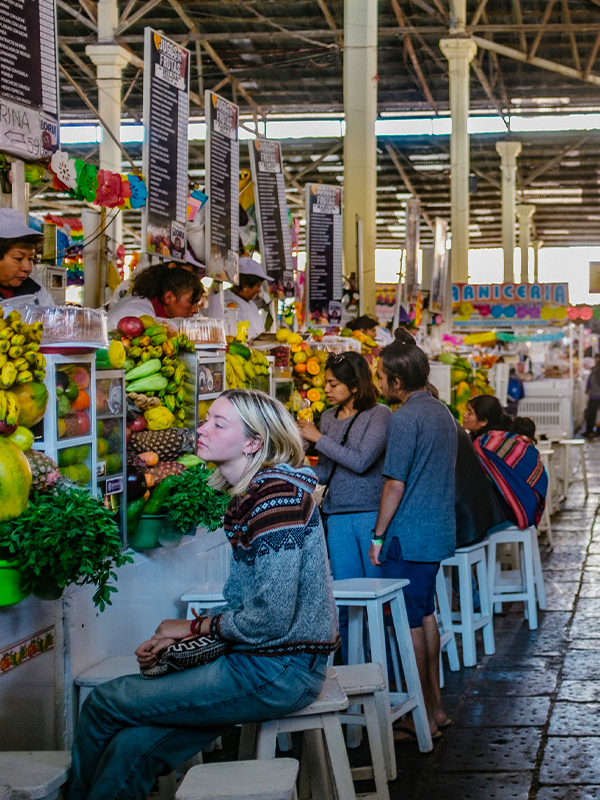 The streets become noisy and crowded as you approach San Pedro Market Cusco, a place where (almost!) everything can be bought. A swirl of colour, unknown smells, and the characteristic buzz of the place hits you as soon as you step inside. Wandering through the busy aisles, enjoy the bright colors of the Alpaca ponchos and arts and crafts. You will pass women in traditional dress trying to catch your attention with an "Amigo, what do you want to buy?" The market is clean, easy to configure and no one follows you around, they will call out for your attention as you pass, but they won´t follow you.
Cusco city is the mecca of superfoods; all these superfood grains can be found at very reasonable prices, like quinoa, maca or kiwicha. Their prices are way lower than chain supermarkets, so it is really not necessary to haggle with these ladies. Try a fruit juice made with a mix of any of the fresh fruits and vegetables that surround you. Try another section with nuts, dried fruits, different types of cheese, fresh fish and so much more. If you are squeamish, avoid exiting on the left, with more exotic items on sale, like snakes, frogs and items I wasn't quite sure what they were.
The best advice for a visit to San Pedro Market is to take your time, wander slowly and marvel at the heart of Cusco where goods from the Peruvian coast, jungle and Andes are exchanged every day. The market allows a glimpse into the Cusco or 'Cusqueña' culture and is definitely not to be missed.
2.- Book a Tour at the Choco Museum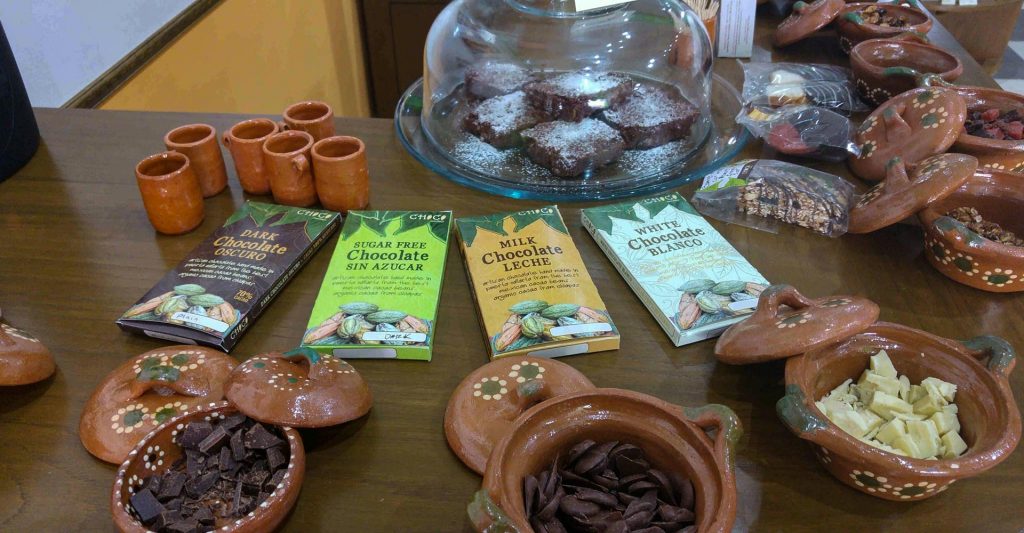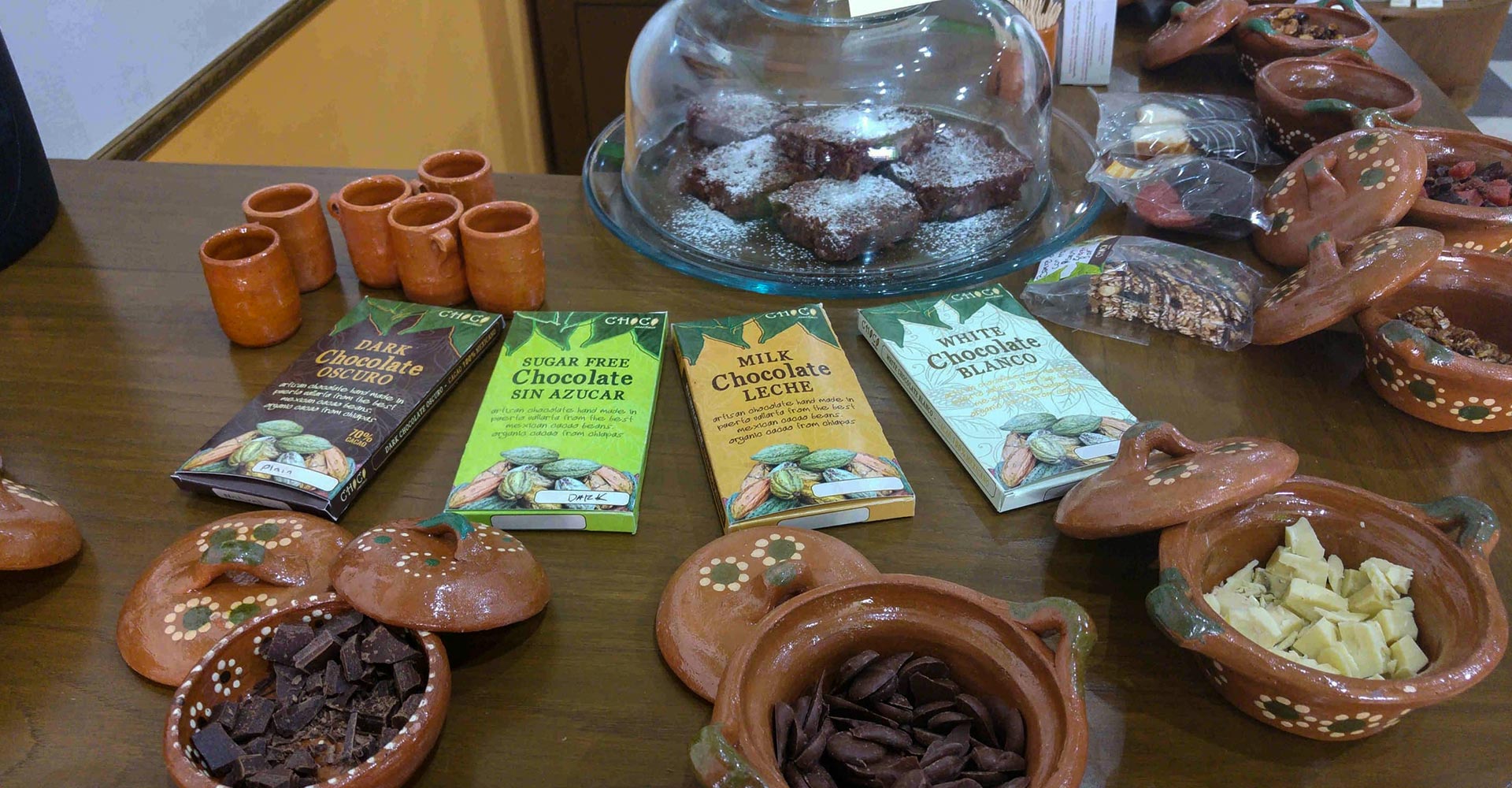 Peru ranks in the top 10 largest cacao producers in the world. If you're a chocolate addict like me, you don't want to miss out on a tour of the Choco Museum! They have many different combinations of chocolate. Probably the most interesting is their coca and chocolate mix, it's definitely interesting. If you haven't stocked on souvenirs, you can purchase a box or two of a variety of chocolate flavors.
You can book a mini chocolate workshop and learn how to turn a bean into a bar of chocolate. Other options include attending a cooking class, going on a plantation tour or a chocolate, coffee, Pisco and beer tasting.
3.- Dine at a balcony overlooking Plaza De Armas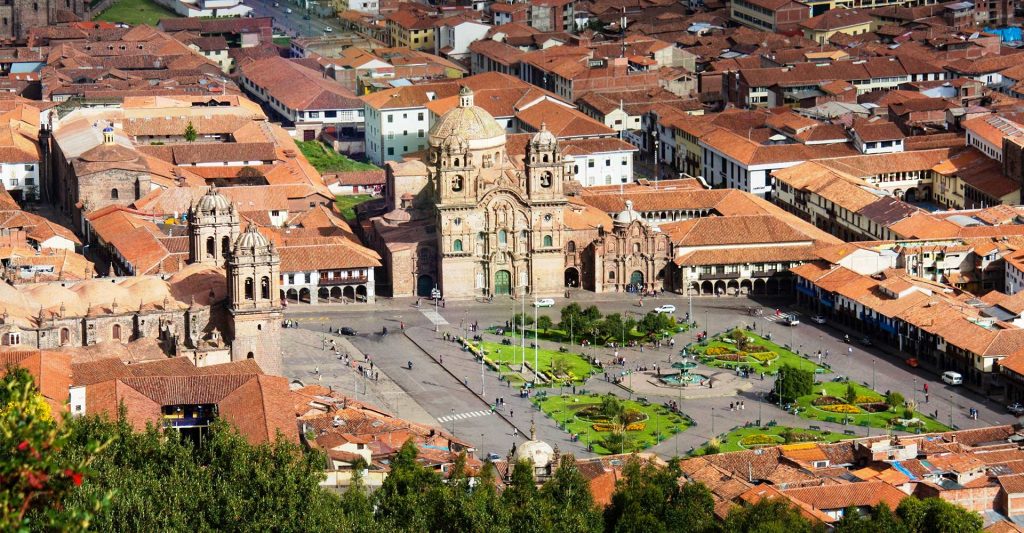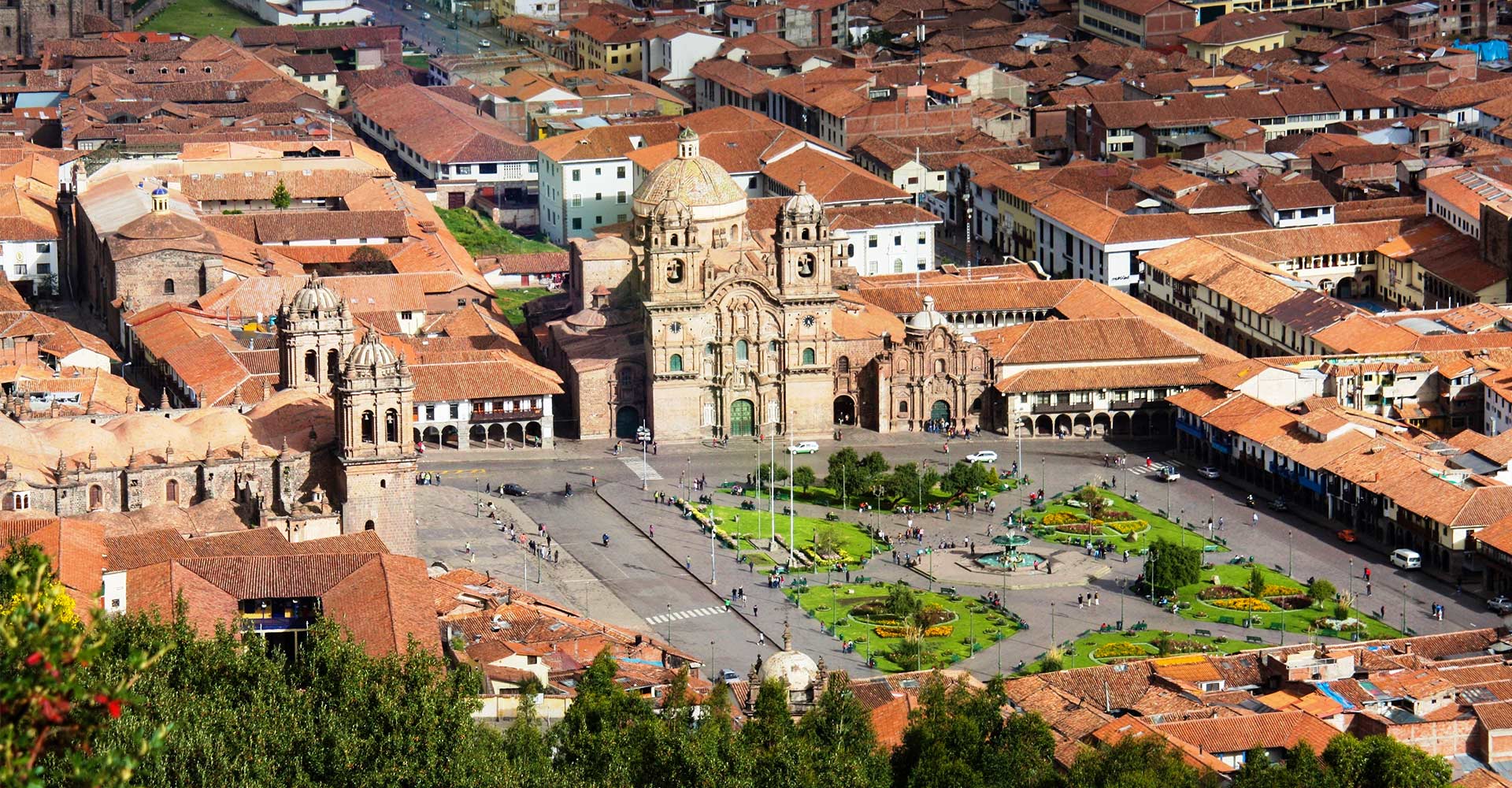 The historical center is surrounded by a number of different eateries. You can choose anything from authentic Peruvian food, to a steak house, a burger joint or Mediterranean vegetarian and vegan food. Whatever your selection, these restaurants have balcony seating that have a panoramic view of the plaza. You can take Instagram worthy pics, watch random local dance shows (they happen frequently), a cultural show, a festival or just spend some time people watching. At night the view and ambiance is even better. The lights come on, the center fills up with people and the energy is electric.
4.- Go to the Ccohahuasi Animal Sanctuary
If you love animals as much as me, you'll want to make your way to the animal rescue center of Cochawasi! It's situated 30-minutes, 22km outside of the city and is a privately-owned organization.
This animal sanctuary was established in 2007 to rescue wild animals and provide shelter for them because they have either suffered mistreatment from their previous owners, at risk of poachers, illegal hunters, illegal trafficking or are endangered (like the Andean Condor). The center aims to educate people on responsible tourism (not buying souvenirs associated with animal cruelty) and illegal animal trafficking, which is the 4th biggest black market in the world. It is actually quite surprising how few Animal Sanctuaries exist in the country, given the extensive Bio-diversity Peru has to offer, especially in the Amazon region.
5.- Explore San Blas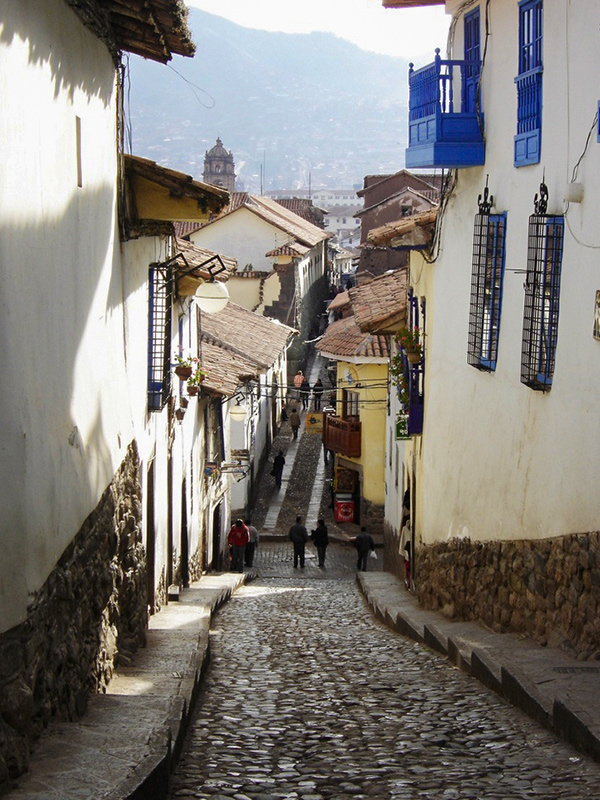 It is apparently obligatory to refer to the San Blas as 'bohemian' or 'artisan' when writing about it in a Cusco guide, but we're not going to go into that side of the neighborhood here.

However, this area was really the catalyst for changing my perspective on Cusco, and allowing me to enjoy it away from the central tourism-focused areas. It's pretty, less busy, has my favourite Cusco coffee shops and restaurants, a handful of excellent independent clothing and jewellery shops, a chilled out vibe, great views of Cusco, fun nighttime bars and, well, lots of the things that you'll like if you're based in the city for more than a few days.
As so many travellers set up a little base in Cusco for a week or so, quite a few naturally gravitate towards San Blas during the day and night, and we'd recommend you make a beeline to this small quartier too whilst you're in the city and embrace your inner flâneur. It is definitely worth that walk up the hill!
6.- Visit to Sacsayhuaman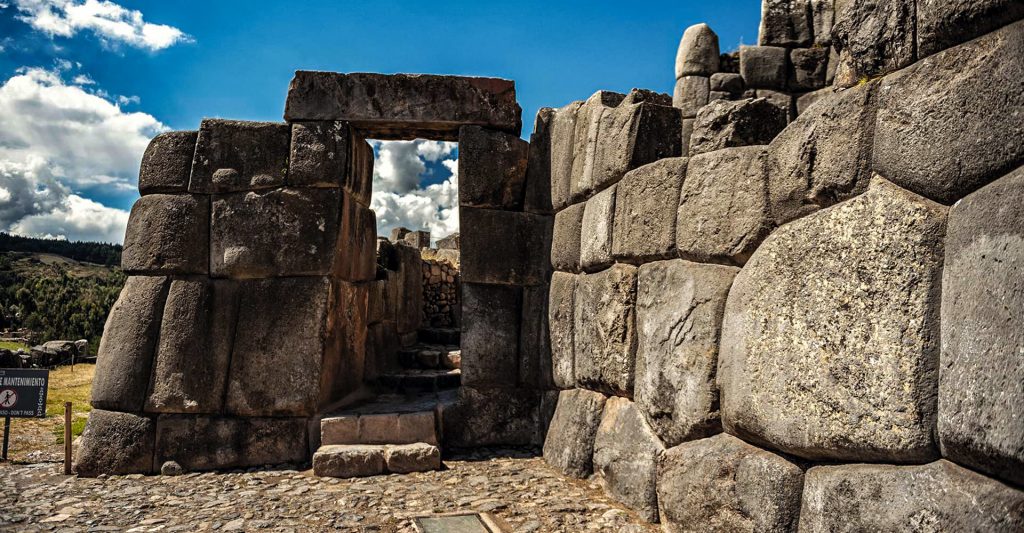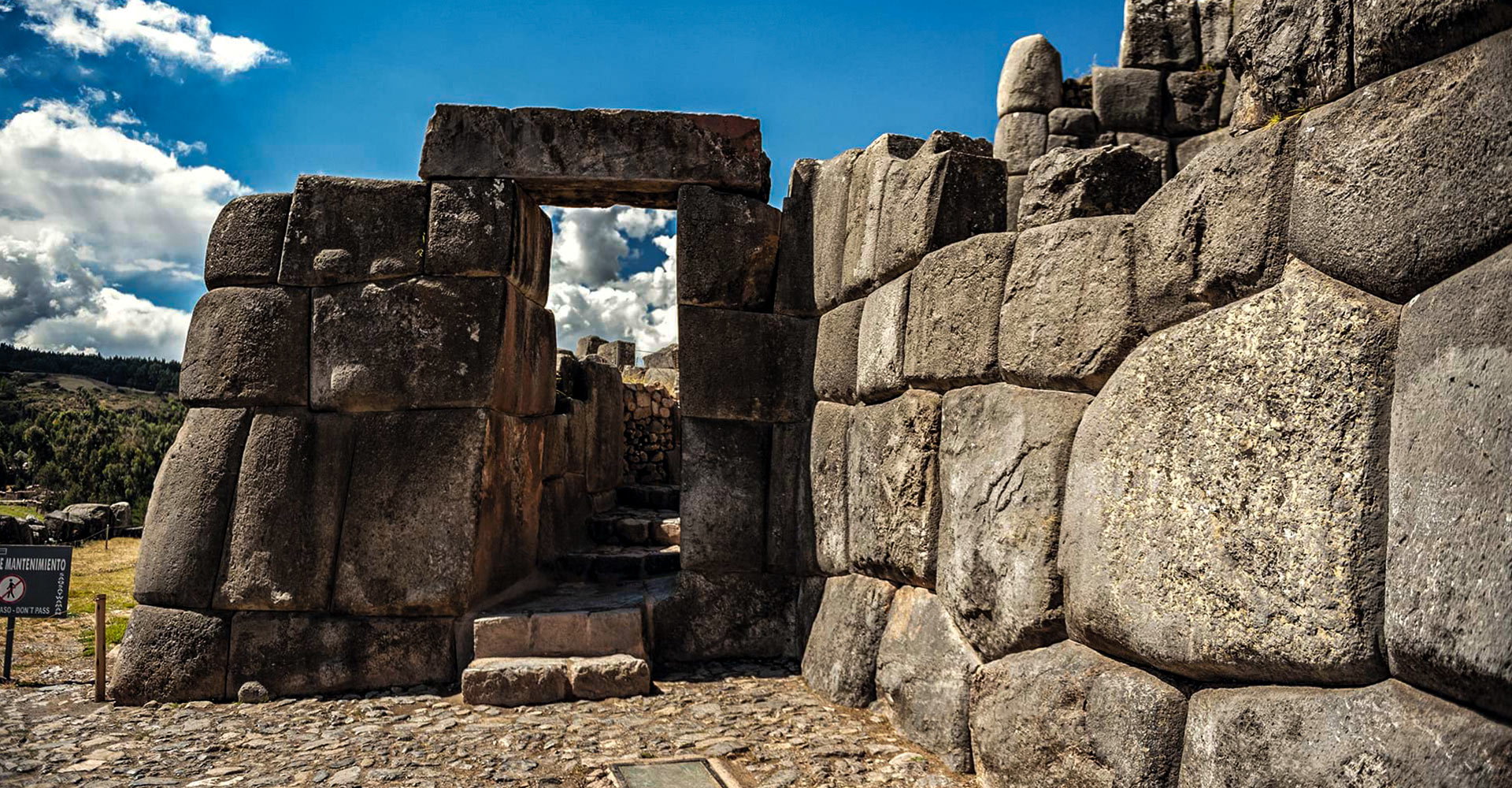 There are a number of excellent days trips from Cusco, but a short bus ride or walk up to the impressive Incan ruin of Sacsayhumán (pronounced sack-sigh-woe-man, not 'sexy-woman') is a great opportunity to get out of the city for the morning or afternoon.
The site of the old citadel is a pleasure to explore for an hour or two and its ginormous black boulders are incredibly impressive. Just note that if you plan on doing a Sacred Valley tour, a visit to Sacsayhumán may be included, so consider if you want to end up visiting it twice.
To visit Sacsayhumán and many other sights in Cusco and the Sacred Valley, it is necessary to purchase a 'boleto turistico' in advance.
How to get there: You can get to Sacsayhuamán on foot, by taxi, or with a local bus. To walk, simply use Google Maps to find the enjoyable route which takes you through Cusco and up the Atoc'sekuchi staircase – it's pretty self-explanatory. It's also possible to take one of the many buses or collectivos which pass the Sacsayhuamán entrance to neighbouring towns – ask you hotel/hostel for advice on the best place to hop on and it should only cost S/. 1 one-way.
Based on its strategic location, its thought to have been used a military fort to protect the capital city of the Incas, Cusco. The size of the boulders also supports this idea, it needed to provide resistance against any attack.
7.- Book a food tour
Cusco is a gastronomy capital in its own right. It has an eclectic mix of food. They are known for their fusion and neo-Andean cooking. History of food in this region has had influences from many different cultures, starting in Europe, to Africa, all the way to Asian cuisine. Book a decadent food tour, trying different bites and drinks and learning about Cusco in the process. Drinks unique to this region include chicha morada (purple corn drink), frutillada (fermented strawberry drink) and pisco sour (an alcoholic drink made with Pisco Sour and egg whites). Listen to your hosts sharing folktales. Explore the vibrant nightlife, that comes alive after dark. Sampling foods with drinks that complement each selection.
8.- Hike up for a sunset viewpoint
There are a few spots around the city to watch the sunset. First you can try Christo Blanco, the statue of Christ that was put in many South American cities by the catholic church. The hike to the top can be a bit challenging because of the altitude, once you arrive, you get stunning views of the entire city. Stay long enough to watch the sun go down, it's absolutely spectacular. After dark, you can grab a taxi for around just 10 soles.
Another location is Mirador de San Blas, the hike is not as high up as Christo Blanco and the views are also magical. It's a couple of steps from the Bohemian neighborhood of San Blas, it's close to restaurants and late-night digs. The last view point we recommend is Plaza San Cristobal, only 10 minutes walking from the historical center. The steps are steep, but it's a very short walk and it will give you great views of the sunset and the city. Once you´ve had your fill, you can walk back down to the center for a scrumptious dinner.
9. Explore plaza Tupac Amaru weekend fair
This is my favorite local market in the city. However, it doesn´t happen every weekend, it is literally a role of the dice kind of thing. But if you are lucky, you are in for a treat. The food stalls cramp this park, with everything from, barbarques, to chinese food to dessert. The narrow walkways are packed with patrons and there is always live music in the background. There is plenty of sitting space to enjoy your food. Its a full on family friendly Saturday affair. The vibe is similar to what we usually refer to as a farmers market, without the farmers.
10. Venture through the city and enjoy a message
The city is very walkable, stroll through the quaint cobble street, from Avenida de Sol, to Plaza San Franscisco, through to the historical center and you if still feeling fresh end your trip at a market in San Blas. If your muscles begin to ache, you can always stop for a message thats on offer all around the city. Take a pic with an alpaca from the ladies in their traditional attire, remember to give them a small tip. Visit the scattering of museums and coffee shops. Whatever you choose, you will have an enjoyable time. We recommend that you stick to the center, don´t wonder too far.
The TOP things to do in Cusco information has been updated in November 2022!