Cusco
Updated Machu Picchu Information 2023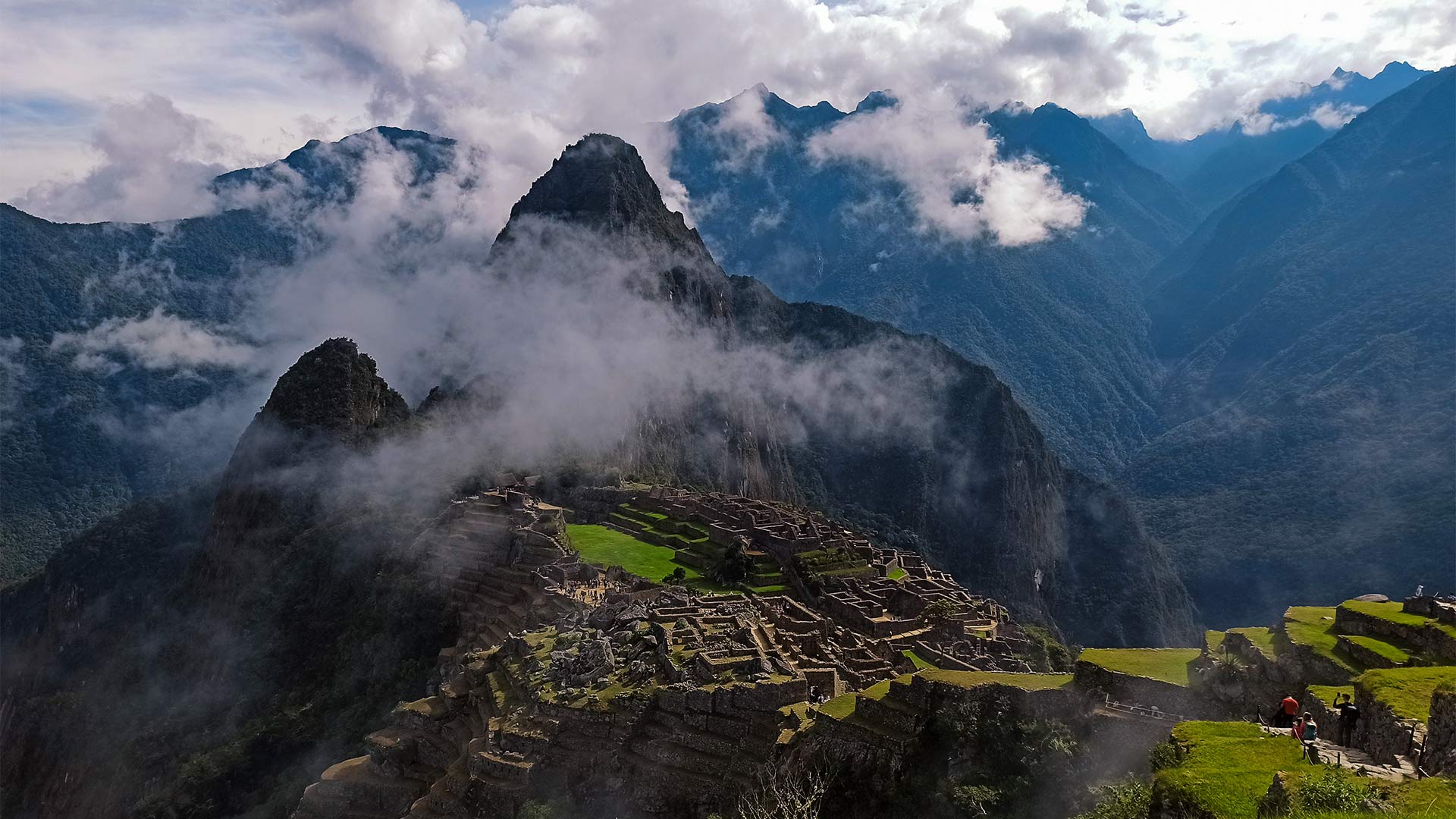 Machu Picchu Information 2023 – 2024: What overseas agencies DON'T tell you! We have the most detailed guide with tours, trekking, and train options explained in full! Machu Picchu was voted one of the new 7 Wonders of the World in 2007 and was declared a UNESCO World Heritage site in 1983. It is a must-visit for all travelers coming to South America! These majestic ruins were built by the Inca Empire and are located in the scenic Andean mountain range, surrounded by beautiful cloud forests and mountain scenery. Machu Picchu is ONLY accessible from Cusco City, which you can reach by bus or air travel. Traveling by Bus to Cusco: Peru Hop, Cruz del Sur, Oltursa and Civa are the best options. They have buses in all directions to and from Cusco allowing you to see more of Peru along the way. Traveling by Air to Cusco: Latam Airlines, Viva Air, Sky airlines and the new kid on the block JetSmart are the best options. Make the most of any stopover in Lima with a day trip from Lima to discover some hidden gems of Peru. Up and down the coast from Lima there are beautiful beaches and archeological sites to visit. Bus travel is recommended only if you want to stop in towns between Cusco and Lima, otherwise air travel is arguably cheaper, safer and a lot more convenient than bus travel.
Quick tip
Our Travel guide makes it easy to find the most reliable information about Machu Picchu and the right tour operator in the city of Cusco.
Machu Picchu is the site of an ancient Inca city, high in the Andes mountains of Peru. Located at 2430m, the site is often referred to as "The Lost City of the Incas". It's one of the most famous and spectacular sets of ruins in the world. A UNESCO World Heritage Site since 1983, Machu Picchu receives over one million visitors per year and is one of the New 7 Wonders of the World.
Where is Machu Picchu?
Cusco is the main access point for Machu Picchu. From Cusco, you need to reach Aguas Calientes which can ONLY be reached via train, trek, or alternatively a combination of bus and walking. Once you get to Aguas Calientes, Machu Picchu lies at the top of the mountain above the small town of Aguas Calientes.
Getting from Cusco to Aguas Calientes
There are 3 options for you to choose from
Trekking from Cusco to Aguas Calientes, via Inca Trail, Lares Hike or the Salkantay Trek. (The most adventurous option)
Taking the train from Cusco to Aguas Calientes for a day tour, this can be done by yourself or any reliable tour operator. (The most common option)
Taking a bus from Cusco to Aguas Calientes. (Not recommended because it's a long drive on a very dangerous road)
Getting From Aguas Calientes to Machu Picchu
Walk up the steep hill (around 1.5 hours, it's a little difficult, especially because most of it is stairs)
Take a bus (quite expensive for a 25 minutes ride – It costs US$12 one way, so US$24 round trip)
We do highly recommend taking the bus up to Machu Picchu and then you can hike down to Aguas Calientes. Of course, this depends on how you feel about walking down stairs for about an hour. You cross the road many times and it is usually very dusty.
Note
If you book a tour to Machu Picchu (via a trek or train), most companies will include a local guide to assist you with getting from Cusco to Aguas Calientes and then up to Machu Picchu.
Important
To access Machu Picchu, you MUST have an entrance ticket purchased in advance…they are NOT sold at the entrance to Machu Picchu.
Most tour operators include the tickets as part of any tour or trek to Machu Picchu. Tickets are very limited, so it is recommended to book a tour or trek at least some weeks in advance.
It is not recommended to buy your own ticket and make your own way to Machu Picchu. As it will probably end up costing more money and being a lot of hassle. You cannot enter Machu Picchu without hiring a local guide, and figuring out the transport can be a pain. For this reason, we recommend booking a tour or trek with a reliable tour operator.
Be careful how you choose the company for a tour or trek. There have been hundreds of tourists scammed in the past. Usually if a price seems too cheap to be true, it usually is.
We recommend the following formal companies who have years of experience and good feedback from over 250,000 customers:
Visit our guide to Tour Operator for more information about how to choose the right operator for Machu Picchu.
Compare trekking options
Multi-Day Treks
Treks are ideal for those who want to experience walking in the footsteps of the Inca.
2, 3 or 4 days of walking is required.
All treks start in Cusco and end at Machu Picchu, so there is no other planning needed. Trekking companies should include transportation back to Cusco after your visit to Machu Picchu . (Door to door service)
Trekking companies usually includes most of the tickets like entrances to Machu Picchu, train tickets, transportation, meals and guide.
Most treks are all-inclusive (transport, food, accommodation, etc) but make sure to check your itinerary.
MAKE SURE to book with reputable companies. AVOID "too cheap to be true" prices.
The Classic Inca Trail
The #1 Trekking to Machu Picchu
Must book 6 months in advance due to number of permits
Considered to be a difficult trek
Sleeping in tents every night
Closed every year in February
Prices range from $700-$3000 (basic to luxury)
4 Days of trekking, stopping at famous Inca sites along the way
Check out tour operators, compare prices and book your trek here!
The Inka Jungle Trek to Machu Picchu
Combination of trekking and adventure sports
Medium level difficulty (3 days is easier than 4 days)
Treks available all year round
Booking 2-3 weeks in advance is usually fine
Prices range from $350-$750
4 day option includes trekking on part of the official Inca Trail
Check out tour operators, compare prices and book the trek here!
The Salkantay Trek
4-5 full days of trekking
Incredible scenery as the trek passes through the Cordillera Vilcabamba
One of the best treks in the world according to National Geographic
Difficult trek- some say harder than the Inca Trail
Booking 2-3 weeks in advance is usually fine
Prices range from $480 to $750
Check out tour operators, compare prices and book the trek here!
The Lares Trek
Visit native Andean communities with tons of Llamas & Alpacas
See stunning mountains, Enjoy amazing glacial lagoons, hot springs and cloud forest valleys
Prices range from $550 to $900
Departures every few days
Experience authentic Andean culture. These communities, in fact, have stayed the same for hundreds of years. Interact with local weavers and farmers wearing traditional Andean clothing.
Day Hikes Inside Machu Picchu
Once inside the citadel, you have the option to climb either Huayna Picchu (the famous peak seen in pictures of the citadel) or Machu Picchu Mountain. Due to new regulations the Hike to the Sun Gate from Machu Picchu is no longer possible. You can only access the Sun Gate when doing the Inca Trail.
Huayna Picchu Mt
The highest peaked mountain of Machu Picchu
There are Inca structures on the top
Reaches an altitude of 2,720m.
50-minute hike to the top of the mountain.
Difficult hike- a good level of fitness is required
Machu Picchu Mountain (Montaña Machu Picchu)
Located at the southwest end of Machu Picchu.
A longer trek than Huayna Picchu- around 1 hour 30 to the summit
Less steep and less crowded than alternative
Offers great views over Machu Picchu and surrounding area
Important note
The extra hikes up both Huayna Picchu Mt and Machu Picchu Mt need to be booked in advance, both are subject to availability. Find the detailed information here!
Getting to Machu Picchu by train (With little hike)
2 Day Inca Trail (Hiking)
You are hiking the last 1/3 of the famous Classic Inca Trail that everyone worldwide desires to hike (12km in total)
You are hiking the actual trail that the Ancient Incas hiked more than 600 year ago.
It is a very beautiful scenic hike though exotic side by side mountains, primitive lush tropical vegetation and fauna.
You get to hike through the Sun Gate (Inti Punku) all the way to famous Machu Picchu Citadel.
You get to visit Machu Picchu Citadel twice, the 1st and 2nd day of the trek.
Check tour operators, compare prices and book your trek here!
1 Day Tour by Train
Enjoy a Panoramic train ride to Machu Picchu with amazing views along the way.
All-inclusive tour except for food, with expert English speaking guide.
You are transported by train through panoramic mountains, rivers and valleys as you pass by ancient cites
Prices range from $300-$600
Take your time exploring the majestic Machu Picchu
Find our detailed itinerary here!
Machu Picchu facts
In Quechua, the language of the Incas, Machu Picchu means old mountain. Huayna Picchu, on the other hand, means young mountain.
You can get your passport stamped at the entrance of Machu Picchu for an original souvenir.
The building technique that the Incas are so famous for is called ashlar. Stones are cut in such a way that they fit perfectly together without even having to put mortar between them.
Machu Picchu also served as an astronomical observatory. The sacred Intihuatana stone indicates the two equinoxes and twice per year, the sun sits directly over the stone creating no shadow.
Because of erosion, only 500 people are allowed on the Inca Trail each day and in February, the trail gets closed for maintenance (ONLY Inca Trail)
What to bring to Machu Picchu?
Your ORIGINAL passport! You cannot enter without it!
Your ticket to Machu Picchu and Machu Picchu / Huayna Picchu Mountain; Its has to be bought in advance.
Some money for a passport stamp (s/1), bathroom (S/2) and for souvenirs you may want to buy, as well as dinner or lunch at a restaurant (expensive).
A camera
Good walking shoes.
Water.
A lunchbox and some snacks.
Sunscreen and/or small foldable umbrella depending on the weather.
Insect Repellent
What not to bring to Machu Picchu?
Tripods are not allowed at the historical site. You can leave yours in the lockers outside.
Professional cameras are not allowed. Permits for professional cameras are over $300 so avoid bringing a professional-looking camera in to save some money.
You cannot come to Machu Picchu with your travel backpack. Only smaller models are allowed so leave your backpack in Aguas Calientes if you're stuck with it. You can pay a hotel a small amount of money to take care of it.
Walking sticks are not allowed unless the person needs them.
Only small foldable umbrellas are allowed so avoid bringing a big umbrella with spikes.
Machu Picchu safety tips
If travelling to Machu Picchu on your own, you will probably go by minibus or taxi (at least part of the way). They often drive dangerously on narrow roads on steep cliffs with hairpin turns. Accidents happen all the time so try to avoid travelling like this or at least make sure not to drive after sun down or during rainy season.
Tour operators need two certificates, one from the city and one from the tourist board. Make sure they have one of each hanging in their office.
Like all touristic sites, keep an eye on your valuable items.
Frequently Asked Questions
Where is Machu Picchu?
Machu Picchu is located 112 km from the City of Cusco, Peru in South America. The nearest town is Aguas Calientes which you can get to by train or by walking.
What is Machu Picchu?
It's the most impressive archaeological Inca ruin in South America, named a World Cultural and Natural Heritage by UNESCO in 1983, and is one of the most visited tourist attractions in the World. Machu Picchu is a city of stone, built in the middle of the Cordillera de Vilcabamba, without the use or help of wheels or iron tools. Most of the citadel's structures remain intact today, which is why many consider it the perfect example of the Incas' brilliant engineering.
How to get to Machu Picchu?
You can get to Machu Picchu by bus, train or walking. Traveling from Lima to Cusco by bus is the best way to discover Peru and avoid altitude sickness.
Once in Cusco, you would have to make your way by train or bus to Aguas Calientes Town, where you finally can take a public bus to the Citadel.
You can also make your way on the Classic Inca Trail trek, the Inca Jungle Trek or other famous treks.
How high is Machu Picchu?
Machu Picchu is 2,430 meters (7,970 ft) above sea level. Cusco, on the other hand, has an elevation of 3,400 meters.
How to get Machu Picchu Tickets?
You should buy your Machu Picchu Tickets at least 6 months before your trip. Tickets are sold on the official government website (www.machupicchu.gob.pe), can be paid with credit or debit cards and are NOT sold at the entrance gate.
What is the best time to visit Machu Picchu?
Consider visiting Machu Picchu from April through May and from September through October. The high-tourist season months are June, July and August when it doesn't rain.
When was Machu Picchu discovered?
Machu Picchu wasn't exactly 'discovered' because local people have always known about its existence. In 1911, the American explorer Hiram Bingham made his findings public and -wrongly- called it 'The Lost City of the Incas'.
Nine years before Bingham arrived, the Peruvian Agustin Lizárraga had found the ruins and left his signature on one of the walls of the Three Windows Temple in the Citadel.

The Machu Picchu Information was updated May 2023!