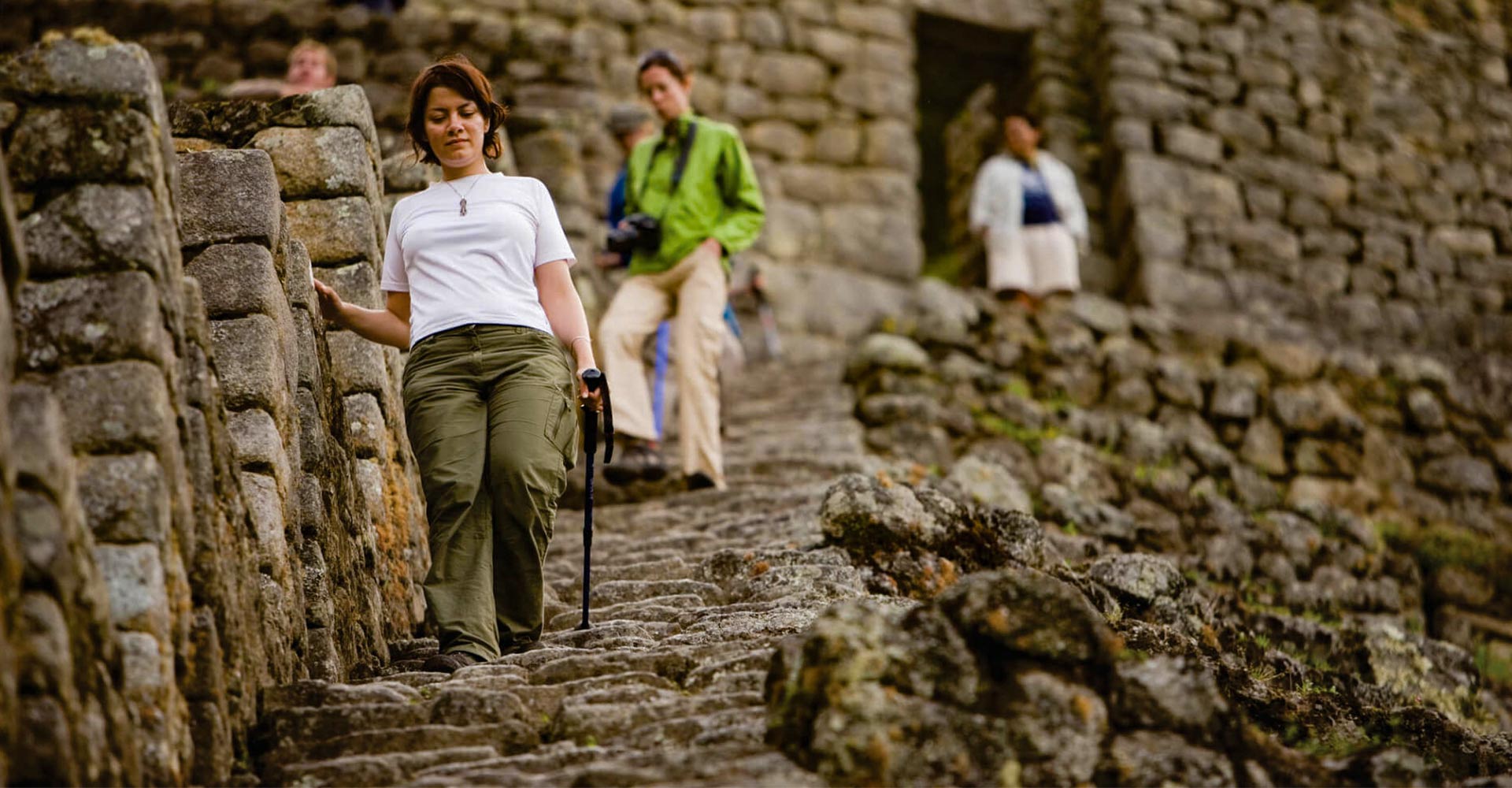 INCA TRAIL & MACHU PICCHU IN 1 DAY
Type Tour
Adventure, self-guided
INCA TRAIL & MACHU PICCHU IN 1 DAY
1 day
We offer this unique the 1 day Inca Trail to Machu Picchu in a group or private service. On which you'll visit Inca Archeological sites and Inca villages along the way. The grand final is arriving at the Sun Gate just as the Incas did where you will enjoy your first view of Machu Picchu's Citadel. Once arriving there you will get a private guided tour, visiting the whole Inca monument.
The appeal of this particular 1 day Inca Trail to Machu Picchu is the stunning combination of Inca ruins, magnificent mountains, exotic vegetation, and extraordinary ecological variety. The trail goes through the National Park up to the Sun Gate with unforgettable views of Machu Picchu; it passes by the cloud forest and finally into subtropical vegetation, ending at the magnificent wonder of the world: Machu Picchu.
Places to visit: Inca Trail, Water Falls, Wiñaywayna ruins, Sungate, Machu Picchu and train ride!
***It is very important for potential trekkers for the 1 Day Inca Trail to understand that you are doing the same trail as the 2 Day Inca Trail, just quicker. Trekkers need to be in moderate to excellent physical condition to be able to do this trek and arrive in Machu Picchu in time. If you think the trek may be too much, you may book the 2 day Inca Trail which arrives at Machu Picchu in one day but at a slower pace and later in the day and all of the trekkers stay a night in Aguas Calientes and visit Machu Picchu the next day for their tour and there is time to be able to climb Huayna Picchu Mountain $75 or Machu Picchu Mountain $75.
OVERVIEW
Day 1: Cusco – Ollantaytambo – Km104 – Wiñaywayna – Sun Gate – Machu Picchu – Aguas Calientes – Cusco
Pick up at your hotel at 4 am in Cusco or 5:30 am if you are staying in Ollantaytambo
Transfer from Cusco to the train station in Ollantaytambo for 6:10 train.
The Expedition train ride to Km 104
Hiking the Inca Trail
Visit to Wiñaywayna Inca ruins.
Stunning views of Machu Picchu from the Sun Gate enjoyed by a select few.
Guided tour of Machu Picchu
Train back to Ollantaytambo and van back to Cusco
Walking distance: 12km/7.5mls
*** This can start in Cusco or Ollantaytambo! 
SAM Travel Peru is a specialist in the 1 Day Inca Trail to Machu Picchu Tour; we never pass you onto another company, we are a Direct Local Tour Operator based in Cusco.!
ITINERARY
Day 1: Cusco – Ollantaytambo – Km104 – Wiñaywayna – Sun Gate – Machu Picchu – Aguas Calientes – Cusco
Your guide will pick you up at your hotel at 4 am in Cusco for the journey with our private transport to the train station in Ollantaytambo. (If you prefer to begin in Ollantaytambo, we will pick you up at your hotel at 5:30).
Before boarding the train in Ollantaytambo, your guide will hand you your picnic lunch to carry in your daypack. After an hour and 15 minutes train ride, your guide will get off the train with you at the famous Km104, where your hike begins! (2,000m/6,560 ft. above sea level) After crossing the Urubamba river on a picturesque foot bridge, you will show your passport at the checkpoint and visit your first Inca site located nearby. The first hour and a half are a gentle up, with several shelters along the way for a short break from the sun or rain,  depending on the season.
Along the way, you will stop at several outlooks where you have an expansive view of the Urubamba River. You will also pass through several microclimates, including cloud forest, so be ready for damp or even rain at any time of the year. The next hour and a half are a slightly steeper uphill, with a beautiful waterfall as your reward at the end of the hike!
Cross the bridge below the waterfall, take some time for photos and then you will find yourself gazing up at the spectacular Wiñay Wayna! (2,600m/8,500ft above sea level) These amazing Inca ruins have a fascinating history and some parts are still hidden by the dense jungle. This close to Machu Picchu, you are hiking through lush sub-tropical jungle. Your guide will tell you all about the ruins, plus the incredible flora and fauna of this microclimate and answer any questions you have before the short 5 minute walk to your lunch spot.
You will enjoy your box lunch at a covered shelter at the Wiñay Wayna campground, which is the last campground for those hiking the four day Inca Trail. Nearby are outdoor sinks to wash your hands and also restrooms. Take your time enjoying your hearty, gourmet lunch and admiring the tropical flowers around the campground. Be sure to notify us of any food allergies or dietary restrictions when you book!
After lunch, you will have a mostly gradual walk to the Sun Gate, only encountering 1 short set of steep inca  steps, aptly names ¨the gringo killer steps¨. After that the Sun Gate awaits with the most breath taking views of the Majestic Machu Picchu Citadel below! Take some time to savor the moment and take photos.
The last 45 minutes down from the Sun Gate provide many opportunities to take more photos of Machu Picchu from this unique vantage point. There are also a couple more important Inca sites between the Sun Gate and Machu Picchu, so make sure to go slowly, enjoy your time walking in the footsteps of the Inca and ask your guide questions about these historical places on the last bit of your hike to Machu Picchu.
Once you reach Machu Picchu, you will have time to take more photos from the viewing platforms above the site. You will arrive in the afternoon, as the archeological area starts to empty of tourists, which gives you the opportunity to take beautiful photos in the afternoon light with fewer people in your shots. Your guide will give you a tour, which takes about two hours. You will see all of the most important parts of Machu Picchu. You will also learn about how Machu Picchu is divided into three sectors: agricultural, residential and religious.
Take your time to enjoy this magical experience before you take the bus down to Aguas Calientes. In the evening (6:20pm) you will take the return Expedition train to Ollantaytambo and catch our private van to Cusco and your hotel.  You will arrive around 10:00 pm. If you upgrade to the Vistadome, you will depart Aguas Calientes at 6:10pm
Please note: It is not possible to climb Huayna Picchu or Machu Picchu Mountain due to time restraints. 
WHAT IS INCLUDED IN THE 1 DAY INCA TRAIL TO MACHU PICCHU?
INCLUDED
Transfer from the airport to your hotel in Cusco.
Pick up at your hotel
Private transport from your hotel to the train station
Bus ticket from Machu Picchu to Aguas Calientes
English speaking professional guide experienced in trekking.
Expedition Tourist Train from Ollantaytambo to km104 and from Aguas Calientes to Ollantaytambo
Private van connection to Cusco.
Admission Ticket to the Inca trail and Machu Picchu Archaeological site.
1 Box lunch
Private guided tour of Machu Picchu
First-aid kit including an emergency oxygen tank
NOT INCLUDED 
Energy snacks will be very useful such as chocolate bars and dried fruits
To upgrade to the Vistadome train from Cusco instead of the Expedition Train, Please add US$67 per person
Tips for the staff (Incatrailhikeperu staff receives a fair and decent payment immediately after they end their trip; tips are optional but are greatly appreciated by them)
PRICE
This trek its available on any date! Choose one that suits you best! as long as we have a minimum of 2 people we go(except in February when the Inca Trail is closed for maintenance)
PRICES:
US$397 per person – 2 to 3 people
US$377 per person – 4 or more people
We require a minimum of 2 hikers
EXTRAS
Vistadome Train: US$67 per person – This train runs from Aguas Calientes to Poroy (Cusco).
Walking Poles: US$7 per pair per person for the whole trek.
Extra Porter: $100 (up to 10 kilos, or 22 lbs)
QUESTIONS & ANSWERS
"Please read the following information carefully; it will help you answer most of your questions about our services and the 1 day Inca Trail to Machu Picchu"
WELCOME TO CUSCO
We will welcome you at the airport in Cusco and take you to your hotel. Please inform us of your full flight details at least 14 days prior to your trek. Look out for our representative holding an orange board reading Incatrailhikeperu at the arrival terminal.
THE BRIEFING
It will take place the night before the trekking departure at 6pm or as arranged, in our office which is located at Garcilaso Street 210 , Office Nº:213 (2and Floor) in the la CASA DEL ABUELO shopping center.
CAN I STORE MY LUGGAGE AT YOUR OFFICE
Of course! During the Inca Trail to Machu Picchu your main luggage can be stored at our office or at your hotel, both are free. Please don´t pack anything you will need for your hike in your luggage being stored in our offices. 
WHAT IS THE WEATHER LIKE?
First I would say that the weather is very unpredictable and it's difficult to foresee.  BUT you will have rapidly changing temperatures and weather conditions as you pass through the numerous microclimates depending on your location. We highly recommend that you bring some warm clothes and good rain gear in your day backpack. Dress in multiple layers.
IS THE TREK DIFFICULT, DO I NEED TO BE FIT?
The 1 day Inca Trail Machu Picchu is a 12km (7.5 miles) hike through the Andes in the Cusco region. The maximum altitude you will reach is 2700m above sea level.
In preparation: try walking 15kms in a day or go to a gym in the months leading up to the trek. It is also important to be well acclimatized to the altitude. Try to spend at least 2 or 3 days in Cusco (3350m/11,047ft) prior to starting the trek.
ARE WE DROPPED AT OUR HOTEL? 
Absolutely! Included in our packages is dropping you off at your hotel on the return from your trek or tour. If you have booked your hotel in the Sacred Valley like Ollantaytambo or Urubamba, we will drop you there too!
If you spend the night at Ollantaytambo before the trek, we wil pick you up there.
ALTITUDE SICKNESS
In general, if you exercise regularly and spend a couple of days in Cusco, or in the Sacred Valley for acclimatization to the altitude, you may be fine.
The recommended medicine for altitude sickness is WATER, COCA TEA and OXYGEN IF NEEDED; our guides are trained to treat you for Altitude Sickness. See our detailed information about Altitude Sickness under FAQS.
We offer the Cusco City Tour or Sacred Valley Tour that you can book while you are acclimatizing.  Check out our Day Tours on our Home Page.
TIPPING
If you're happy with the services provided, a tip – though not compulsory – is appropriate. While it may not be customary to you, it's of great significance for the people who will take care of you during the trek.  It inspires excellent service and is an entrenched feature of the tourism industry across many Incatrailhikeperu destinations. Of course, you are free to tip what you feel is  appropriate, depending on your perception of the quality and the length of your trip. Remember, a tip is not compulsory and should only be given when you receive excellent service.
ARE YOU SUSTAINABLE?
Yes, we are a local sustainable & responsible tourism operator becuase of that we incorporate the universal principles of tourism: protect the environment and benefit the local communities respecting their culture and religion. With this in mind, we have trained all our staff to know, understand and respect the local places and it´s people.
PACKING LIST
WHAT YOU SHOULD BRING?
Backpack
Sturdy Hiking boots
Layers for variable temperatures especially at night
Sun protection: sunscreen: sun hat: sunglasses
Scarf and woolen hat for cold nights
Insect repellent
Rain poncho: a good rain jacket
Extra plastic bags especially in the wet season
Toiletries / toilet paper / small towel
Bathing clothes for the hot springs (optional)
Water bottle: water purifying tablets optional
Personal medical kit
Original passport