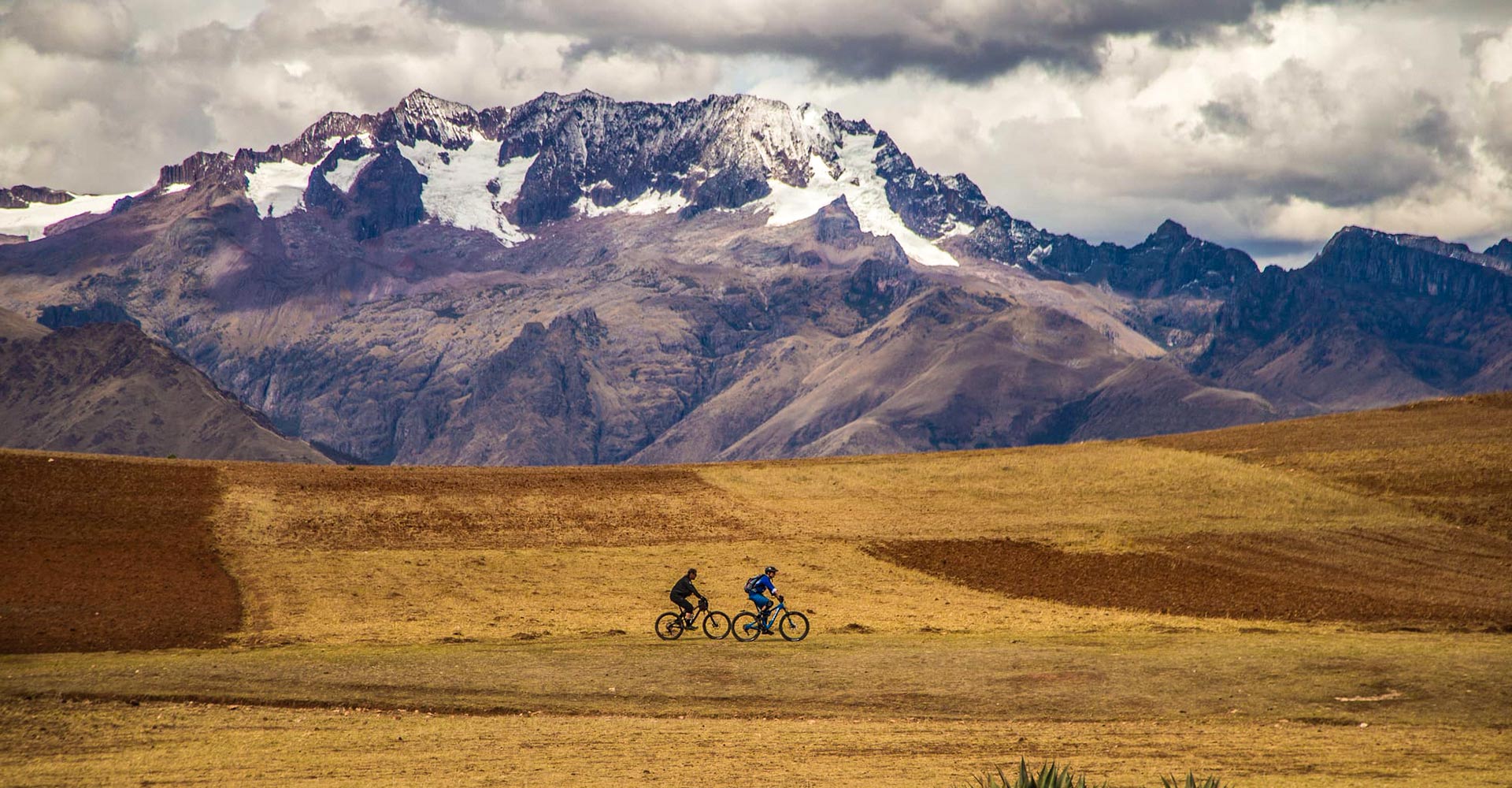 MOUNTAIN BIKE TOUR TO MACHU PICCHU 3 DAYS
MOUNTAIN BIKE TOUR TO MACHU PICCHU 3 DAYS
3 day
OVERVIEW
DAY 1: CUSCO – SACRED VALLEY – MORAY – OLLANTAYTAMBO
Private transport
Market and archeological site of Pisac
Great views of the Sacred Valley
Lunch in Urubamba
Archeological site of Moray and salt Mine of Maras
Hotel in Ollantaytambo
DAY 2: OLLANTAYTAMBO – MOUNTAIN BIKE (42km) – AGUAS CALIENTES
Archeological site of Ollantaytambo
Visit of quechua communities
Mountain bike ride
Train ride to Aguas Calientes
Hotel in Aguas Calientes
DAY 3: AGUAS CALIENTES – MACHU PICCHU – CUSCO
Roundtrip bus ticket Aguas Calientes – Machu Picchu
Guided tour of Machu Picchu
Lunch in Aguas Calientes
Train ride to Ollantaytambo and transfer to Cusco
ITINERARY
DAY 1: CUSCO – SACRED VALLEY – MORAY – OLLANTAYTAMBO
We will pick you up at your hotel and then we will drive in our private transport towards the Sacred Valley of the Incas, taking the direct route to Pisac. We will stop on the way to have a classic view of the Urubamba valley with crops dressing the mountains like carpets. We will arrive to the colourful market of Pisac, where we will have free time to interact with the local craftsmen or to purchase their hand-made souvenirs. Afterwards we will drive to the archaeological site of Pisac, where we could admire the great and unique ancient tombs, farming terraces, watch towers and the religious area. After having enjoyed the stunning sight, we continue towards the village of Urubamba for lunch. Afterwards we continue with our journey to the archaeological site of Moray also known as "The Greenhouses of the Incas" which is unique and fascinating. Different levels of terraces are carved into a huge bowl, part of which was further excavated by the Incas. The terraces have varied microclimates depending on how deep into the bowl they are, and so they were thought to have been used by the Incas to discover the optimal conditions for their crops. We continue our tour to the colonial town of Maras where we start a little hike downhill to the pre-Inca salt mine. Thousands of salt pans have been used for salt extraction since before Inca times. A hot spring at the top of the valley discharges a small stream of heavily salt laden water which is diverted into salt pans and evaporated to produce a salt that is used for cattle licks. Finally we drive to Ollantaytabo, where we spend the night.
DAY 2: OLLANTAYTAMBO – MOUNTAIN BIKE (42km) – AGUAS CALIENTES
After a delicious breakfast we will visit the archaeological site of Ollanatytambo, attractive town of Inca origin with some remarkable channels and stone streets. In its high part one rises to an impressive ceremonial center of cult to the water and fortress that guarded the access to the inferior part of the valley: On the other mountain side part, one rises to some impressive ancient storehouses. After time to explore and enjoy it, we will take our private vehicle to Patacancha Pass (4577mts). On the way we will visit the Willoq and Patacancha communities with the possibilities to interact with the real descendants of the Incas. Once we get to the Pass, we receive a safety briefing including tips on cycling techniques. Then we start our adventure for 3 hours (42km) until Ollantaytambo.. Finally we take our train on the way to Aguas Calientes, where we spend the night.
DAY 3: AGUAS CALIENTES – MACHU PICCHU – CUSCO
After an early breakfast we leave our hostel to take the bus, for the visit up to Machu Picchu ruins. Once there, we will visit one of the most important energetic centers of the world: Machu Picchu. A guided tour of 2 hours will take us into the fascinating history of this mysterious and charming place. After that, we will have plenty of time for further exploring, taking photos and eventually climbing the Huana Picchu Mountain or going to the Sun Gate. Then we will head back to Aguas Calientes for lunch. Later in the afternoon, we will return by train to Ollantaytambo or Poroy and then to Cusco, arriving at your hotel in the evening.
WHAT IS INCLUDED FOR MOUNTAIN BIKE TOUR TO MACHU PICCHU?
INCLUDED
Pick up at your hotel.
Private transportation
Mountain bike and accessories
Visit of quechua communities
Roundtrip Train ride Ollantaytambo – Aguas Calientes
Hotel accommodation with breakfast in Ollantaytambo and Aguas Calientes
Lunch on the first day and the third day
Roundtrip bus ticket Aguas calientes – Machu Picchu
Entrance fees to MachuPicchu and the different archeological sites
English speaking guide
NOT INCLUDED
Lunch on the second day and dinners
Entrance fee to the hot springs of Aguas Calientes
PRICE
Departures

" Any day that is best for you as long as we have a minimum of 2 trekkers"
DISCOUNTS FOR MOUNTAIN BIKE TOUR TO MACHU PICCHU
Student Discount: US$20 (Requires "ISIC" Card to qualify)
Under 18's Discount: US$20
Under 10's Discount: US$30
EXTRAS
OPTIONAL UPGRADES: Hotel and Train… VISTADOME Train to Cusco instead of Expedition Train, Please add US$53 per person
Group Discount or free Sacred valley Tour
If there are at least 6 people in your group, you will automatically get either: $30 per person group discount or a free Sacred Valley tour (Must do in Cusco). This discount or free tour is valid for the following adventure trips: Classic Inca Trail to Machu Picchu, Salkantay trek, Choquekirao to Machu Picchu trek, Lares trek & Inca Jungle Trail to Machu Pichcu. etc.
Please note that this discount does not apply to private treks or any other trek not mentioned here.
"Please read carefully the following informations; it will help you clarify all your queries and questions about our services and the treks to Machu Picchu"
QUESTIONS & ANSWERS
WELCOME TO CUSCO:
You will be met on arrival at Cuzco airport, please ensure that you advise your full flight arrival details at least 14 days prior to trip start. Look out for our representative holding an orange board with your name at the arrival terminal.
The rest of the day is at your leisure until 6pm, when your INCA TRAIL HIKE representative will meet you at the lobby of the hotel, who will give you all the information about your trek or tour.
DEPARTURE:
Any day that is best for you as long as we have a minimum of 2 trekkers
GROUP SIZE:
Small Groups from 2 – 8 people (could be 2, 4, 5 …), a small group will make your experience different with a personalized attention from the whole team, where you can also enjoy the route according to its rate hike.
NOTE: Big group can be organized by request.
TRAIN SCHEDULES:
At the end of the Trek or Tour we will take the 2:55pm or 6:35pm train leaving Aguas Calientes. It takes 2 hours till Ollantaytambo and then we will transfer you back to Cusco and your hotel. Train tickets depends on availability.
HOTEL:
For treks that include accommodation at Aguas Calientes, we stay at "Ferre Machu Picchu or El Presidente Hotel" which is a very nice place to rest after several days of walking! In comparison to other companies, we will not be staying in basic shared rooms or sharing showers. Our hotels depend on availability.
However, if you would like to have a better accommodation just let us know the accommodation of your preference and we will let you know how much the extra fee will be.
HUAYNA PICCHU MOUNTAIN:
Please, if you are thinking of climbing Huayna Picchu mountain you must book this at the same time as your trek or tour to Machu Picchu. Only 400 people can hike Huayna Picchu per day. You will climb it on your own after the tour in Machu Picchu around 10 .00 am. The price is $25 per person.
Note: For the Inca Trail trek hikers, the Huayna Picchu mountain entrance tickets cost US$67 per person and it has to be booked in advance.
OUR GUIDES:
They each speak English fluently and of course all of them speak Spanish and Quechua (the Inca Language). They are all able to communicate with natives from around the area and of course they will have lots of history to share with you.
MEALS:
The food provided by the porters and cook is nothing short of amazing. Trekkers can expect a breakfast of omelettes or pancakes, a 'takeaway' snack pack of fruit or chocolate to eat mid morning, a two course lunch of soup and meat with pasta or rice, afternoon tea on arrival at camp with biscuits and popcorn and a three course dinner. Breakfast and dinner is accompanied by hot drinks (tea, coffee, chocolate) and lunch usually by cordial (other drinks e.g. soft drinks or beer are at your own expense and can be pricey on the trail). All food is prepared, served and cleared away by the cook and porters and the quality of the meals is quite something when you consider that all the ingredients and basic cooking equipment has been carried in. Trekkers will certainly not go hungry and special dietary requirements can be catered for if specified in advance. You will be able to buy bottled water on day 1 and 2 of the trek at various points along the way, after this you will refill your empty bottles from boiled water provided by the porters. Boiled water will be provided during the trek when it is possible to make camp.
CULTURE SHOCK RATING:
The comforts of home are more of a rarity. English isn't common and the food will be quite different to home. It's important to observe some of the local customs to not cause offence. Many of the locals' standards of living may be confronting.
SPENDING MONEY:
Every traveller is different and therefore spending money requirements will vary. Some travellers may drink more than others while other travellers like to purchase more souvenirs than most. Please consider your own spending habits when it comes to allowing for drinks, shopping, participating in optional activities, and tipping. Please also remember the following specific recommendations when planning your trip.
TIPPING:
If you're happy with the services provided a tip – though not compulsory – is appropriate. While it may not be customary to you, it's of great significance to the people who will take care of you during your travels, inspires excellent service, and is an entrenched feature of the tourism industry across many INCA TRAIL HIKE destinations.
Of course you are free to tip more or less as you see fit, depending on your perception of service quality and the length of your trip. Remember, a tip is not compulsory and should only be given when you receive excellent service.
WEATHER:
The wet season in this region is from December to March when heavy rains can cause disruptions to ground transport. Intrepid will monitor any situations that arise, and may need to change itineraries or activities in response to natural weather occurrences.
EMERGENCY CONTACT:
Telephone: (+51) (84) 630690, Telefax: (+51) (84) 630690 Cell Phone:(+51) (84) 968964422 (Spanish) / 992126224 (24 hours available in english/spanish with Saul)
Address in Cusco: Luis Vallejo Santoni (Manco Ccapac H-9), 3er Piso – Santiago – Cusco – Peru
Business Hours: Monday to Sunday: (From 9:00am to 12:00pm) – ( From 15:00 – 20:00):
HIKING TO MACHU PICCHU:
The evening before you start your trek, you will be given a SMALL DUFFLE BAG to pack your clothes for the next four days. Your weight allowance is 7kg/15p max. While you hike, the bulk of your luggage will be stored at your hotel in Cuzco.
Your team of porters will carry your duffle bag for you, together with the food and camping gear. It's important to be aware that you will not have access to your items in the duffle bag until the end of each day, as the porters will always be ahead of the group.
For during the trek, you need a day pack big enough to carry personal belongings such as a warm jacket, a rain jacket, your camera, sun cream, snacks, water, etc. Usually a 30 to 50 litres capacity back pack is big enough.
Sleeping bags can be hired locally for approximately US$20.
Hiking poles can be hired locally for approximately US$15
Rain ponchos can be purchased in Cuzco for a couple of dollars.
FITNESS:
The Mountain Bike Tour to Machu Picchu is certainly not easy but you do not need to be an athlete or a trekking expert to complete it. Fitness is naturally important but the Inca Trail is the kind of trek that anyone with a positive attitude and determination can do. Obviously the more fit you are the more you will enjoy the trail and the more chance you will have to take in the scenery and appreciate the Inca ruins dotted along the way. If you do not exercise regularly, it is advisable to do some extra walking or some kind of aerobic activity in the months leading up to your trip.
Many people worry whether they will be able to cope physically but complete failure is rare and would usually only result from severe altitude sickness or a person lacking even a basic level of fitness. People of all ages (from teenagers to pensioners) complete the trek and age itself is no barrier if you are positive minded and live an active lifestyle. Before departing for your tour, we recommend visiting your doctor who will be able to provide you with more information.
TRAVEL INSURANCE
Travel insurance is compulsory for all our trips. We require that, at a minimum, you are covered for medical expenses including emergency repatriation. We strongly recommend that the policy also covers personal liability, cancellation, curtailment and loss of luggage and personal effects.
When travelling on a trip, you won't be permitted to join the trip until evidence of travel insurance and the insurance company's 24 hour emergency contact number has been seen by our local representative.
If you have credit card insurance our local representative will require details of the participating insurer/underwriter, the level of coverage, policy number and emergency contact telephone number rather than the bank's name and credit card details. Please contact your bank for these details prior to arriving in-country.
ARE WE SUSTAINABLE?
Yes, We are a local sustainable & responsible tourism operator for that we incorporate the universal principle of tourism: protect the environment and benefit the local communities respecting their culture and religion. To this end, we have trained all our local staff that know, understand, feel and respect the place and the people.
ARE WE RESPONSIBLE?
Yes, We try to treat our hikers, our porters and all the local people from the villages with the upmost respect. We travel in small groups to give personalized tours to each traveller, we pay good salaries to our porters and follow the porters law. We provide all our porters with their hiking gear such as shoes, pants, jackets, t-shirts, hats, sleeping bags and most importantly, with health insurance.
STORAGE DURING THE MOUNTAIN BIKE TOUR TO MACHU PICCHU:
During the Mountain Bike Tour to Machu Picchu your main luggage will be stored in Cuzco and you will receive a small duffle bag at your Inca Trail briefing (briefings are normally set for the evening before you start the trek) to pack clothes for 3-4 days. Your team of porters will carry these bags together with the food and equipment for the trail. Please note that you will not have access to these items until the end of each day as the porters will always be ahead of the group, you should therefore bring a day pack in which you can carry personal belongings such as your camera, water and sun screen etc. By Peruvian law the duffle bag carried by the porters must not weigh more than 7kg (14pounds). You can either store your luggage at your hotel or you can leave it with us.
BOOKING:
You must book this Mountain Bike Tour to Machu Picchu a few weeks ahead especially for the entrance of Machu Picchu and Wayna Picchu.