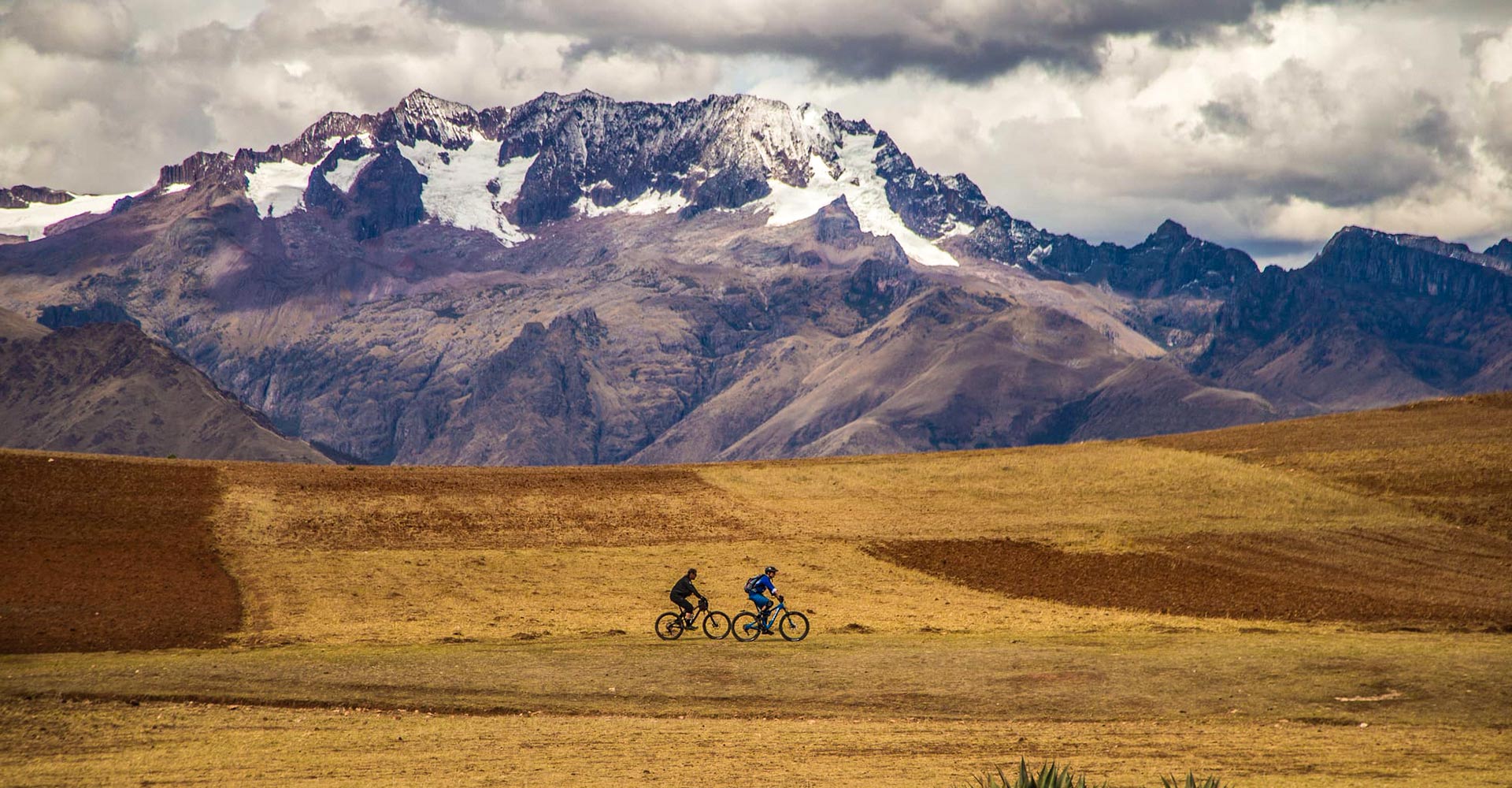 MOUNTAIN BIKE TOUR TO MACHU PICCHU 3 DAYS
MOUNTAIN BIKE TOUR TO MACHU PICCHU 3 DAYS
3 day
An adventure filled tour through the sacred valley all the way to the Inca City of Machu Picchu awaits. Visit the colorful market and archeological site of Pisac. After visiting the Ollantaytambo archeological site, the last refuge of the Incas after the Spanish Invasion, we mountain bike downhill for 42km. Explore small communities inhabited by the real descendants of Incas. This tour is both thrilling and informative.
Schedule
DAY 1: CUSCO – SACRED VALLEY – MORAY – OLLANTAYTAMBO
Private transport
Market and archeological site of Pisac
Great views of the Sacred Valley
Lunch in Urubamba
Archeological site of Moray and salt Mine of Maras
Hotel in Ollantaytambo
DAY 2: OLLANTAYTAMBO – MOUNTAIN BIKE (42km) – AGUAS CALIENTES
Archeological site of Ollantaytambo
Visit of quechua communities
Mountain bike ride
Train ride to Aguas Calientes
Hotel in Aguas Calientes
DAY 3: AGUAS CALIENTES – MACHU PICCHU – CUSCO
Roundtrip bus ticket Aguas Calientes – Machu Picchu
Guided tour of Machu Picchu
Lunch in Aguas Calientes
Train ride to Ollantaytambo and transfer to Cusco
ITINERARY
DAY 1: CUSCO – SACRED VALLEY – MORAY – OLLANTAYTAMBO
Your guide will pick you up from your hotel lobby at 7am. First, we drive to a close-by Camelid farm. Here you have an opportunity to feed and pet different breeds of alpacas, llamas and vicuñas (a rare and national animal of Peru). Watch local women using wool from the animals around to weave beautiful garments with different patterns. They have their natural dyeing process with all the organic material needed on full display. Visit their museum and souvenir shop with the option of purchasing a good selection of fair-trade alpaca and vicuña apparel. Best part is that inside the shop, there are shopping assistance to answer all your question but they do not pressure you into purchasing anything. Be sure to grab your certification if you purchase merchandise made with Vicuñas wool, they are protected by the government of Peru.
Next stop is the Mirador of Toray. Enjoy unspoiled views of the valley below, with its lush vegetation and the serene Urubamba River gently curving its way through the entire the Sacred Valley. Perfect spot to stop for selfies, this area has the most panoramic views of the valley and the lighting is perfect at this time of the morning.
After a short uphill drive, we make our way to the historical Archeological site of Pisac. Learn about the agricultural practices of the Incas. How they used the different terraces below with varying micro-climates for their farming and then built their living quarters and food storage warehouses at the top of the hills, to take advantage of the cooler temperatures in order to preserve their produce. Discover at this Sacred Valley entry point the value this region had in terms of sustenance to the Incas and modern Cusco alike. The biggest Inca cemetery is also located here, with thousands of niches wrapped around the mountain side adjacent to the archeological site. According to local legend, there are still human remains inside some of the gravesites.
We follow that with a scenic drive through the valley, passing small rural town, with locals going about their normal day to day lives. We stop on the outskirts of Sacred Valleys´ commercial town of Urubamba for our lunch. Enjoy a scrumptious buffet lunch, with an impressive spread. The food is in abundance, with a great selection for different dietary needs. (Lunch is not included)
After feeling up our bellies, we head over to the Pre-Inca Salt Mines of Salineras. As you approach the salt mines you will be met by thousands of salt pans that has the valley coated in white and a murky brown color. The locals have been mining salt for generations. They have full ownership and rights to these pans and have passed them from one generation to the next. The small stream at the top fills up all the salt pans and once the water evaporates, they cultivate the salt to be sold for profit. Over 90% of the salt consumed in Peru comes from this humble small town. Any salt bought from the vendors at the mines, directly supports this small local community.
Next, we visit another set of Inca Ruins. The ruins of Moray are a great example of how advanced the Incas were for that period. Even though they did not build initial structure, they did however see the opportunity to use this as a natural ¨greenhouse¨. Each layer has different temperatures, they used these different micro-climates to test the optimum growing point of their crops. They brought in different samples of soil from the Empire to achieve maximum results. The sun also hit each level at different angles, making sun absorption different at every section, they also built an intricate irrigation system. The locals were still using this for farming until it was reserved for tourism in the 70s.
Finally, we head to the bustling town of Ollantaytambo, the gateway to Machu Picchu and the world-famous Inca trail. We stop here to spend the night.
2* Accomodation in Ollantaytambo: Tunupa Lodge or similar
Meals: Breakfast at your hotel
DAY 2: OLLANTAYTAMBO – MOUNTAIN BIKE (42km) – AGUAS CALIENTES
After a delicious breakfast we will visit the archaeological site of Ollantaytambo, an attractive town of Inca origin with some remarkable channels and stone streets.  This is where the last and greatest battle was fought between the Incas and the Spanish Invaders. Even though, the Incas won this battle, they later retreated further into the jungle because their numbers had been continuously depleting from the Spanish flue and the many wars they had endured. The site has many boulders that had been carved, which had either been damaged from the war or a sign that this site was still incomplete at the time of the invasion. Your guide will give a comprehensive tour of this site and share all the important history associated with it. After some time touring this site , we will take our private vehicle to Patacancha Pass (4577mts). On the way we will visit the Willoq and Patacancha communities with the opportunity to interact with the real descendants of the Incas. Once we get to the Pass, we receive a safety briefing including tips on cycling techniques. Then we start our adventure for 3 hours (42km) until Ollantaytambo.. Finally we take our train on the way to Aguas Calientes, where we spend the night.
Meals: breakfast in hotel
3* Accommodation: Ferre Hotel
Difficulty: Moderate to Difficult
DAY 3: AGUAS CALIENTES – MACHU PICCHU – CUSCO
After an early breakfast we leave our hotel to take the bus, for the thrilling tour of the world-renowned ruins of Machu Picchu. Once there, we will visit one of the most important energetic centers of the world: Machu Picchu. A guided tour of 2 hours will take us into the fascinating history of this mysterious and charming place. After that, we will have plenty of time for further exploring, taking photos and possibly climbing Huayna Picchu or Machu Picchu Mountain if you have booked in advance. Then we will head back down to Aguas Calientes for lunch. Later in the afternoon, we will return by train to Ollantaytambo or Poroy and then to Cusco, arriving at your hotel in the evening.
Meals: breakfast in hotel & Box Lunch 
Difficulty: Easy
WHAT IS INCLUDED FOR MOUNTAIN BIKE TOUR TO MACHU PICCHU?
INCLUDED
Pick up at your hotel.
Private transportation
Mountain bike and accessories
Visit to quechua communities
Roundtrip Train ride Ollantaytambo – Aguas Calientes
Lunch on the first day and the third day
Hotel accommodation with breakfast in Ollantaytambo and Aguas Calientes
Roundtrip bus ticket Aguas calientes – Machu Picchu
Entrance fees to MachuPicchu and the different archeological sites
English speaking guide
NOT INCLUDED
Lunch on the second day and dinners
Entrance fee to the hot springs at Aguas Calientes
PRICE
Departures
" Any day that is best for you as long as we have a minimum of 2 trekkers"
DISCOUNTS FOR MOUNTAIN BIKE TOUR TO MACHU PICCHU
Student Discount: US$20 (Requires "ISIC" Card to qualify)
Under 18's Discount: US$20
Under 10's Discount: US$30
EXTRAS
OPTIONAL UPGRADES: Hotel and Train… VISTADOME Train to Cusco instead of Expedition Train, Please add US$67 per person
Group Discount or free Sacred valley Tour
If there are at least 6 people in your group, you will automatically get either: $30 per person group discount or a free Sacred Valley tour (Must do in Cusco). This discount or free tour is valid for the following adventure trips: Classic Inca Trail to Machu Picchu, Salkantay trek, Choquekirao to Machu Picchu trek, Lares trek & Inca Jungle Trail to Machu Pichcu. etc.
Please note that this discount does not apply to private treks or any other trek not mentioned here.
"Please read the following informations carefully; it will help clarify most uncertainties and questions about our services and the treks to Machu Picchu"
QUESTIONS & ANSWERS
WELCOME TO CUSCO:
You will be met on arrival at the airport in Cusco, please ensure that you send us your full flight details at least 14 days prior to the start of your trek. Look out for our representative holding an orange board with INCA TRAIL HIKE at the arrivals terminal.
DEPARTURE:
Any day that is best for you as long as we have a minimum of 2 trekkers
GROUP SIZE:
Small Groups from 2 – 8 people, a small group provide for a  more personalized experience, where the pace is set by you the trekker.
NOTE: Big groups can be organized on request.
THE BRIEFING
It will take place the night before the trekking departure at 6pm in our office which is located at Garcilaso Street 210 , Office Nº:213 (2nd Floor) in the la CASA DEL ABUELO shopping center.
HOTEL:
For treks that include accommodation at Aguas Calientes, we stay at a 3* "Ferre Hotel ". In comparison to other companies, we will not be staying in basic shared rooms or sharing showers. Our hotels depend on availability.
However, if you would like to upgrade your hotel, let us know your preference and we will upgrade it for you at an additonal fee.
HUAYNA PICCHU MOUNTAIN
Please, if you are thinking of climbing Huayna Picchu mountain you must book this at the same time as your trek or tour to Machu Picchu. Only 400 people can hike Huayna Picchu per day. The climb is not guided, if you want to guide please require prior to tour, the will be an extra fee to be payed.
Note: For Inca Trail trek hikers, Huayna Picchu mountain entrance tickets cost US$75 per person and it has to be booked in advance.
HOW TO BOOK THE MACHU PICCHU TOUR?
FIRST, to book your Machu Picchu Tour, we need you to fill out our booking form by clicking on BOOK NOW on our homepage or click the link BOOK NOW.
Please be ready with the following information (FROM EACH PARTICIPANT in your group).  We cannot purchase an an entrance to Machu Picchu or the train without the following information:
Personal information (your full name, exactly as it appears  on your passport):
Gender
Passport number
D.O.B. (dd / mm / yyyy)
Nationality
SECOND, we require a deposit ofUS$200.00 per person in order to purchase your entrance to Machu Picchu and train ticket.  You can make you deposit by clicking on the VISA or PAYPAL symbols on the top of our home page, or our booking page.
OUR GUIDES:
They are multi- lingual they speak English fluently, Spanish and Quechua (the indeginous language of Peru). They are all able to communicate with natives from around the area and of course they will have lots of history to share with you.
CULTURE SHOCK RATING:
Some the customs  and way of life may be different to what you are accustomed to in your own country. Local food can be different, but there are several retaurants that offer foods that are considered international. Culture shock should be expected, as in any other country you might visit around the world outside of your birth country. Peruvian people are warm and welcoming, for someone who speaks very little to no Spanish, this shouldn´t concern you. Cusco is an extremely touristy city, there is always an odd person around to help with translation and they are pretty patient and handy at sign language. 
SPENDING MONEY:
Every traveller is different and therefore spending money requirements will vary. Some travelers may drink more than others while other travelers like to purchase more souvenirs than most. Please consider your own spending habits when it comes to how much money to bring, allow for drinks, shopping, participating in optional activities and tipping.
TIPPING:
If you're happy with the services provided, a tip  – though not compulsory – is always appreciated. While it may not be customary in your country, it's of great significance to the people who will take care of you during your travels, it inspires excellent service, and is an entrenched feature of the tourism industry across many INCA TRAIL HIKE destinations.Of course you are free to tip as much as your budget will allow, depending on your perception on the quality of service and the length of your trip. Remember, a tip is not compulsory and should only be given when you receive excellent service.
HIKING TO MACHU PICCHU:
The evening before you start your trek, you will be given a SMALL DUFFLE BAG to pack your clothes. Your weight allowance is 7kg/15p max. While you hike, the bulk of your luggage will be stored at your hotel or offices in Cuzco.
Difficulty:
The Mountain Bike Tour to Machu Picchu is certainly not easy but you do not need to be an athlete or a trekking expert to complete it. Fitness is naturally important but the Inca Trail is the kind of trek that anyone with a positive attitude and determination can do. Obviously the more fit you are the more you will enjoy the trail and the more chance you will have to take in the scenery and appreciate the Inca ruins dotted along the way. If you do not exercise regularly, it is advisable to do some extra walking or joining a gym in the months leading up to your trip.
ARE WE SUSTAINABLE?
Yes, We are a local sustainable & responsible tourism operator for that we incorporate the universal principle of tourism: protect the environment and benefit the local communities respecting their culture and religion. To this end, we have trained all our local staff that know, understand, feel and respect the place and the people.
ARE WE RESPONSIBLE?
Yes, We try to treat our hikers, our porters and all the local people from the villages with the utmost respect. We travel in small groups to give personalized tours to each traveler, we pay good salaries to our porters and follow all the laws stipulated by Peruvian government in relation to all porters. We provide all our porters with their hiking gear such as shoes, pants, jackets, t-shirts, hats, sleeping bags and most importantly, with health insurance.
STORAGE DURING THE MOUNTAIN BIKE TOUR TO MACHU PICCHU:
During the Mountain Bike Tour to Machu Picchu your main luggage will be stored in Cuzco and you will receive a small duffle bag at your Inca Trail briefing (briefings are normally set for the evening before you start the trek). Your team of porters will carry these bags together with the food and equipment for the trail. Please note that you will not have access to these items until the end of each day.