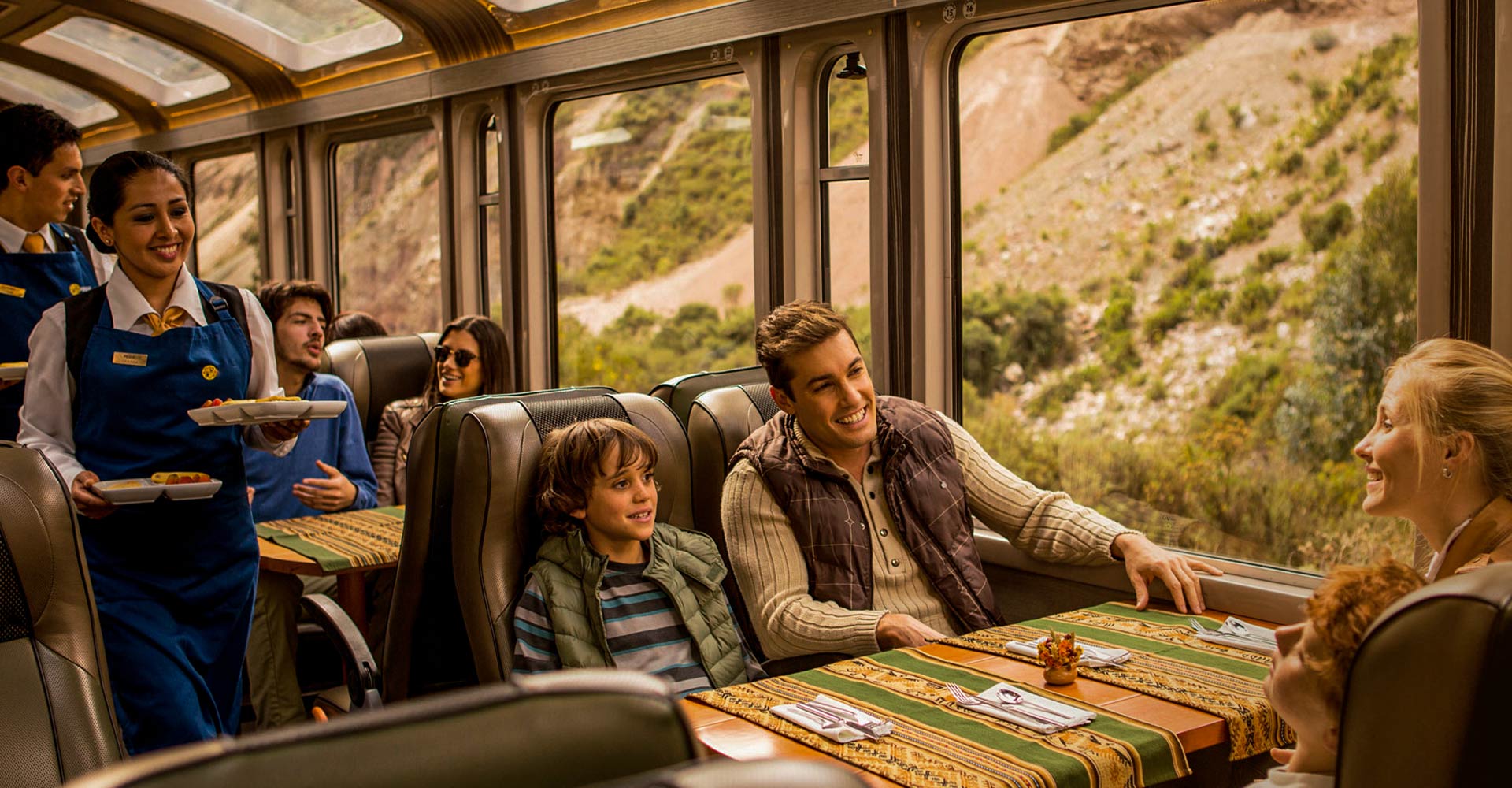 TOUR TO MACHU PICCHU BY VISTADOME TRAIN
Type Tour
Adventure, self-guided
TOUR TO MACHU PICCHU BY VISTADOME TRAIN
1 day
You can enjoy an unmatched and mesmerizing panoramic train journey with the Vistadome train, as you pass through the ancient towns of the Incas on the popular expedition train. Travel through the alpine meadows nestled amongst the green, brown and white peaks, the intricately formed valleys, layers of hand made Inca farming terraces, rigid snowcapped mountains and sub-tropical jungle near the Amazon Jungle, all the way up to Aguas Calientes. On the Vistadome train you are entirely surrounded by glass, a truely unforgettable experience.
Upon arrival you travel back in time to this magical place, sacred and mysterious, with the name of Machu-Picchu, "The Old Sacred Mountain." Take your time exploring the majestic Machu Picchu, the Incan ruins rich in history of its past and the thriving culture of the people who once resided there.
ITINERARY
Tour to Machu Picchu with Vistadome Train
Wake up early with the realization, today is the day you get to experience the majestic Machu Picchu. We pick you up at your hotel at 5.40am. Then we drive in our private van to Poroy-Cusco Train Station to leave at 6.43am (only May to December), during wet season the train only stops in Ollantaytambo.
Travel through the alpine meadows nestled amongst the white glacier peaks surrounding it, the intricately formed valleys, layers of hand made Inca farming terraces, and sub-tropical jungle near the Amazon. From the quaint village of Ollantaytambo the sacred Vilcanota river will be our companion until our arrival in Aguas Calientes.
Your guide will meet you at the train station at 10:52am. You will have just a few minutes to get a sandwich or something quick for lunch before being transferred to Machu Picchu (2040mt/7907ft) on the shuttle bus. Following in the ancient and remote footsteps of the Lost City of the Incas, absorb the cultural exchange of the history of Machu Picchu from your guide in your private 2.5 hours guided tour. Use the extra time at the Citadel to explore and take photos.  Returning to Aguas Calientes, you will catch the early evening Vistadome train 6:10pm train to Ollantaytambo,  where we take you back to your hotel in Cusco, arriving approximately by 10pm.
Meals: Snack and Hot Drinks on the Train.

EXTRA HIKES
Inca Bridge: (no ticket needed). It is a 25 minute walk from the citadel, great views.
Meals: Snack and Hot Drinks on the Train.
Please note it is not possible to climb Huayna Picchu or Machu Picchu with this time schedule.  
VISTADOME CLASS TRAIN
The Vistadome is the ideal train for those who want to be in contact with the environment and appreciate the wonderful journey to Machu Picchu.  Connect your senses through a sophisticated and sensory travel experience with the best in comfort and quality service!
Surrounded entirely by glass, in cars with large panoramic windows on the side and ceiling, offering incomparable scenic views and numerous opportunities to capture amazing pictures. The Vistadome has a different service which allows the visitor to be immersed in the Andean Culture through its landscapes, music, dance and even food, carefully prepared with local ingredients.
The Vistadome train provides travelers with on board personalized and first class service to give them an unforgettable lifetime experience.  It also has air conditioning, heating and leather seats that adjust the body to provide comfort and relaxation during the entire trip.
You start your journey at the Poroy station located about 25 minutes from downtown Cusco, the journey to Machu Picchu lasts just over three hours you arrive at Aguas Calientes. This is a unique journey experience in which PeruRail pays close attention to every minuscule detail.
Your return journey is from Aguas Calientes to Ollantaytambo the Sacred Valley of the Incas  a journey lasting 2 hours.  When you arrive at Ollantaytambo you will be transferred to a private van for your trip back to Cusco, arriving at your hotel at about 10PM.
SCHEDULE
Trip to Machu Picchu in a small group (8 max)
Pick up at 5:45am at your Hotel
30 Minute transfer to The Poroy train station in our private transportation (May through December)
Transfer to the Ollantaytambo Train station – January through April.
4 hours train Journey to Aguas Calientes town ( Amazing views)
Bus to Machu Picchu
Guided 2 hour tour of Machu Picchu 
Bus to Aguas Calientes
Train back to Ollantaytambo or Poroy (Depends on season)
Transfer back to your hotel from either Ollantaytambo or Poroy (Cusco)
WHAT IS INCLUDED? 
INCLUDED
Transfer at 5:45 am from your hotel to Poroy Train Station or Ollantaytambo (depends on season)
Vistadome train ticket from Poroy to Aguas Calientes
Bus round trip from Aguas Calientes to Machu-picchu (30m)
Admission ticket for Machu Picchu sanctuary
Guided tour in English (approximately 2 hours)
(Small group from 3 to 8 people with an experienced english speaking guide)
Vistadome train ticket return to Poroy (Cusco) or Ollantaytambo, then transfer back to your hotel in Cusco
Snacks and Dance Presentation are included)
Transfer from the train station to your hotel.
NOT INCLUDED 
PRICE
The Tour to Machu Picchu is available on any date that is best for you, as long as we have a minimum of 2 people
Small groups with English speaking guide of an average of 5 and not exceeding 8!
DISCOUNTS
Under 18 years old: US$40 Please send us a copy of your passport at the time of booking.
Under 12 years old: US$60  Please send us a copy of your passport at the time of booking.
QUESTIONS & ANSWERS
"Please read the following information carefully; it will help you answer all of your questions about our services and tour"
WELCOME TO CUSCO
You will be welcomed at the airport in Cusco and taken to your hotel, please ensure that you inform us of your full flight details at least 14 days prior to your trek. Look out for our representative holding an orange board with INCA TRAIL HIKE at the arrivals terminal. It can be done on any date that is best suited to you!
THE BRIEFING
It will take place the night before the trekking departure at 6pm in our office which is located at Garcilaso Street 210 , Office Nº:213 (2nd Floor) in the la CASA DEL ABUELO shopping center.
CAN I STORE MY LUGGAGE AT YOUR OFFICE?
Of course! During the Tour to Machu Picchu your main luggage can be store at our office or at your hotel, both are for free. Please don't  pack anything you will need for your hike.
HOW TO BOOK?
FIRST, to book your Tour to Machu Picchu, we need you to fill out our booking form by clicking on BOOK NOW on our homepage or click here the link BOOK NOW.
Please be ready with the following information (FROM EACH PARTICIPANT in your group).  We cannot purchase an an entrance to Machu Picchu or the train without the following information:
Personal information (your full name, exactly as it appears on your passport):
Gender
Passport number
D.O.B. (dd / mm / yyyy)
Nationality
SECOND, we require a deposit of US$200.00 per person in order to purchase a your entrance to Machu Picchu and train ticket.  You can make you deposit by clicking on the VISA or PAYPAL symbols on the top of our home page, or  on our booking page.
WHAT ABOUT THE BALANCE?
It would be greatly appreciated if you pay in cash at our office (US dollars or Peruvian soles) here in Cusco. We have many cash machines in the historical center to withdraw money.  You can also pay by VISA or PAYPAL online but you will have to pay a 5.5% service charge, charged by VISA and PAYPAL.  To pay your balance through PAYPAL, you need to log into your PAYPAL account using our email address of info@incatrailhikeperu.com to complete the payment.
HOW DO I QUALIFY FOR THE STUDENT DISCOUNT?
According to Peruvian Law you must be under 18 years of age at the time of your trek, tour, or visit to Machu Picchu (students 18 & above need student cards). For example if you book a trek at the age of 17 but you turn 18 before you do your trek, you do not qualify for a student discount.
All students from 11 to 17 years, the discount is $30.
For children from the age of 2 to 11 the discount is $40.
Children between the ages of 0 to 2 are free.
All students must provide a copy of their passport at the time of their booking to get the student discount.
Send us a copy at info@incatrailhikeperu.com
MAY I CHANGE THE DEPARTURE DATE AFTER THE TICKETS HAVE BEEN BOUGHT?
Unfortunately the answer is "No". Once the tickets have been bought the government does not allow any changes, so we can't change any departure date after the tickets has been bought. Tickets are also not transferable nor refundable.
If you cancel your 1 Day Machu Picchu Tours, the deposit is non refundable!
DO I NEED MY ORIGINAL PASSPORT FOR TOUR TO MACHU PICCHU?
Yes for sure! You have to bring your original passport and it is very important that it is the same passport number you sent to us to book your entrance to Machu Picchu, train ticket, other entrances and reservations. The rangers will check when you enter Machu Picchu. The train company will also check your passport before allowing you to board the train.
In case you are renewing your passport or changing your name, go ahead and send us your old passport information to secure your permit, and we can change it when you get your new passport number or updated your name for a fee of $25 per person.  We must have a copy of your old and new passport to make the change. Before you change your passport keep a copy of your old one.
If you do not wish to pay this fee you will need to bring both passports to Peru with you.  You can enter Peru with your new passport but you will need to show both old and new passport to be able to enter Machu Picchu or the train.  If you do not have both you will not be allowed to enter Machu Picchu and train. They are very strict about this!
WHAT IS THE WEATHER LIKE IN THE MACHU PICCHU TOURS?
 The weather is very unpredictable and difficult to foresee.  We recommend that you bring a warm jacket for early mornings and a rain poncho in case of rain.
ARE WE DROPPED AT OUR HOTEL AFTER THE 1 DAY MACHU PICCHU TOURS?
Absolutely! Included in our packages is dropping you off at your hotel on the return from your trek or tour. If you have booked your hotel in the Sacred Valley in towns like Ollantaytambo or Urubamba, we will drop you off there too!
If you spend the night at Ollantaytambo before the trek, we will pick you up from there.
ALTITUDE SICKNESS
In general if you exercise regularly and spend a couple of days in Cusco, or in the Sacred Valley for acclimatisation to the altitude, you may be fine.
The recommended medicine for altitude sickness is WATER, COCA TEA and OXYGEN IF NEEDED; our guides are trained to treat you for Altitude Sickness. Click the lick to see detailed information about Altitude Sickness:  Altitude Sickness
We offer the Cusco City Tour or Sacred Valley Tour that you can book while you are acclimatizing.  Check out our Day Tours on our Home Page.
TIPPING
If you're happy with the services provided, a tip – though not compulsory – is appreciated. While it may not be customary to you, it's of great significance for the people who will take care of you during the tour.  It inspires excellent service and is an entrenched feature of the tourism industry across many INCA TRAIL HIKE destinations. Of course you are free to tip as much as your budget will allow, depending on your perception on the quality of service and the length of your tour. Remember, a tip is not compulsory and should only be given when you receive excellent service.
ARE YOU SUSTAINABLE?
Yes, we are a local sustainable & responsible tourism operator for that we incorporate the universal principles of tourism: protect the environment and benefit the local communities respecting their culture and religion. With this in mind, we have trained all our staff to know, understand and respect the local places and it´s people.
PACKING LIST
WHAT TO BRING 
A small daypack with water to drink
Snacks if you like
Comfortable shoes or runners
Camera and rain jacket or poncho
A fleece or jacket, basic toiletries
Hat for the sun , sunscreen, insect repellent.
Original Passport  (Cannot enter Train or Machu Picchu without passport)
ISIC card if required. 
Money for souvenirs