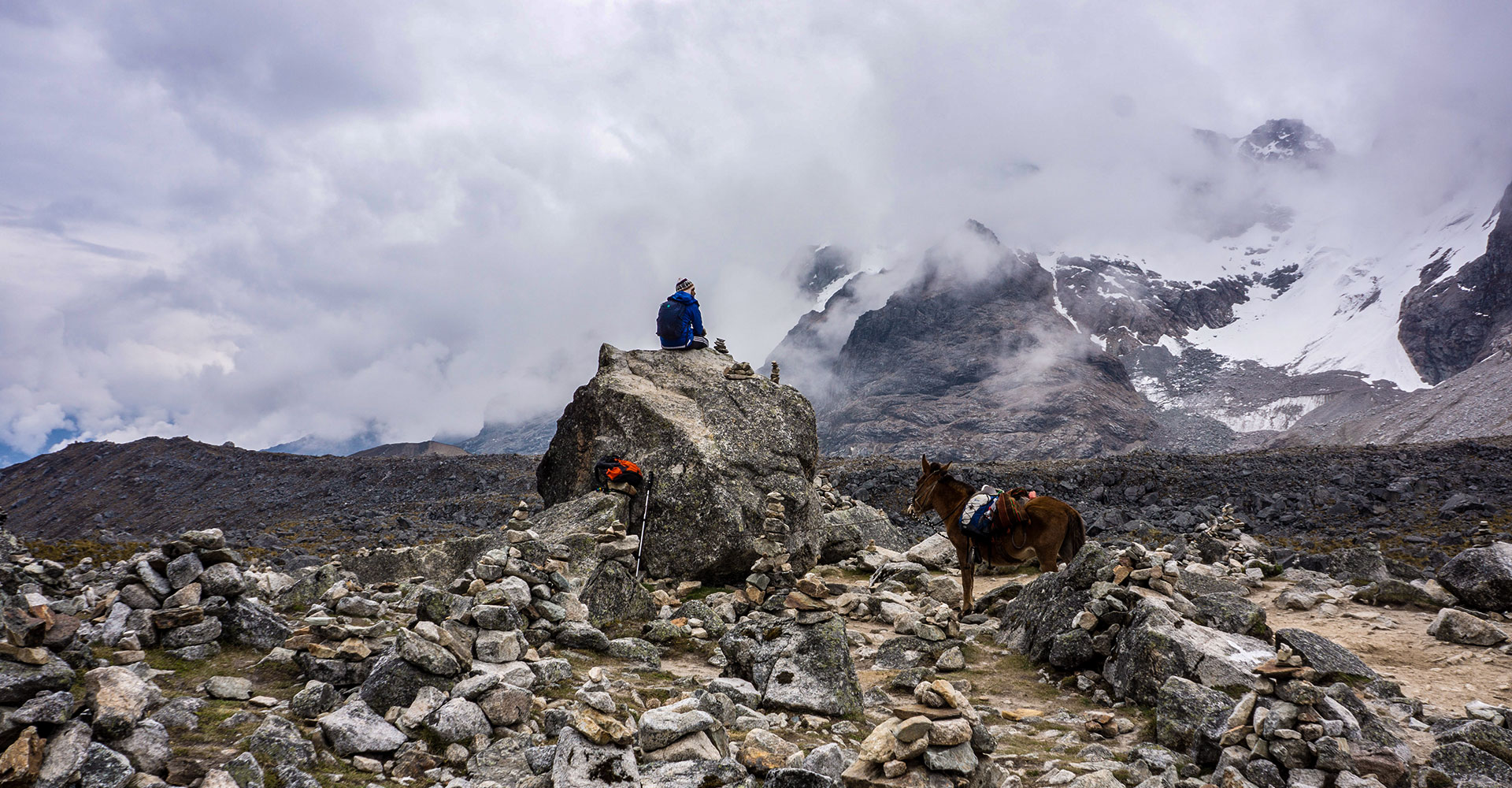 SALKANTAY TREK TO MACHU PICCHU 4 DAYS & 3 NIGHTS
Type Tour
Trekking, adventure
SALKANTAY TREK TO MACHU PICCHU 4 DAYS & 3 NIGHTS
4 day
Incatrailperuhikes is specialist in "trekking OFF the beaten track." This is what you will experience with this unique & specially designed, 4 Day Salkantay Trek to Machu Picchu. Our camps are isolated, keeping away from the crowd of other hikers. This unique trek takes you around the stunning Mount Salkantay Mountain, visits 2 crystal clear glacial lake, an active coffee farm, and hike up to the forgotten LLACTAPATA Inca ruins. From the ancient Inca city LLACTAPATA you get to enjoy the unbelievable views of the citadel of Machu Picchu and the surrounding mountains from far away. Of course the trek ends at the long awaited Machu Picchu, one of the 7 wonders of the world and most important mystic center in the world.
Highlights: Small group, trekking off the beaten track, glacier lakes, Inca trails, fruit plantation, LLACTAPATA Inca ruins, the greatest view of Machu Picchu from the Llactapata view point, waterfalls and Machu Picchu.
ITINERARY
Day 1: Cusco – Soraypampa – Pass – Huayracmachay
We will pick you up at 4:30am at your hotel.  For the next 3 hours we drive to our starting point at  Soraypampa for 3 hours. Along the way there are spectacular views of villages such as: Iscuchaca and Limatambo, stunning valleys and snow-capped mountains such as Salkantay. At the trail head at Soraypampa we stop for breakfast while enjoying the amazing views of Humantay (5900m/19356ft) and Salkantay (6217m/20,396ft) Mountain glaciers.
After breakfast we start a gradual climb through the pristine Andean valley landscapes for about 3.5 hours before arriving at Sorococcha(4,400m/14,517ft) for lunch. After lunch, we continue walking for one more hour to reach Apacheta Pass (4,650m/15,367ft). There we can enjoy the spectacular views of snowcapped mountains such as Salkantay (6,277m/20,717ft), Humantay, Huayanay, white glacial lakes, and small lakes. We take a short hike up to see the turquoise crystal clear Salkantay Lake. After enjoying the lake, we continue walking for 2 more  hours downhill to our first campsite at Huayracmachay.
Meals: Lunch – Tea time – Dinner
Accommodation: Camping facilities
Distance: 14 km
Difficulty: challenging
Day 2: Huayracmachay- Chaullay- la Playa
After an early delicious breakfast, we descend for 3 hours down toward the rural indigenous community of Chayllay for lunch, along the way we enjoy the lush green valleys, and waterfalls. After a stop for lunch we walk for 5 more hours through the beginnings of the Peruvian cloud forest; enjoying a myriad of flora and fauna including orchids, birds, coffee, cacao and fruit plantations. Finally we arrive at Lucmabamba where we spend the our second night (2,050m/6,767ft)
Depending on time, we will do a tour of a  coffee plantation next to our campsite. We'll learn about the different types of coffee beans, and we'll get to pick some beans for ourselves. Also there are several fields of tomatoes and avocados and we'll pick vegetables that the chef can use for dinner that night. After picking our coffee beans, we'll get to roast and grind them. The best part of all, we get to brew and drink our own coffee! It is truly an amazing experience.
Meals: Breakfast – Lunch – Tea time- Dinner
Accommodation: Camping facilities
Distance: 18 km/11 miles
Difficulty: moderate
Day 3: La Playa – LLACTAPATA- Hidroelectrica- Aguas Calientes
Today is the most beautiful and relaxing day on our trek. After a delicious breakfast we walk for 3 hours up hill through the original Inca trail towards the lost ruins of LLACTAPATA. From this vintage point you can enjoy magnificent views from different angles of the citadel of Machu Picchu and the surroundings mountains like Machu Picchu, Huayna Picchu and Salkantay. Then we head downhill for 10 minutes where we will have LUNCH right in-front of Machu Picchu, this is a unique experience. After enjoying lunch in front of Machu Picch, we descend for 2 hours to Hidroelectrica, on the way you'll see an amazing waterfall.. From here we take the train to Aguas Calientes where you will spend the night in a private hotel.
Meals: Breakfast – Lunch – Tea time – Dinner
Accommodation: Ferre Hotel
Distance: 12 km/ 7 miles
Difficulty: Moderate
Day 4: Aguas Calientes – Machu Picchu – Cusco
We leave our hotel after a very early breakfast to take the 5:30am bus for the journey up to Machu Picchu ruins to enjoy the sunrise. Once inside the citadel, there will be a 2.5 hour guided  tour with plenty of free time for further exploring, taking photos and the option to climb Huayna Picchu or Machu Picchu Mountain. Then you head back to Aguas Calientes for a late lunch, and at approximately 4.22pm we will take our return train to Ollantaytambo with a van connection to Cusco, arriving at your hotel in the evening around 8:30pm.
Meals: Breakfast
Difficulty: Easy
WHAT'S INCLUDED FOR THE SALKANTAY TREK TO MACHU PICCHU 4 DAYS?
INCLUDED
Pick up at your hotel the morning of your trek departure
Private transport from Cusco to Soraypampa (starting point of the trek)
Entry fee to Machu Picchu
 English speaking, experienced and professional guide
Private guided tour of Machu Picchu
Comfortable tents (sleeping 2 people in a 4 person tent)
All camping equipment such as: dining tent, table, chairs, kitchen tent and toilet tent
Bus ticket from Aguas Calientes to Machu Picchu
First Aid kit including emergency oxygen bottle
Train ticket from Aguas Calientes to Ollantaytambo
Train from Hydroelectric to Aguas Calientes
Private transport from Ollantaytambo to your hotel in Cusco
Celebration dinner in Aguas Calientes
Hotel in Aguas Calientes with private room and bathroom
Mules and horses (for equipment and personal items) including horsemen – 7 kgs of your personal items such as extra clothes, sleeping bag etc….
Provision of a horse in case of emergency such as illness, to ensure trek can be completed by all participants
Comfortable & thick foam mattress.
Boiled water for drinking and washing purposes
NOT INCLUDED
Sleeping Bag – US$20 per person per trek (It will be clean and warm)
Air Mattress – US$20 per person per trek (Therm-a-rest mattresses)
Walking Poles – US$15 per pair per trek (Professional Poles that can be extended)
Personal tent: US $30 – (Please request when you book your Trek)
Vistadome Train Upgrade  – US$67 per person (For the return to Cusco)
Huayna Picchu Mountain  – US$75 per person (Please request when you book your Trek)
Machu Picchu  Mountain –  US$75 per person  (Please request when you book your Trek)
Lunch on the last day in Aguas Calientes
One way bus ticket from Machu Picchu back to Aguas Calientes – It can be hiked in one hour.
PRICE
"Our 4 days Salkantay Trek Machu Picchu may leave on any date that is best suited to you, as long as we have a minimum of 2 hikers"
US$547 per person( Personal porter included)
This price includes the extra porter who will carry your belongings up to 7 kilos,  we will provide you a duffle bag,  you can put your things.
DISCOUNTS
18 to 25 years old: US$30 Information required on student card: name of university, student name, photo of student, expiration date etc. A copy of the card at booking is required & government approval for discount.
Under 18 years old: US$30 Please send us a copy of your passport at the time of booking.
Under 11 years old: US$40  Please send us a copy of your passport at the time of booking.
EXTRAS 
Sleeping Bag – US$20 per person per trek (It will be clean and warm)
Air Mattress – US$20 per person per trek (Therm-a-rest mattresses)
Walking Poles – US$15 per pair per trek (Professional Poles that can be extended)
Personal tent – US $30 – (Please request when you book your Trek)
Vistadome Train Upgrade  – US$67 per person (For the return to Cusco)
Huayna Picchu Mountain  – US$75 per person (Please request when you book your Trek)
Machu Picchu  Mountain –  US$75 per person  (Please request when you book your Trek)
ADDED VALUES  FOR FREE
TRANSFER – from the Airport to Hotel (Cusco Only)
DUFFLE BAG AND TRASH BAGS – included in the trekking price!
EXTRA PORTER is included in the price, the porter will carry your belongings up to 7 kgs /1p like sleeping bag, mattress, clothes etc.
BOILED WATER is included along the Inca Trail.
OXYGEN TANK will be available along the trek
EMERGENCY HORSE is included in the price which can be ridden if you get tired or sick.
SMALL PILLOW
PLASTIC RAIN
QUESTIONS & ANSWERS
"Please read the following information carefully; it will help with your questions about our services and the Salkantay Trek Machu Picchu" 
WELCOME TO CUSCO
You will be greeted at Cusco airport and taken to your hotel, please ensure that you inform us of your full flight details at least 14 days prior to trek´s start. Look out for our representative holding an orange board of SAM Travel Peru at the arrival terminal.
THE BRIEFING
It will take place the night before the trekking departure at 6pm at our office which is located at Garcilaso Street 210 , Office Nº:213 (2nd Floor) in the la CASA DEL ABUELO shopping center.
CAN I STORE MY LUGGAGE AT YOUR OFFICE?
Of course! During the Lares trek Machu Picchu your main luggage can be stored at our office or at your hotel, both are for free.
HOW TO BOOK THE SALKANTAY TREK MACHU PICCHU 4 DAY?
FIRST, to book your Salkantay Trek Machu Picchu, we need you to fill out our booking form by clicking on BOOK NOW on our homepage or click the link BOOK NOW.
Please be ready with the following information (FROM EACH PARTICIPANT in your group).  We cannot purchase an Salkantay Trek Machu Picchu permits and entrance tickets without the following information:
Personal information (your full name, exactly as it appears on your passport):
Gender
Passport number
D.O.B. (dd / mm / yyyy)
Nationality
SECOND, we require a deposit of US$200.00 per person in order to purchase a permit for the Salkantay Trek Machu Picchu.  You can make your deposit by clicking on the VISA or PAYPAL symbols on the top of our home page, or you can click on the symbols on our booking page.
WHAT ABOUT THE BALANCE?
It would be greatly appreciated if you pay in cash at our office (US dollars or Peruvian soles) here in Cusco. We have many cash machines in the historical center to withdraw money.  You can also pay by VISA or PAYPAL online but you will have to pay a 5.5% service charge, charged by VISA and PAYPAL.  To pay your balance through PAYPAL, you need to log into your PAYPAL account using our email address of info@incatrailhikeperu.com.
HOW DO I QUALIFY FOR THE STUDENT DISCOUNT?
According to Peruvian Law you must be under 18 years of age at the time of your trek, tour, or visit to Machu Picchu (students 18 & above need student cards). For example if you book a trek at the age of 17 but you turn 18 before you do your trek, you do not qualify for a student discount.
All students from 11 to 17 years, the discount is $30.
For children between the ages of 2 to 11 the discount is $40.
For children between the ages of 0 to 2 are free.
All students must provide a copy of their passport at the time of their booking to get the student discount.
Send us a copy at info@incatrailhike.com
MAY I CHANGE THE DEPARTURE DATE AFTER THE TICKETS HAVE BEEN BOUGHT?
Unfortunately the answer is generally "No". Once the tickets have been bought the government does not allow any changes, so we can't change any departure dates. Tickets are not transferable nor refundable. With alternative treks we may be able to change dates for a fee depending on what has already been purchased.  Please contact the office as soon as possible if you need to change your date.
If you cancel your Salkantay Trek, the deposit is non-refundable!
DO I NEED MY ORIGINAL PASSPORT ON SALKANTAY TREK MACHU PICCHU 4 DAYS?
You have to bring your original passport and it is very important that it is the same passport number you sent to us to book your Salkantay Trek to Machu Picchu, other entrances and reservations. The rangers will check your passport when you enter Machu Picchu. The train company will also check your passport before allowing you to board the train. In case you are renewing your passport or changing your name, go ahead and send us your old passport information to secure your permit, and we can change it when you get your new passport number or updated your name for a fee of $25 per person.  We must have a copy of your old and new passport to make the change. Before you change, keep the original of your old passport.
If you do not wish to pay this fee you will need to bring both passports to Peru with you.  You can enter Peru with your new passport but you will need to show both old and  passports, to be abe to enter the Inca Trail, Machu Picchu or the train.  If you do not have both you will not be allowed to enter, Machu Picchu or get on the train. They are very strict about this!
WHAT IS THE WEATHER LIKE ON THE SALKANTAY TREK TO MACHU PICCHU OVER 4 DAYS
The weather is very unpredictable and it's difficult to foresee.  BUT you will have many different seasons as you pass through the numerous microclimates and it will depend on your location. We highly recommend that you bring some warm clothes and good rain gear in your day backpack.
WHAT ABOUT ALTITUDE SICKNESS ON SALKANTAY TREK MACHU PICCHU 4 DAYS
In general if you exercise regularly and spend 2 to 3 days in Cusco, or in the Sacred Valley for acclimatization to the altitude, you may be just fine.
The recommended medicine for altitude sickness is WATER, COCA TEA and OXYGEN IF NEEDED; our guides are trained to treat you  for Altitude Sickness. For more detailed information on Altitude Sickness click this link: Altitude Sickness.
We offer the Cusco City Tour and Sacred Valley tours that you can book while you are acclimatizing.  Check out our day tours on our Main Page.
HOW MANY PEOPLE ARE THERE PER GROUP?
The maximum group size is 8 people. Usually our groups are between 2-6 people. Incatrailhikeperu specializes in SMALL, PRIVATE groups and focuses on personalized services.
HOW MANY COOKS/PORTERS FOR THE GROUP?
You will have 1 cook per group. The number of porters depends of the size of the group. For a group of 2 trekkers, they will have 4 porters, 4 trekkers will have 6 porters, 6 trekkers will have 9 porters, 8 trekkers will have 12 porters.
HIKING SALKANTAY TREK MACHU PICCHU 4 DAYS
The evening before you start your trek, you will be given a SMALL DUFFLE BAG to pack your clothes for the next four days. Your weight allowance is up to 7kg/15p. Your team of porters will carry your duffle bags for you, together with the food and camping gear. It's important to be aware, that you will not have access to your items in the duffle bag until the end of each day, as the porters will always be ahead of the group. During the trek, you need a day backpack big enough to carry your personal belongings such as a warm jacket, a rain jacket, your camera, sunscreen, snacks, water, etc. Usually a 30 to 50 litre backpack is sufficient.
IS THE TREK DIFFICULT, DO I NEED TO BE FIT?
The Salkantay Trail is a fairly difficult trek and you should be well prepared and healthy prior to starting it. You have to be moderately fit and exercise regularly.  In preparation: try walking 15kms in day or go to a fitness club in the months leading up to the trek. It is also important to be well acclimatised to the altitude. Try to spend at least 2 or 3 days in Cusco (3350m/11,047ft) prior to starting the trek.
ARE THERE TOILETS ON THE SALKANTAY TREK MACHU PICCHU 4 DAYS?
It has been highlighted by most of our clients, especially by the female ones who want a private, clean and sanitary toilet!! Incatrailhikesperu toilet facilities have an individual tent and a "camping toilet with a seat."  Check out the picture, which illustrates how we set up our camping toilet on the trek by using this link: picture of toilet tent. Our toilet is always set up a comfortable distance from our campsite.  At night if you need to use the toilet it is readily accessible and clean, unlike the dirty facilities supplied by the government.
There are hot water pools to soak in and relax on the 3rd day of your Salkantay Trek Machu Picchu natural hot springs at Cocalmayo.  Be sure to bring your bathing suit.
WHAT HAPPENS IF I AM UNABLE TO FINISH THE SALKANTAY TREK MACHU PICCHU 4 DAYS
In the event that you are unable to finish the trek due to  health issues, Incatrailhikeperu will assist you to the nearest town for help with transportation. We always carry oxygen on the trek for any respiratory problems In extreme cases, a helicopter pick up can be arranged at your own expense. (Travel insurance required). There are no refunds in the unlikely situation that you are unable to finish the trek.
Generally those who have to be assisted off the trail are taken to Ollantaytambo and if they recover quickly, they then continue the journey to Aguas Calientes (cost incurred by trekker) and visit Machu Picchu according to original plan.
ARE WE GOING TO BE DROPPED AT OUR HOTEL AFTER THE SALKANTAY TREK MACHU PICCHU 4 DAY?
Absolutely!! Included in the package and on the last day we will drop you off at your hotel! If you have booked your hotel in the Sacred Valley like Ollantaytambo or Urubamba, we will drop you off there too!   If you spend the night at Ollantaytambo before the trek,  we will also pick you up from there !
AT WHAT TIME IS THE TRAIN DEPARTURE?
It will depend on train availability (hight probability of it being booked out during high season) but the idea is to give you as much time as possible in Machu Picchu and enjoy the amazing views on the way back to Cusco from the train. Therefore we gravitate to the 4:22pm train schedule. With this train schedule, you will have more than 9 hours to enjoy Machu Picchu
VISTADOME TRAIN UPGRADE; HOW MUCH IS IT?
For sure you may upgrade to Vistadome train which has slightly nicer seats, panoramic windows and ceiling. You will be offered some snacks and a dance show will take place on board. The price is US$67 per person which includes the transfer from Poroy train station to your hotel in Cusco. It is 2 hours by train from Aguas Calientes to Ollantaytambo and then another 2 hours from Ollantaytambo to Cusco by bus. If you upgrade to Vistadome, all the way back to Poroy (Cusco), the trip lasts 3.5 hours, then 25mins by taxi to your hotel. Usually our clients are back at the hotel by 8pm. If you plan to take the bus to Puno on the same night, that is totally possible.
TIPPING
If you're happy with the services provided, a tip – though not compulsory – is appropriate. While it may not be customary to you, it's of great significance for the people who will take care of you during the trek. It inspires them to give excellent service and is an entrenched feature of the tourism industry across many Incatrailhikeperu destinations. Of course you are free to tip according to your budget, depending on your perception on the quality of service and the length of your trip. Remember, a tip is not compulsory and should only be given when you receive excellent service.
ARE WE SUSTAINABLE? 
Yes, we are a local, sustainable & responsible tourism operator for that we incorporate the universal principles of tourism: protect the environment and benefit the local communities by respecting their culture and religion. With this in mind, we have trained all our local staff to know and understand, respect the places and the local people.
PACKING LIST
WHAT YOU HAVE TO TAKE WITH YOU
Original Passport (it has to be the same as the one used for booking your trek)
Valid, GREEN ISIC card (if you booked as a student)
Good daypack (the smaller, the better)
Water storage:  2-3 litre Camelbaks are encouraged.
Comfortable hiking boots with ankle support
Sleeping bag (can be rented from Incatrailhikeperu)
Headlamp: essential
Toiletpaper
WHAT TO PUT IN YOUR DUFFLE BAG
As a professional direct local tour operator we provide you with a duffle bag at your briefing and  INCLUDE an extra porter who will carry up to 7 kgs or 15 pounds including your 2.5kg sleeping bag, mattress and extra clothing.
2 t-shirts
2 hiking pants at least
4 sets of undergarments
3 sets of hiking socks
Bathing Suit for the thermal waters
Couple Fleece/ Thermals
Warm clothes, down jacket — 2nd campsite temp around 3º Celcious.
Waterproof gloves (even if they are ski gloves, take them)
Comfortable shoes for camp
Quickdry towel. We provide small ones, you might prefer something larger.
Small bottle of soap: we provide warm water each day to wash.
Battery Charger: No electricity along the trek
Large plastic bags will be provided at the office — Please ask for them.
Sleeping bag: It has to be at least -15ºC – This can be rented from us.
Swimming Suit
TOILETRIES
Face moisturizer
Hand Sanitizer
Wet wipes
Toothbrush and paste
Personal medications
First aid kit: band aids, moleskin, etc.
WHAT TO PUT IN YOUR BACKPACK
We highly recommend a small backpack 30 to 40Litres for hiking in the day. A big backpack will not be allowed into Machu Picchu. The remainder of your belongings will be in your duffel bag at camp.
Water: Please supply your own water until the first lunch spot, then we will provide you with cold boiled water  at every meal time. Please bring your canteens.
Sun Hat
Sunscreen
Headlamp: essential
Wool Hat
Rain gear
Fleece
Snacks like chocolate bars, cereal bars or any dry fruits
Coca leaves.
Rain plastic poncho
Gloves
Camera
Hand sanitiser
Toilet paper and small plastic bag for waste
Extra Money for Souvenirs, Drinks & Tips
Valuable items