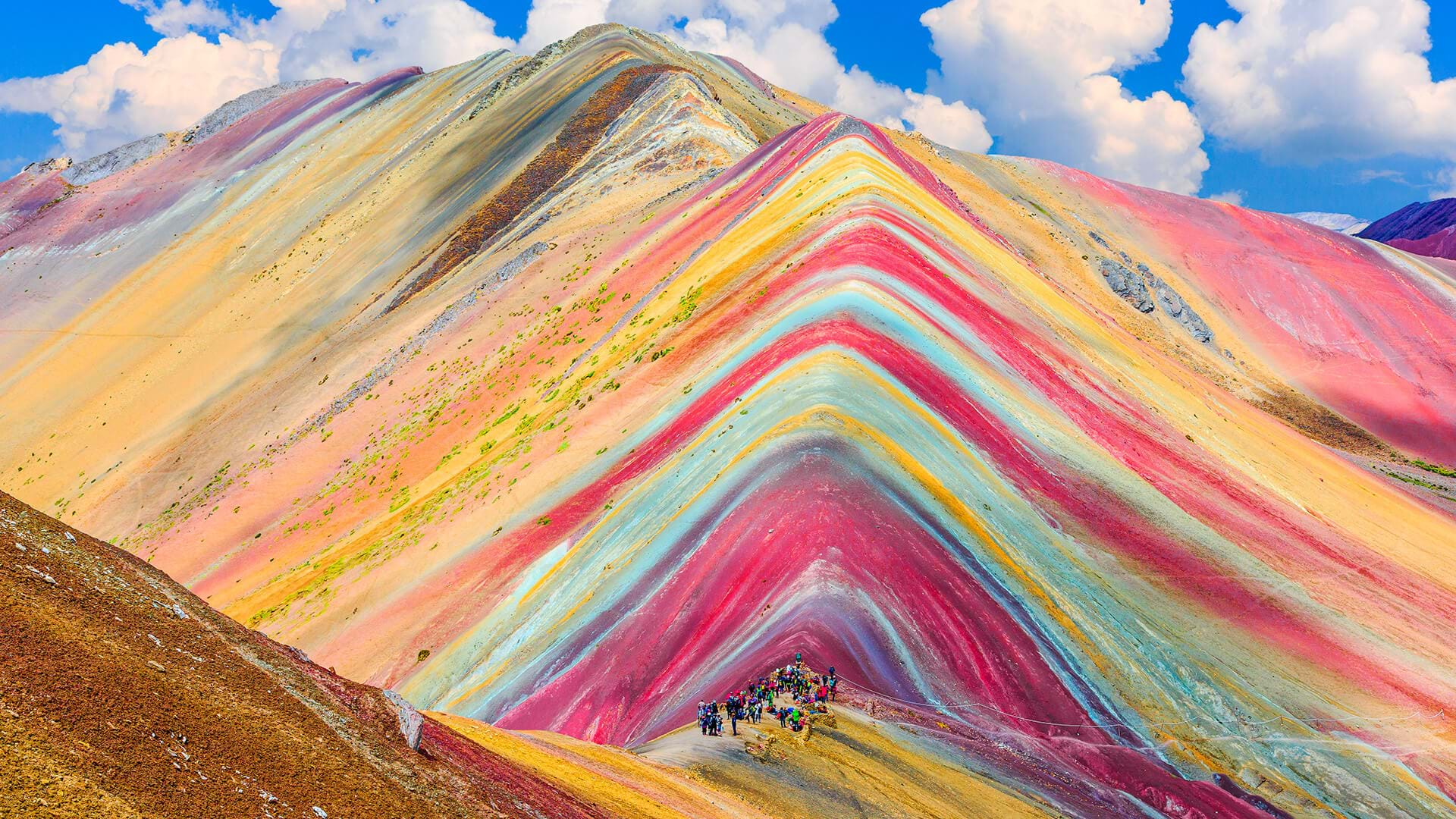 Rainbow Mountain Hike 1 Day
Group size
Up to 8 People
Type Tour
Trekking, Adventure
Rainbow Mountain Hike 1 Day
1 day
Enjoy the natural colors of the second most visited site in Peru after Machu Picchu, the splendour that is Rainbow Mountain. Hike to the saddle of Rainbow Mountains (5,020 m / 16,466 ft) where you'll have incredible views of Ausangate Mountain, glaciers all around, turquoise crystal clear lakes; all set within the incredibly colourful mountain range of Rainbow Mountain.  
The herds of alpacas and llamas near your breakfast place will entertain you in the early morning. Enjoy a delicious and hearty breakfast, then get back in the van for the last 5 minute drive to the trailhead. As you hike you'll pass through some isolated indigenous communities, walk among herds of llamas and alpacas and have the opportunity to interact with the local's who are still keeping their Inca culture alive! Ask your guide to teach you a few words of Quechua!   The trek also offers a selection of wildlife including soaring condors, vicunas, bobcats and pumas.  The colourful sandstone mountains in the Vinicunca area is probably the most fascinating thing you'll see in your trip to Peru.
Click on the link for more information and pictures on Rainbow Mountain.
OVERVIEW
Pick up from your hotel and transfer to trailhead.
4 hours of Hiking through the most isolated communities, having the opportunity to interact with them
Enjoy the amazing views of glaciers, valleys and the most natural colourful rainbow mountain.
Walking distance: 15 kms/9.3 miles
Highest elevation: 5100 metres/16732ft
Late afternoon, we take our van back to Cusco
Rainbow Mountain Trek – ITINERARY
Day 1: Cusco – Pitumarka – Qesiuno – Rainbow Mt – Quesiuno – Cusco
We will pick you up from your hotel at 4am, and begin with our amazing Rainbow Mountain Trek Adventure.  We set out on our drive through the South Valley, ending up at the trailhead in Quesiuno (4,326 m / 14,189 ft) for 3 hours.  Along the way there are amazing views of farming Inca terraces, valleys and rocky mountains.
Once we reach the trailhead, we start off on our hike following a lovely stream. You will be accompanied by herds of alpacas and llamas along the way. Continually you'll have views of the Ausangate Mountain as we hike through different villages and interact with the local people who are still keeping their culture alive.
After a total hike of  4 – 5 hours, we finally reach our destination…. Rainbow Mountains (5,020m /16,466ft). After being awed by its incredible beauty, you'll have time to explore the area. You can take pictures or just  soak up the environment. We will spend approximately 30 minutes at the top. Afterwards, there is an optional hike across to the top of the Red Valley.  This walk takes about 45 minutes longer to get back to the trailhead. The Redvalley looks like the depiction of Mars adopted in most movies. It truly looks other worldly. 
At this point, we hike back down the same way we came. The hike takes 2-3 hours. Our private van will be waiting for us when we return.
We will embark on the 3 hour drive back to Cusco and drop you off at your Cusco hotel, arriving between 8:00 and 9:00pm.
PRICE
This Rainbow Mountain trek is available to depart any day of the week as long as we have a minimum of two people.
PRICE – US$150 per person
*** Breakfast & 3 course lunch are included in our price  for the rainbow mountain trek and they will be prepared by our  cook, this means you will get a fresh and hot meal. 
Included in the price
Private and comfortable van and chofer
English speaking guide,
Hot Breakfast & Lunch prepared by our chef
What is not Included? Appreciations.
ADDITIONAL OPTIONS
A horse can be rented for the trip from locals when you arrive if you desire,costs about US$25
Tours and Treks to Machu Picchu and Cusco Region 
QUESTIONS & ANSWERS
"Please read the following information carefully; it will help with your questions about our services and the trek to Rainbow Mountain" 
WELCOME TO CUSCO
You will be greeted at Cusco airport and taken to your hotel, please ensure that you inform us of your full flight details at least 14 days prior to trek´s start. Look out for our representative holding an orange board of INCA TRAIL HIKE at the arrival terminal.
THE BRIEFING
It will take place the night before the trekking departure at 6pm at our office which is located at Garcilaso Street 210 , Office Nº:213 (2nd Floor) in the la CASA DEL ABUELO shopping center.
CAN I STORE MY LUGGAGE AT YOUR OFFICE
Of course! During the Rainbow Mountain Trek your main luggage can be stored at our office or at your hotel, both are free.
HOW TO BOOK THE RAINBOW MOUNTAIN TREK
FIRST, to book your Rainbow  Mountain Trek, we need you to fill out our booking form by clicking on BOOK NOW on our homepage or click the link BOOK NOW.
Please be ready with the following information (FROM EACH PARTICIPANT in your group).  We cannot purchase a Rainbow Mountain Trek entrance ticket without the following information:
Personal information (your full name, exactly as it appears on your passport):
Gender
Passport number
D.O.B. (dd / mm / yyyy)
Nationality
SECOND, we require a deposit of US$50 per person in order to purchase a permit for the Rainbow Mountain Trek.  You can make you deposit by clicking on the VISA or PAYPAL symbols on the top of our home page, or booking page.
WHAT ABOUT THE BALANCE?
It would be greatly appreciated if you pay in cash at our office (US dollars or Peruvian soles) here in Cusco. We have many cash machines in the historical center to withdraw money.  You can also pay by VISA or PAYPAL online but you will have to pay a 5.5% service charge, charged by VISA and PAYPAL.  To pay your balance through PAYPAL, you need to log into your PAYPAL account using our email address of info@incatrailhikeperu.com to complete the payment. 
MAY I CHANGE THE DEPARTURE DATE AFTER THE TICKETS HAVE BEEN BOUGHT?
With alternative treks like the Rainbow Mountain Trek we may be able to change dates for a fee depending on what has been already purchased.  Please contact the office as soon as possible if you need to change your date.
If you cancel your Rainbow Mountain Trek, the deposit is non-refundable!
WHAT IS THE WEATHER LIKE ON THE RAINBOW MOUNATIN TREK
The weather is very unpredictable and it's difficult to foresee.  With the RAINBOW Mountain Trek, we highly recommend you bring some warm clothes and good rain gear in your day backpack especially in rainy season, there can be snow or rain.  It can be very cold at the high altitudes you will reach on this trek.
WHAT ABOUT ALTITUDE SICKNESS ON RAINBOW Mountain TREK
In general if you exercise regularly and spend  3 days in Cusco, or in the Sacred Valley for acclimatization to the altitude, you may be just fine.
The recommended medicine for altitude sickness is WATER, COCA TEA and OXYGEN IF NEEDED; our guides are trained to treat you  for Altitude Sickness. For more detailed information on Altitude Sickness click this link: Altitude Sickness. 
We offer the Cusco City Tour and Sacred Valley tours that you can book while you are acclimatizing.  Check out our day tours on our Main Page.
HOW MANY PEOPLE ARE THERE PER GROUP?
The maximum group size is 8 people. Usually our groups are between 2-6 people. INCA TRAIL HIKE specializes in SMALL, PRIVATE groups and provides a personalized service.
HOW MANY COOKS/PORTERS FOR THE GROUP?
You will have 1 cook per group. The number of porters depends of the size of the group. For a group of 2 trekkers, they will have 4 porters, 4 trekkers will have 6 porters, 6 trekkers will have 9 porters, 8 trekkers will have 12 porters.
IS THE TREK DIFFICULT, DO I NEED TO BE FIT?
Yes, it is a difficult trek due to the high altitude and some sections can be steep, you reach the altitude of 5100 metres/16732ft.  You need to take your time, slow and steady wins the race. The altitude can make this trek very challenging, especially the final section before reaching the summit. Once you get to the top, it will be well worth the effort.
In preparation: try walking 15kms a day or go to a fitness club in the months leading up to the trek. It is also important to be well acclimatised to the altitude. Try to spend at least 3 days in Cusco (3350m/11,047ft) prior to starting the trek.
ARE THERE TOILETS ON THE RAINBOW MOUNTAIN TREK
It has been the highlight for most of our clients, especially females!! INCA TRAIL HIKE includes a Responsible & Sustainable "Camping toilet with seat"  that we use on the trek.
WHAT HAPPENS IF I AM UNABLE TO FINISH THE RAINBOW MOUNATIN TREK TREK
In the event that you are unable to finish the trek due to a health issue, INCA TRAIL HIKE will assist you to the nearest town for help with transportation. We always carry oxygen on the trek for any respiratory problems. In extreme cases, a helicopter pick up can be arranged at your own expense. (Travel insurance required). There are no refunds in the unlikely situation that you are unable to finish the trek.
ARE WE GOING TO BE DROPPED AT OUR HOTEL AFTER THE TREK?
Absolutely!! Included in the package and on the last day we will drop you off at your hotel in Cusco! If you have booked your hotel in the Sacred Valley like Ollantaytambo or Urubamba, we will drop you off there too!
TIPPING
If you're happy with the services provided, a tip – though not compulsory – is appreciated. While it may not be customary to you, it's of great significance for the people who will take care of you during the trek. It inspires them to give excellent service and is an entrenched feature of the tourism industry across many INCA TRAIL HIKE destinations. Of course you are free to tip as much as feel is appropriate, depending on your perception on the quality of service and the length of your trip. Remember, a tip is not compulsory and should only be given when you receive excellent service.
ARE WE SUSTAINABLE? 
Yes, we are a local, sustainable & responsible tourism operator in that we incorporate the universal principles of tourism: protect the environment and benefit the local communities by respecting their culture and religion. With this in mind, we have trained all our local staff to know and understand, respect the places and the local people.
WHAT TO BRING FOR A DAY HIKE
A lightweight, waterproof day pack
 Sturdy hiking boots
 Warm clothes and hiking pants, not jeans
 Layers of clothes for variable temperatures
 Camera 
 Sun protection: sunscreen, sunhat, sunglasses
 Thermals, wool socks, gloves, scarf, wool hat
 Insect repellent
 Extra plastic bags, especially in the wet season
 Water proof clothing and or a rain poncho
 Water bottles
 Personal medical kit
 Extra money for souvenirs, drinks, tips
 Walking sticks (rentable)
 Favorite snacks for energy like chocolate bars, energy bars etc… 
 Toilet paper
 Copy of passport and ISIC card if applicable