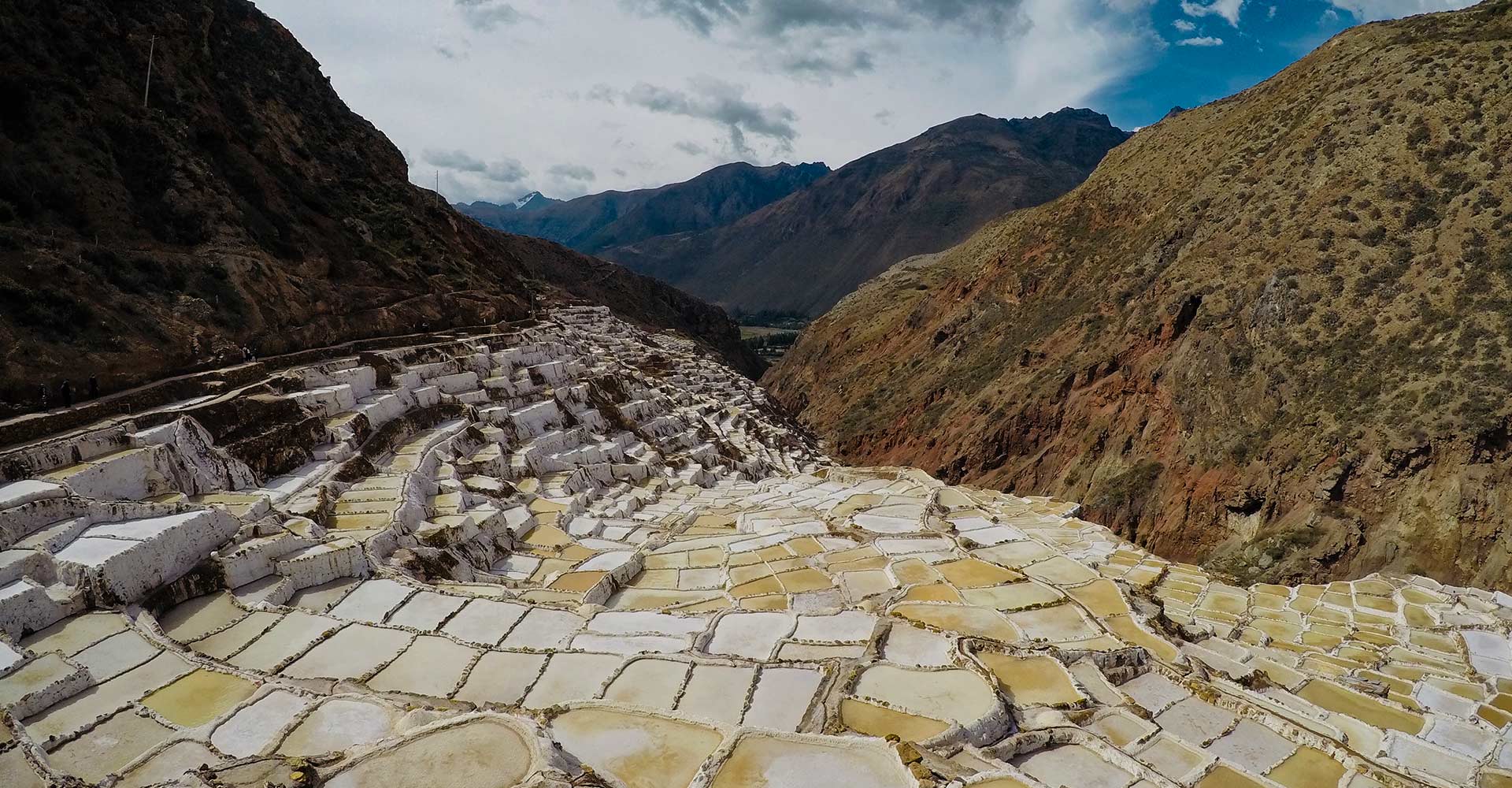 Chinchero, Moray, Maras & Salt Mines Tour
Chinchero, Moray, Maras & Salt Mines Tour
0 day
This half day tour experience to Chincheros, Moray & Salt Mines, will take you off the beaten track to enjoy the stunning scenery of snow-capped mountains of the Andes in  Sacred Valley, Chincheros with its colonial church & Inca ruins, the incredible "Green Houses" of the Incas in Moray and the impressive pre-inca salt mine – Salineras.
OVERVIEW
Pick up at your hotel at 8am or 1pm (your choice)
Private transport to Chinchero, Moray, and Maras (Salt Mines)
Visit of the "Green Houses" of Moray and the pre-inca salt mine – Salineras
Great views of the Andes and valleys of Sacred Valley
Trip back to your hotel
ITINERARY
We pick you up at 8:00am or 1:00pm in our private van and you begin your trip to the village of Chinchero, where you will see in the plaza an adobe colonial church, dating from the early seventeenth century, has been built upon the foundations of an Inca temple or palace. The ceiling and walls are covered in beautiful floral and religious designs. Also you'll discover Inca archeological ruins and agricultural terraces which are attributed to Inca Tupac Yupanqui who possibly used Chinchero as a kind of country resort.
We continue on to the village of Maras, where its colonial architectural beauty is still preserved. You'll see the building are made of thin stone, and images of lintels with sculptures in bas-relief.  Then we move on to Salineras, the salt mine consists of 3,000 small pools roughly 5 square metres (53.8 ft²) in size. Every three days, during the dry season, workers fill the pools with salt water that comes from a natural hot spring at the top of the Maras complex. When the water evaporates from the pool, the salt is left for collection. This process is carried out over a one month period until the pools reach an approximate volume of solid salt that is 10 centimetres (4 inches) in height. The salt is ground up, treated with iodine packaged and sent to various markets in the region.
Then we are on our way to the Moray ruins, located at (3,450m/11,318ft), where we find the agricultural terraces of Moray with their complex system of irrigation and terraces. Different levels of terraces are carved into a huge bowl, part of which was further excavated by the Incas. The terraces have varied microclimates depending on how deep into the bowl they are located. It is thought they were used by the Incas to discover the optimal growing conditions for their crops. These terraces served as a natural green house to grow an extraordinary variety of crops at an altitude normally not conducive for the crops.  It has also been suggested that the terraces had a cosmological meaning. The Incas were very advanced in the knowledge of creating specific sub-climates.  Then we return to your hotel in Cusco.
WHAT IS INCLUDED?
INCLUDED
Private group
Professional English speaking and knowledgeable guide
Water
Private comfortable transportation
Tax
NOT INCLUDED
Entrance tickets to archeological sites:  70 soles (1 day only) or approximaely US$22 per person which can only be purchased in soles only at the first archeological site. (See important info for more information)
Meals
Salt Mine entrance 10 soles
Tips
PRICE
Please Note:  This special private tour and price is only for our clients who have booked any 2, 3, 4, 5  days  or more tour or trek with INCA TRAIL.
GROUP of 1 to 6 persons – $165 for the total group (not per person)
GROUP  of 7 to 12 persons – $195 for the total group (not per person)
QUESTIONS & ANSWERS
BOLETO TURISTICO (tourist ticket )
You have the Option to Purchase a 1 Day or a 10 Day Boleto Turistico. 
The partial ticket, or 1 Day ticketcosts 70 soles (US $22) and is valid for 1 day.  You can visit a many sites as you like in one day with no further charge.  There are no discounts with this ticket.
Both tourist tickets, of 1 day or 10 day, allows the access to different archeological sites around Cusco, and Sacred Valley.  This is the best way to visit all the archeological sites of the region and the Sacred Valley. Most of the main archeological sites are not accessible for free.
The general ticket allows you over the next 10 days to enter16 archeological and cultural sites in Cusco, the south valley and the Sacred Valley. The price of this ticket is 130 soles (about US $40) and is valid for 10 days. This is the cheapest and most convenient way to plan to see different sites in a few days. The cost for students under 25 (with the presentation of a valid ISIC card) and for teenagers under 18 (with the presentation of an identity card) is 70 soles (US $20). Children under 11 are free.
Here is a list of sites where you can use your Boleto Touristico:
Sacsayhuaman
Qenqo
Pucapucara
Tambomachay
Pisaq
Ollantaytambo
Chinchero
Moray
Tipon
Piquillaqta
Note : The entrance ticket  to the main archeological sites like Sacsaywaman, Pisac, Ollantaytambo,Chinchero,Tipón and Moray cannot be sold individually; you must buy the Boleto turístico to visit them. You can get it in Avenida el Sol nearby Peru office or at the time you enter the first site that you are visiting.  YOU MUST PAY IN SOLES, NO CREDIT CARD OR US DOLLARS ARE ACCEPTED.
Important: These entrances are not included in the Boleto Touristico.
The entrance to Qoricancha or Santo Domingo Convent (10 soles)
The entrance to the Cathedral (25 soles)
WHAT TO BRING
Warm jacket
Hat
Water
Sun protection
Some money for souvenirs
Money in soles to purchase boleto touristico y entrance to salt mine
Original passport
If you are a student, take your ISIC card (only works for the 10 day boleto touristico)