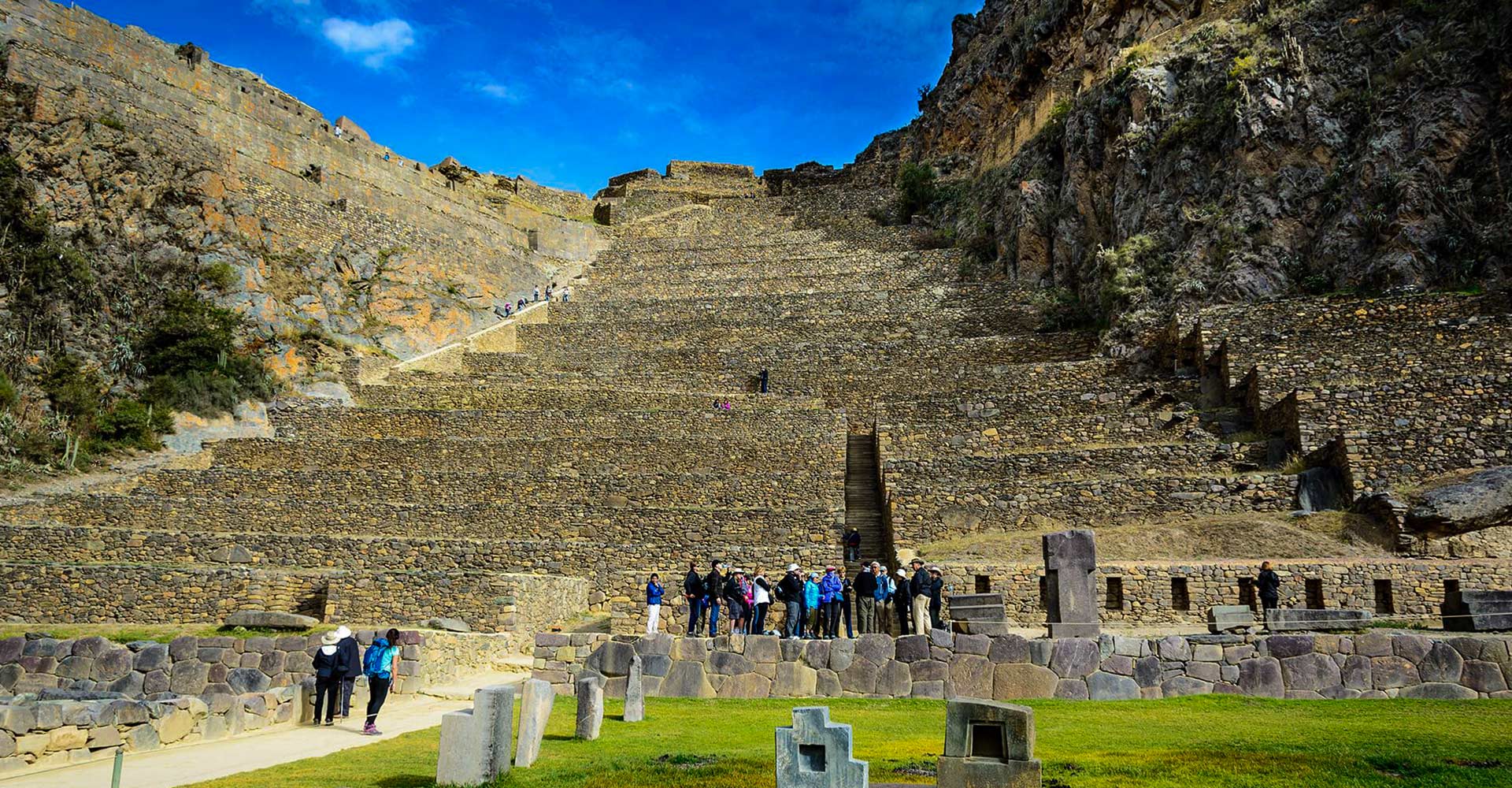 SACRED VALLEY TOUR OF THE INCAS 1 DAY
SACRED VALLEY TOUR OF THE INCAS 1 DAY
1 day
Our Sacred Valley of the Incas Tour, is a specially designed itinerary which no one else offers. We have created it, so you get to enjoy the best highlights of the Sacred Valley, such as the archeological sites of Pisac and Ollantaytambo, animal sanctuary, and the archeological site of Moray and the Salt Mines, rather than just focusing on the various shopping centers. All of this is provided in a small private tour with a guide that is passionate about Inca history.
The area of the valley between Pisac and Ollantaytambo is known as the Sacred Valley of the Incas. On this tour we will drive through the mountains of the "Sacred Valley" which held great significance in Inca Culture, it was regarded as the heart of the Empire. The Valley has a milder climate than Cusco. You will see a succession of picturesque villages, agricultural terraces, and several archeological sites.
No other travel agency except Inca Trail visits all of these sites in their Sacred Valley Tours!
SACRED VALLEY TOUR – OVERVIEW 
Places You Visit with INCATRAILHIKEPERU in Sacred Valley
Visit the Alpaca Farm 
Stop at the viewpoint of the Sacred Valley.
Enjoy Pisac Inca ruins 
Quick stop in Urubamba for Lunch (Not included)
Vist Moray Archeological site and the famous Pre-Inca Salt Mines
Visit the whole archeological site of Ollantaytambo and enjoy amazing views.
No other travel agency except SAM Travel Peru visits  all of these sites in their Sacred Valley Tours!!  
ITINERARY
Day 1: Cusco – Pisac – Moray – Salt Mines – Ollantaytambo 
Your guide will pick you up from your hotel lobby at 7am. First, we drive to a close-by Camelid (llama and Alpaca) farm. Here you have an opportunity to feed and pet different breeds of alpacas, llamas and vicuñas (a rare and national animal of Peru). Watch local women using wool from the animals around to weave beautiful garments with different patterns. They have their natural dyeing process with all the organic material needed on full display. Visit their museum and souvenir shop with the option of purchasing a good selection of fair-trade alpaca and vicuña apparel. Best part is that inside the shop, there are shopping assistance to answer all your question but they do not pressure you into purchasing anything. Be sure to grab your certification if you purchase merchandise made with Vicuñas wool, they are protected by the government of Peru.
Next stop is the Mirador of Toray. Enjoy unspoiled views of the valley below, with its lush vegetation and the serene Urubamba River gently curving its way through the entire the Sacred Valley. Perfect spot to stop for selfies, this area has the most panoramic views of the valley and the lighting is perfect at this time of the morning.
After a short uphill drive, we make our way to the historical Archeological site of Pisac. Learn about the agricultural practices of the Incas. How they used the different terraces below with varying micro-climates for their farming and then built their living quarters and food storage warehouses at the top of the hills, to take advantage of the cooler temperatures in order to preserve their produce. Discover at this Sacred Valley entry point the value this region had in terms of sustenance to the Incas and modern Cusco alike. The biggest Inca cemetery is also located here, with thousands of niches wrapped around the mountain side adjacent to the archeological site. According to local legend, there are still human remains inside some of the gravesites.
We follow that with a scenic drive through the valley, passing small rural town, with locals going about their normal day to day lives. We stop on the outskirts of Sacred Valleys´ commercial town of Urubamba for our lunch. Enjoy a scrumptious buffet lunch, with an impressive spread. The food is in abundance, with a great selection for different dietary needs. (Lunch is not included)
After feeling up our bellies, we head over to the Pre-Inca Salt Mines of Salineras. As you approach the salt mines you will be met by thousands of salt pans that has the valley coated in white and a murky brown color. The locals have been mining salt for generations. They have full ownership and rights to these pans and have passed them from one generation to the next. The small stream at the top fills up all the salt pans and once the water evaporates, they cultivate the salt to be sold for profit. Over 90% of the salt consumed in Peru comes from this humble small town. Any salt bought from the vendors at the mines, directly supports this small local community.
Next, we visit another set of Inca Ruins. The ruins of Moray are a great example of how advanced the Incas were for that period. Even though they did not build initial structure, they did however see the opportunity to use this as a natural ¨greenhouse¨. Each layer has different temperatures, they used these different micro-climates to test the optimum growing point of their crops. They brought in different samples of soil from the Empire to achieve maximum results. The sun also hit each level at different angles, making sun absorption different at every section, they also built an intricate irrigation system. The locals were still using this for farming until it was reserved for tourism in the 70s.
Finally, we head to the bustling town of Ollantaytambo, the gateway to Machu Picchu and the world-famous Inca trail. Watching over the town is the Archeological site of the same name. This is where the last and greatest battle was fought between the Incas and the Spanish Invaders. Even though, the Incas won this battle, they later retreated further into the jungle because their numbers had been continuously depleting from the Spanish flue and the many wars they had endured. The site has many boulders that had been carved, which had either been damaged from the war or a sign that this site was still incomplete at the time of the invasion. Your guide will give a comprehensive tour of this site and share all the important history associated with it
It is possible to end your tour in Ollantaytambo. Please let our office know.
WHAT IS INCLUDED FOR THE SACRED VALLEY TOUR?
INCLUDED
Private group
Professional English and knowledgeable speaking guide
Water
Private comfortable transportation
Tax
NOT INCLUDED
Entrance tickets to archeological sites:  70 soles (1 day only) or approximaely US$22 per person which can only be purchased in soles only at the first archeological site. (See important info for more information)
Meals
Salt Mine entrance 10 soles
PRICE
Spend more time at the Inca cities in small or private groups!
GROUP PRICES 
# OF PERSONS
PRICE

 

PER PERSON

2 persons
$75 pp
3 to 4 persons
$65 pp
5 to 6 persons
$55 pp
7 to 8 persons
$45 pp
9 to 10 persons
$25 pp
Price per person based on the number of persons in the group.  When group is finalized each person will pay per person based on the size of the final group.  There is no guarantee of how many persons may join except the limit is 10 persons per group.
Minimum is 2 persons per group to start a group.
PRIVATE GROUP PRICES (Any date)
# OF PERSONS
PRICE PER

 

GROUP

1 to 6 persons
$197
7 to 12 persons
$240
—
—
—
—
—
—
Private group price is based on group price not per person, and will be completely private with your own guide, chauffeur and private van.  No others will be added to the group.
Minimum is 1 person but that person will pay $197 for the private group.
EXTRAS 
Entrance tickets to archeological sites:  70 soles or approximaely US$22 per person which can onlyhttps://machupicchutravelguide.com/boleto-turistico-cusco/ be purchased in soles at the first archeological site: See Boleto Turisto
Salt Mine entrance of 10 soles
QUESTION & ANSWERS
The partial ticket, or 1 Day ticket costs 70 soles (US $20) and is valid for 1 day.  You can visit a many sites as you like in one day with no further charge.  There are no discounts with this ticket.
Both tourist tickets, of 1 day or 10 day, allows the access to different archeological sites around Cusco, and Sacred Valley.  This is the best way to visit all the archeological sites of the region and the Sacred Valley. Most of the main archeological sites are not accessible for free.
The general ticket allows you  to enter 16 archeological and cultural sites over the next 10 days in Cusco, the south valley and the Sacred Valley. The price of this ticket is 130 soles (about US $40) and is valid for 10 days. This is the cheapest and most convenient way to plan to see different sites in a few days. The cost for students under 25 (with the presentation of a valid ISIC card) and for teenagers under 18 (with the presentation of an identity card) is 70 soles (US $20). Children under 11 are free.
Here is a list of sites where you can use your Boleto Touristico:
Sacsayhuaman
Qenqo
Pucapucara
Tambomachay
Pisaq
Ollantaytambo
Chinchero
Moray
Tipon
Piquillaqta
Note : The entrance ticket  to the main archeological sites like Sacsaywaman, Pisac, Ollantaytambo,Chinchero,Tipón and Moray cannot be sold individually; you must buy the Boleto turístico to visit them. You can get it in Avenida el Sol nearby Peru office or at the time you enter the first site that you are visiting.  YOU MUST PAY IN SOLES, NO CREDIT CARD OR US DOLLARS ARE ACCEPTED.
Important: These entrances are not included in the Boleto Touristico.
The entrance to Qoricancha or Santo Domingo Convent (10 soles)
The entrance to the Cathedral (25 soles)
THE BRIEFING
It will take place the night before the trekking departure at 6pm in our office which is located at Garcilaso Street 210 , Office Nº:213 (2nd Floor) in the la CASA DEL ABUELO shopping center.
CAN I STORE MY LUGGAGE AT YOUR OFFICE?
Of course! During the your Sacred Valley Tour your main luggage can be stored at our office or at your hotel, both are free. 
HOW TO BOOK?
FIRST, to book your your Sacred Valley tour, we need you to fill out our booking form by clicking on BOOK NOW on our homepage or click here the link BOOK NOW.
Please be ready with the following information (FROM EACH PARTICIPANT in your group).  
Personal information (your full name, exactly as it appears on your passport):
Gender
Passport number
D.O.B. (dd / mm / yyyy)
Nationality
SECOND, we require a deposit of US$55.00 per person.  You can make you deposit by clicking on the VISA or PAYPAL symbols on the top of our home page, or on our booking page.
WHAT ABOUT THE BALANCE?
It would be greatly appreciated if you pay in cash at our office (US dollars or Peruvian soles) here in Cusco. We have many cash machines in the historical center to withdraw money.  You can also pay by VISA or PAYPAL online but you will have to pay a 5.5% service charge, charged by VISA and PAYPAL.  To pay your balance through PAYPAL, you need to log into your PAYPAL account using our email address of info@incatrailhikeperu.com to complete the payment.
PACKING LIST
Warm jacket
Hat
Water
Sun protection
Some money for souvenirs
Money in soles to purchase boleto touristico y entrance to salt mine
Original passport
If you are a student, take your ISIC card (only works for the 10 day boleto touristico)